Graphic Design and Visualisation
MA
Entry requirements: 2:1 (or above)
Year of entry: 2017
Full-time: 1 year
Location: Loughborough
Part-time: Not available
School: Arts, English and Drama
Programme information
This programme aims to develop a specialist approach to graphic design and visualisation through combining traditional and contemporary approaches in the field.
It will provide you with opportunities to develop a personalised visual language through visual thinking, expressed in physical and virtual means combining traditional and contemporary media. Theory and practice are intertwined and students express their ideas through the production of written assignments and the production of artefacts, both aligned with their specialist area of interest.
Once the online application is completed, we will ask for a Project Proposal Form to be completed. The project proposal is requested as part of the initial assessment process and can only be accepted after you have applied via the Postgraduate Application Portal.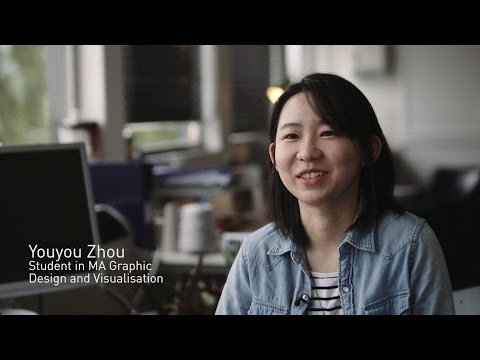 Youyou Zhou talks about her time at Loughborough University and her studies so far.
An honours degree (2:1 or above) or equivalent overseas qualification in an art and design discipline or closely related subject. Overseas qualification equivalencies can be found here.
All applicants for admission to Loughborough University must have a qualification in English Language before they can be admitted to any course or programme, whether their first language is English or not. Find out more here.
Assessment is continuous and based on an appraisal of practice, written material, related research, and professional and entrepreneurial skills in relation to the final project outcome(s).
The universal demand for graphical knowledge and increasing emphasis on visualising complexity across diverse fields provides a vast range of career choices for graduates. Depending on individual aspirations, students evolve their practical, historical and theoretical interests for a career in industry or academic research through PhD study.