Matthew studied History & Sociology at the University of Manchester (1st) followed by an AHRC-funded MA in Cultural History (Distinction) and an AHRC-funded Ph.D in History at the same institution. In 2012, he taught at the University of Durham, before being awarded a Banting Postdoctoral Fellowship by Canada's Social Sciences and Humanities Research Council, which he held at the University of Victoria from 2013 to 2015.
Matthew was appointed Lecturer in Politics, History and Communication at Loughborough in 2016, and also joined Loughborough's Centre for Research in Communication and Culture (CRCC).
In 2017, Matthew was made a Fellow of the Royal Historical Society.
Matthew is an historian specialising in intellectual history and the history of political thought. He has a particular interest in the development of anarchism as a political tradition, and his first book, described in the American Historical Review as an 'innovative intellectual history of British anarchism,' focused on the work of Peter Kropotkin and Herbert Read.
Matthew has published on parallel themes in a number of intellectual history and history of political thought journals including Journal of the History of Ideas, History of Political Thought, History of European Ideas, Journal of Political Ideologies, Intellectual History Review, Historical Research, Political Research Exchange, and Forum for Modern Language Studies.
He has also co-edited a number of books including The Palgrave Handbook of Anarchism (Palgrave Macmillan, 2019) with Carl Levy; Anarchism, 1914-1918: Internationalism, Anti-militarism and War(Manchester University Press, 2017) with Ruth Kinna; and three volumes of Essays in Anarchism and Religion (Stockholm University Press, 2020, 2018, 2017) with Alexandre Christoyannopoulos. He also recently contributed an introduction to a new edition of Marie Louise Berneri's Journey through Utopiapublished by PM Press.
Matthew is a member of the Anarchism Research Group and is co-editor of the journal Anarchist Studies.
He is currently working on two book projects. The first, The Ideas Factory: Radical Cultural Politics and the Anarchist Public Intellectual, focuses on the work of, amongst others, Alex Comfort, Paul Goodman, Dwight Macdonald, Ethel Mannin, and George Woodcock, examining the development of anarchist cultural politics in a transatlantic milieu during the Cold War. Recreating the intellectual networks between Britain, Canada and the US that united them, the book also explores the idea of the anarchist public intellectual as a forgotten voice in Cold War intellectual life.
The second, Anarchic Virtues, offers a new history of anarchist political thought that recovers the roles of responsibility and duty as defining characteristics of the tradition. What this shows, the book argues, is the defining relation of anarchism to the republican tradition, and especially how republican visions of 'civic virtue' that its theorists saw as essential to political communities where sovereignty lay, at least nominally, in the citizenry, also informed anarchism's emergence as an ideology.
Matthew is convenor of the following modules:
EUA801 Power, Politics and Ideology in Modern Europe
EUB634 The American Century: US Politics and Society in the 20th Century
EUC689 Sex, Death and Decadence: Culture and Politics in the Age of Anxiety
James McIntyre, 'Hometime for Humanity: on working out way to a workless society'
Shane Little, 'The Politics Behind the Unbridgeable Chasm: Revisiting the relationship between social anarchism and individualism'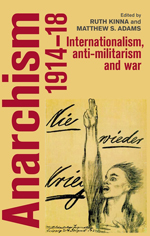 Anarchism, 1914–18 Internationalism, anti-militarism and war
Publisher: Manchester University Press, May 2017
Edited by: Dr Matthew S. Adams and Ruth Kinna
Anarchism 1914-18 is the first systematic analysis of anarchist responses to the First World War. It examines the interventionist debate between Peter Kropotkin and Errico Malatesta which split the anarchist movement in 1914 and provides a historical and conceptual analysis of debates conducted in European and American movements about class, nationalism, internationalism, militarism, pacifism and cultural resistance.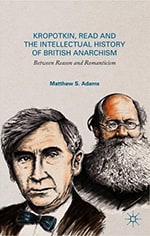 Kropotkin, Read, and the Intellectual History of British Anarchism
Between Reason and Romanticism
Basingstoke/New York: Palgrave Macmillan, 2015
Author: Adams, M.
Although marginal as a political force, anarchist ideas developed in Britain into a political tradition. This book explores this lost history, offering a new appraisal of the work of Kropotkin and Read, and examining the ways in which they endeavoured to articulate a politics fit for the particular challenges of Britain's modern history.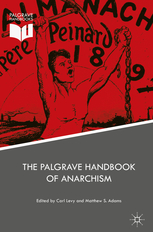 The Palgrave Handbook of Anarchism
Publisher: Palgrave Macmillan, 2019
Edited by: Dr Matthew S. Adams and Carl Levy
This handbook unites leading scholars from around the world in exploring anarchism as a political ideology, from an examination of its core principles, an analysis of its history, and an assessment of its contribution to the struggles that face humanity today.
Selected publications
Journal Articles:
'"Sleeping Dogs and Rebellious Hopes": Anarchist Utopianism in the Age of Realized Utopia', History of European Ideas (2020)
'A Truly Pathological Case: Kropotkin, War, and Anarchist Remembrance', Forum for Modern Language Studies, 56:2 (April, 2020), 197-212
'Utopian Civic Virtue: Bakunin, Kropotkin and Anarchism's Republican Inheritance?', Political Research Exchange (2019)
with Luke Kelly (Manchester), 'George Woodcock and the Doukhobors: Peasant radicalism, anarchism, and the Canadian State', Intellectual History Review, 28:3(2018), 399-423
'Prophecying Utopia: Marie Louise Berneri', Anarchist Studies, 26:2 (Winter, 2018), 7-11
'Formulating an Anarchist Sociology: Peter Kropotkin's Reading of Herbert Spencer', Journal of the History of Ideas, 77:1 (2016), 49-74
with Nathan Jun (Midwestern State), 'Political Theory and History: The Case of Anarchism', Journal of Political Ideologies, 20:3 (2015), 244-262
'Herbert Read and the Fluid Memory of the First World War: Poetry, Prose, and Polemic', Historical Research, 88: 240 (May, 2015), 333-354
'Memory, History, and Homesteading: George Woodcock, Herbert Read, and International Intellectual Networks', Anarchist Studies: George Woodcock Special Issue, 25:1(Spring, 2015), 86-104
'To Hell With Culture: Rhetoric, Fascism, and the War for Democracy', Anarchist Studies: Herbert Read Special Issue, 25:2(Winter, 2015), 18-37
'Rejecting the American Model: Peter Kropotkin's Radical Communalism', History of Political Thought, 35:1 (2014), 147-173
'Art, Education, and Revolution: Herbert Read and the Reorientation of British Anarchism', History of European Ideas, 39:5 (2013), 709-728
'The Possibilities of Anarchist History: Rethinking the Canon and Writing History', Anarchist Developments in Cultural Studies: Special Issue: The Anarchist Canon, No.1 (2013), 33-63 - Translation: 'Opciones para crear una historia anarquista: repensar el canon y escribir historia', History Accumulated: Science, Strategy and Praxis trans. César Augusto Duque (ed.) (Bogotá, Colombia, 2017)
'Kropotkin: Evolution, Revolutionary Change and the End of History', Anarchist Studies, 19:1 (2011), 56-81