Matthew studied History & Sociology at the University of Manchester (1st) followed by an AHRC-funded MA in Cultural History (Distinction) and an AHRC-funded Ph.D in History at the same institution. In 2012, he taught at the University of Durham, before being awarded a Banting Postdoctoral Fellowship by Canada's Social Sciences and Humanities Research Council, which he held at the University of Victoria from 2013 to 2015.
Matthew was appointed Lecturer in Politics, History and Communication at Loughborough in 2016, and also joined Loughborough's Centre for Research in Communication and Culture (CRCC).
In 2017, Matthew was made a Fellow of the Royal Historical Society.
Matthew is a historian of British intellectual and cultural history, with an interest in the development of anarchism as a political tradition. His first book focused on the work of Peter Kropotkin and Herbert Read, and examined their efforts to articulate a distinctive anarchist politics, inspired by, on the one hand, Kropotkin's attempt to translate anarchism to meet British intellectual problems, and on the other, Read's work in updating and broadening Kropotkin's thought in a radically different intellectual context. Matthew has published on parallel themes in a number of intellectual history and history of political thought journals.
His current project, The Ideas Factory: Radical Cultural Politics and the Anarchist Public Intellectual, focuses on the work of, amongst others, Alex Comfort, Paul Goodman, Dwight MacDonald, Ethel Mannin, and George Woodcock, examining the development of anarchist cultural politics in a transatlantic milieu during the Cold War. Recreating the intellectual networks between Britain, Canada and the US that united them, the book also explores the idea of the anarchist public intellectual as a forgotten voice in Cold War intellectual life.
Matthew is involved in the team-taught module Introduction to Academic Studies, and is course convenor of the part B option (16EUB634) The American Century: US Politics and Society in the 20th Century.
He is also currently co-supervising one Ph.D student, working on the theme of anarchism and work.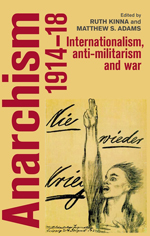 Anarchism, 1914–18 Internationalism, anti-militarism and war
Publisher: Manchester University Press, May 2017
Edited by: Dr Matthew S. Adams and Ruth Kinna
Anarchism 1914-18 is the first systematic analysis of anarchist responses to the First World War. It examines the interventionist debate between Peter Kropotkin and Errico Malatesta which split the anarchist movement in 1914 and provides a historical and conceptual analysis of debates conducted in European and American movements about class, nationalism, internationalism, militarism, pacifism and cultural resistance.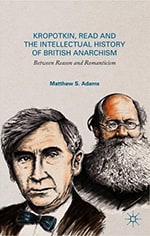 Kropotkin, Read, and the Intellectual History of British Anarchism
Between Reason and Romanticism
Basingstoke/New York: Palgrave Macmillan, 2015
Author: Adams, M.
Although marginal as a political force, anarchist ideas developed in Britain into a political tradition. This book explores this lost history, offering a new appraisal of the work of Kropotkin and Read, and examining the ways in which they endeavoured to articulate a politics fit for the particular challenges of Britain's modern history.
Selected publications
Book
Kropotkin, Read, and the Intellectual History of British Anarchism: Between Reason and Romanticism (Basingstoke/New York: Palgrave Macmillan, 2015). See here for a review in the American Historical Review.
Edited Collections
with Alexandre Christoyannopoulos, Essays in Anarchism and Religion: Volume 1 (Stockholm: Stockholm University Press, 2017).
with Ruth Kinna (eds.) Anarchism 1914-1918: Internationalism, Militarism and War (Manchester: Manchester University Press, 2017)
Edited Journal Special Issues
with Allan Antliff, Anarchist Studies: George Woodcock Special Issue, 25:1(Spring, 2015)
Peer-Reviewed Journal Articles
'George Woodcock and the Doukhobors: peasant radicalism, anarchism, and the Canadian state', Intellectual History Review (2017).
'Formulating an Anarchist Sociology: Peter Kropotkin's Reading of Herbert Spencer', Journal of the History of Ideas, 77:1 (2016), 49-74
'To Hell With Culture: Rhetoric, Fascism, and the War for Democracy', Anarchist Studies: Herbert Read Special Issue, 25:2(Winter, 2015), 18-37
with Nathan Jun, 'Political Theory and History: The Case of Anarchism', Journal of Political Ideologies, 20:3 (2015), 244-262
'Herbert Read and the Fluid Memory of the First World War: Poetry, Prose, and Polemic', Historical Research, 88: 240 (May, 2015), 333-354
'Memory, History, and Homesteading: George Woodcock, Herbert Read, and International Intellectual Networks', Anarchist Studies: George Woodcock Special Issue, 25:1(Spring, 2015), 86-104
'Rejecting the American Model: Peter Kropotkin's Radical Communalism', History of Political Thought, 35:1 (2014), 147-173
'Art, Education, and Revolution: Herbert Read and the Reorientation of British Anarchism', History of European Ideas, 39:5 (2013), 709-728
'The Possibilities of Anarchist History: Rethinking the Canon and Writing History', Anarchist Developments in Cultural Studies: Special Issue: The Anarchist Canon, No.1 (2013), 33-63
'Kropotkin: Evolution, Revolutionary Change and the End of History', Anarchist Studies, 19:1 (2011), 56-81
Other Articles
Book Chapters
'Uniformity is Death: Human Nature, Variety, and Conflict in Kropotkin's Anarchism', Joanne Paul et al. (eds.) Governing Diversities: Democracy, Diversity and Human Nature (Cambridge: Cambridge Scholars Press, 2012), 150-168
'Mutualism in the Trenches: Herbert Read's Anarchist Conversion and the Lessons of the First World War', Adams & Kinna (eds.) Anarchism 1914-1918, 243-262
Other Publications
'War, Writing and New Identities', J. Matthew Huculak (ed.) Fronts of Modernity: the 20th Century Collections at the University of Victoria Libraries62-65 (Victoria: University of Victoria Libraries, 2016), 62-65
'Nineteenth Century Political Thought', Gregory Claeys (ed.) Encyclopedia of Modern Political Thought (London: SAGE, 2013), 597-602
'Paul Brousse (1844-1912)', Immanuel Ness (ed.) The International Encyclopedia of Revolution and Protest (Oxford: Wiley-Blackwell, 2009)