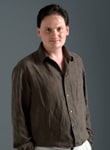 Marcus' first book, Modern Love, explores how women's emancipation changed the theory and practice of friendship, marriage and sexual activity from the fin de siècle to the present. It argues that mutuality represented a significant missing link between Victorian models of personal relationships and our own: mutuality being the term for the widespread notion among self-styled progressives that a combination of mixing, companionate marriage and shared sexual pleasure would forge an intimate equality between women and men. Marcus examines the practical effects of these doctrines in case studies of youth clubs, marital problems and soft-core pornography, all of which indicate a gap between expectations and outcomes. Though promising harmony, mutuality failed to resolve how equality squared with difference and left largely untouched the structural inequalities between men and women outside their private lives.
Listen to Marcus discussing his book on the radio
BBC Radio 4
Australia's ABC
Marcus' next big job was to edit The Permissive Society and Its Enemies: Sixties British Culture. In it, he makes the case for a less polemical and more empirical approach to a subject that has served as a battleground between Marxist and neo-conservative theorists. His introduction defines and periodises permissiveness, identifies its major proponents and opponents and examines its relationship to gender and generation, national identity and party politics.
Marcus is currently engaged two book-length projects. 'The Beatles and the Permissive Society' will be the first monograph on the group by an academic British historian. It argues that they should be understood not only as the advocates of permissiveness, but also as its critics and even its casualties: by turns embracing and renouncing drugs, luxury, promiscuity, publicity and revolutionary politics. Their life experiments are a matter of more than biographical interest because, as quintessential Everymen, they experienced in exaggerated fashion the same dilemmas about freedom and de-traditionalisation facing the postwar generation in the developed world. Marcus hosted a major international conference on The Beatles in 2012 and has been commissioned to edit a special Beatles issue of the journal Popular Music History. The second book project is entitled 'Experiencing Modernity in Late Twentieth-Century Britain'. It tests the claims of social theorists such as Anthony Giddens that the end of the twentieth century witnessed the birth of a 'late modern' epoch by examining how thousands of oral history interviewees articulated their understanding of, and participation in, such phenomena as globalisation, pluralism and time-space compression.
Marcus teaches historiography and British and European history since 1750 at undergraduate level, and supervises postgraduate students in his specialisms of cultural history and contemporary British history. Any enquiries about the undergraduate and postgraduate programmes are very welcome.
Books
Modern Love: An Intimate History of Men and Women in Twentieth-Century Britain (London, 2003; Newark DL, 2006).
Editor of The Permissive Society and Its Enemies (London, 2007).
Articles
'I Feel Free: The Worldview of British Rock and Pop Musicians, c. 1965-1975', Rock and Roll, Counterculture, Peace and Protest: Popular Culture in Britain and America, 1950-1975 (Adam Matthew Digital, forthcoming)
'"The Age of the Beatles": Parliament and Popular Music in 1960s Britain', Contemporary British History 27, 1 (2013), 85-107
'The Beatles' Politics', The British Journal of Politics and International Relations(2012), Early View doi: 10.1111/j.1467-856X.2012.00545.x
'Sucking in the Seventies? The Rolling Stones and the Aftermath of the Permissive Society', Popular Music History 7, 1 (2012), 5-23
'Historiography from Below', Teaching History, March 2011
'Interpreting the Beatles', Teaching History, September 2009
The Permissive Society and Its Enemies' in Marcus Collins (ed.), The Permissive Society and Its Enemies (London, 2007)
(with Willie Thompson) 'The Revolutionary Left and the Permissive Society' in Marcus Collins (ed.), The Permissive Society and Its Enemies (London, 2007)
'The Fall of the English Gentleman: The National Character in Decline, c. 1918-70',Historical Research 75, 187 (2002), 90-111
'Pride and Prejudice: West Indian Men in Mid Twentieth-Century Britain', Journal of British Studies 40, 3 (2001), 391-418
Articles in progress
'The Beatles and the Intellectuals'
'Permissiveness on Trial: The Rolling Stones and the Redlands Affair'
'The Shape of Twentieth-Century British History'
'The Peculiarities of Postwar British History'
'Textbook Answers: Surveying Twentieth-Century British History'
'Who Counts? Quantification and Oral History'