Having completed a BA in French and German (Oxford) and then a more interdisciplinary MA in French Studies (Sussex), I moved into history (still at Sussex) to do a DPhil in French labour history. I have been at Loughborough since 1986, and my research area, broadly speaking, is the history of the Left and of labour movements in the 20th century, particularly in France. I have worked mostly on the French anarchist movement and 'alternative left', and am currently working on Daniel Guérin (1904-88).
Having been involved for some years with the Journal of Contemporary European Studies (formerly the Journal of Area Studies), I am currently an associate editor of the journal Anarchist Studies. I am a member of the CIRA (Centre International de Recherches sur l'Anarchisme), of the ASMCF (Association for the Study of Modern & Contemprary France) and of the ASN (Anarchist Studies Network, aka the Specialist Group for the Study of Anarchism within the Political Studies Association).‌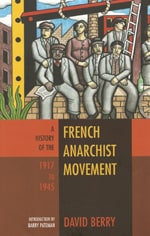 Recent publications
Journal Articles
'Metamorphosis: The Making of Daniel Guérin, 1904–1930' in Modern & Contemporary France (2014).
'From son of the bourgeoisie to servant of the Revolution: The roots of Daniel Guérin's revolutionary socialism' in Journal for the History of Social Movements [formerly Mitteilungsblatt], special issue: 'Lives on the Left: Biography and the European Workers' Movements' (2014).
'Daniel Guérin à la Libération. De l'historien de la Révolution au militant révolutionnaire: un tournant idéologique' in Agone no.29/30 (2003), pp.257-73.
'"Workers of the world, embrace!" Daniel Guérin, the labour movement and homosexuality' in Left History vol.9, no.2 (spring/summer 2004), pp.11-43.
'Daniel Guérin, la contestation permanente' in Daniel Guérin, révolutionnaire en mouvement(s), special issue of Dissidences no.2 (March 2007), pp.5-20.
'Change the world without taking power? The libertarian communist tradition in France today' in Journal of Contemporary European Studies vol.16, no.1 (Spring 2008), pp.111-30.
Books
A History of the French Anarchist Movement, 1917-1945 (Oakland, CA: AK Press, 2009).
With Constance Bantman(eds.), New Perspectives on Anarchism, Labour and Syndicalism: The Individual, the National and the Transnational(Newcastle upon Tyne: Cambridge Scholars Press, 2010).
With Alex Prichard, Ruth Kinna and Saku Pinta (eds.), Libertarian Socialism: Politics in Black and Red (London: Palgrave Macmillan, 2012).
Chapters
'"Un contradicteur permanent": The ideological and political itinerary of Daniel Guérin' in Julian Bourg (ed.), After the Deluge: New Perspectives on the Intellectual and Cultural History of Postwar France (Lanham, MD: Lexington Books, 2004), pp.149-74.
''Like a wisp of straw amidst the raging elements'? Daniel Guérin in the Second World War' in Simon Kitson and Hanna Diamond (eds.), Vichy, Resistance, Liberation. New Perspectives on Wartime France. (Festschrift in Honour of H. R. Kedward) (Oxford: Berg, 2005), pp.143-54.
'Historiographie de l'anarchisme et communisme libertaire', preface to Georges Fontenis, Changer le monde. Histoire du mouvement communiste libertaire, 1945-97 (Paris: Alternative Libertaire, 2008).