Emma Lawrence
Course

Subject area
The course at Loughborough instantly stood out to me due to how broad and flexible it seemed. At the time of applying, I was very unsure on specifically what area of design I wanted to go into, therefore a course where I could try lots of new things was key for me.
It was clear from the outset, that I would be able to try animation, photography, branding, editorial design, illustration and so much more at Loughborough. I also got such a good community feeling whilst walking around campus on the open day; I instantly felt at home. The number of societies, sports clubs and volunteering opportunities at Loughborough was also a big attraction, as I like to be on the go 24/7.
I am just over 4 months into my Design and Content Placement at the Met Office (the home of all things weather and climate). I am part of the Content Team, which is full of designers, presenters, animators, and video producers. My role has been very varied… it is so much more than just designing weather symbols like you might think! I have the opportunity to input my fresh ideas to a wide range of projects, such as working on the campaign to promote the new Met Office book 'Very British Weather' to working on an infographic to advise scientists on how to present climate information to the public.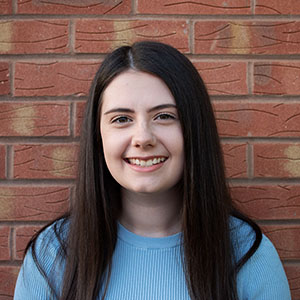 My animation skills are rapidly advancing, and this is one of the skills that I wanted to develop during my placement year, as I think motion skills are becoming increasingly important to any designers toolkit. Whilst my design skills are developing naturally through using Adobe software daily, a lot of the skills I feel I am advancing in are those vital to any working environment! These involve leadership, communication, time management skills and so much more.
In addition, I get to stimulate my academic as well as my creative side. As someone who did Maths and Geography A-Level, I love having the opportunity to design things about something that is interesting. I have always had it in my nature to help people and it is important for me to use my creativity to do this wherever I can. I find it rewarding knowing that the communications we put out as a team on social media every day, help keep the public up-to-date with the latest weather forecast to ultimately keep people safe, especially in times of severe weather.
My greatest achievement so far It has to be the work I did to help Cactus Café, a Mexican restaurant in Loughborough, to develop their social media platforms. I joined the LSU Enterprise 'Switch On Stand Out' campaign, whereby they match students with local businesses to help develop their marketing strategies. Despite starting as a team of 4, it ended up (due to the other students prioritising other projects) being just little old me volunteering my time to help wherever I could!
I learnt that when opportunities like this arise, you should take on the challenge (even if you feel completely out of your depth), as you never know what will come out of it. For me, it was lots of Nachos and a hell of a lot of social media knowledge, that has stayed with me ever since!