Dani Nash
Course

Subject area
I chose to study at Loughborough because not only is it a highly prestigious University, but its reputation for Textiles in the University league tables has always remained high. Part of the reason for this is the teaching support and the opportunities available on the course, such as live briefs in the industry and continual competitions, leading to high student satisfaction.
The supportive teaching staff have massively aided my learning throughout this course especially within the print room. The amazing facilities have combatted that within the industry itself for screen printing where the skilled staff have not only shown me patience but flexibility. I also benefitted from the support of previous students returning to assist as it is incredibly useful to work alongside someone who has been through this degree before.
I am hopeful to continue in a career of design in fashion menswear, but at the moment I currently freelance part-time and really enjoy working for commissions for interior textiles projects. My degree has enabled me to develop certain skills further, but also to create a sustainable work ethic and mindset. The final qualification is also fantastic in terms of connections and the Loughborough University name attached to it.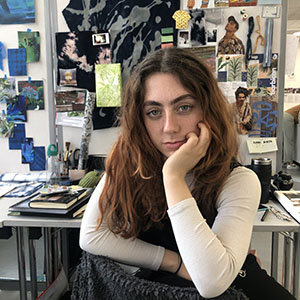 As I have a strong interest in menswear fashion the opportunity to compete and win an internship for H&M, working alongside their set brief and receiving interviews and feedback was incredible. The strict collection of work we had to produce was not only a helpful guide but pushed me outside of my comfort zone to achieve work of a higher standard.
The benefits of my placement year so far have been the time management and personal organisation of a working week as well as progressing in my knowledge of a fashion business. I have also been able to build on and practice screen printing in a commercial setting.