Annabelle Loweth
Course

Subject area
I am a visually impaired hand weaver and textile student currently on my placement year at textile studio Ambar and weave studio Maria Sigma. My most recent work focuses on juxtaposing natural features with architectural environments. Having been born with a severe visual impairment, I have had the opportunity to observe the world from a unique and distinct perspective. She focusses on the more defining details, textures and close structures of media that others may overlook.
I have always loved textiles and the process of creating and designing fabrics. Before starting my degree, I completed an Art Foundation at Loughborough. The Foundation course at Loughborough allowed me to have an insight into life at university and the opportunity to explore all the creative hubs before confirming my desire to continue onto the textile degree course at Loughborough. However, it was the quality of teaching, the universities connections with industry and the vast range and high-quality facilities available that initially drew me to choose Loughborough.
Integrated within the degree you are able to undertake a year in industry exploring, developing upon skills you have learnt while studying at university. My placement year so far has been an invaluable opportunity to advance technical skills and apply the knowledge I have gained in my first two years at university to a working environment, despite COVID challenges!
Currently I am working at Maria Sigma and Ambar Ldn. Maria Sigma is a weave studio focusing upon ethical and sustainable design solutions with a zero-waste ethos. I have been able to develop my weaving skills and learn new processes that I will use when returning to university for my final year. For my other placement I am working at Ambar Ldn, a small knit, fashion and lifestyle brand based in central London. It is here that I am able to understand
the running of a small business and help out with the launching of new collections and excitingly forefront the studios expansion into handwoven processes.
Coming to university is both a daunting and exciting prospect. Before coming to university, I had the usual pre-arrival nerves however I was just overwhelmed with excitement with all the opportunities that lay ahead.
What was particularly helpful was that I was able to meet with my disability advisor before I moved into halls to discuss what support could be put into place to make the transition from a-levels at university even easier. The course has so much support available and the teaching quality has been incredible. All the tutors and specialist technical staff provide expert guidance and knowledge enabling you to succeed and achieve your goals.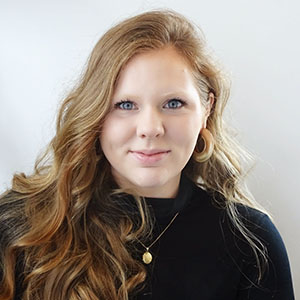 Setting into university life was even easier than I had anticipated, everyone was super welcoming; from the students in my halls to the students and tutors on my course. My favourite thing about being a Loughborough student is the fact that there is such a strong sense of community where everyone is so supportive and friendly.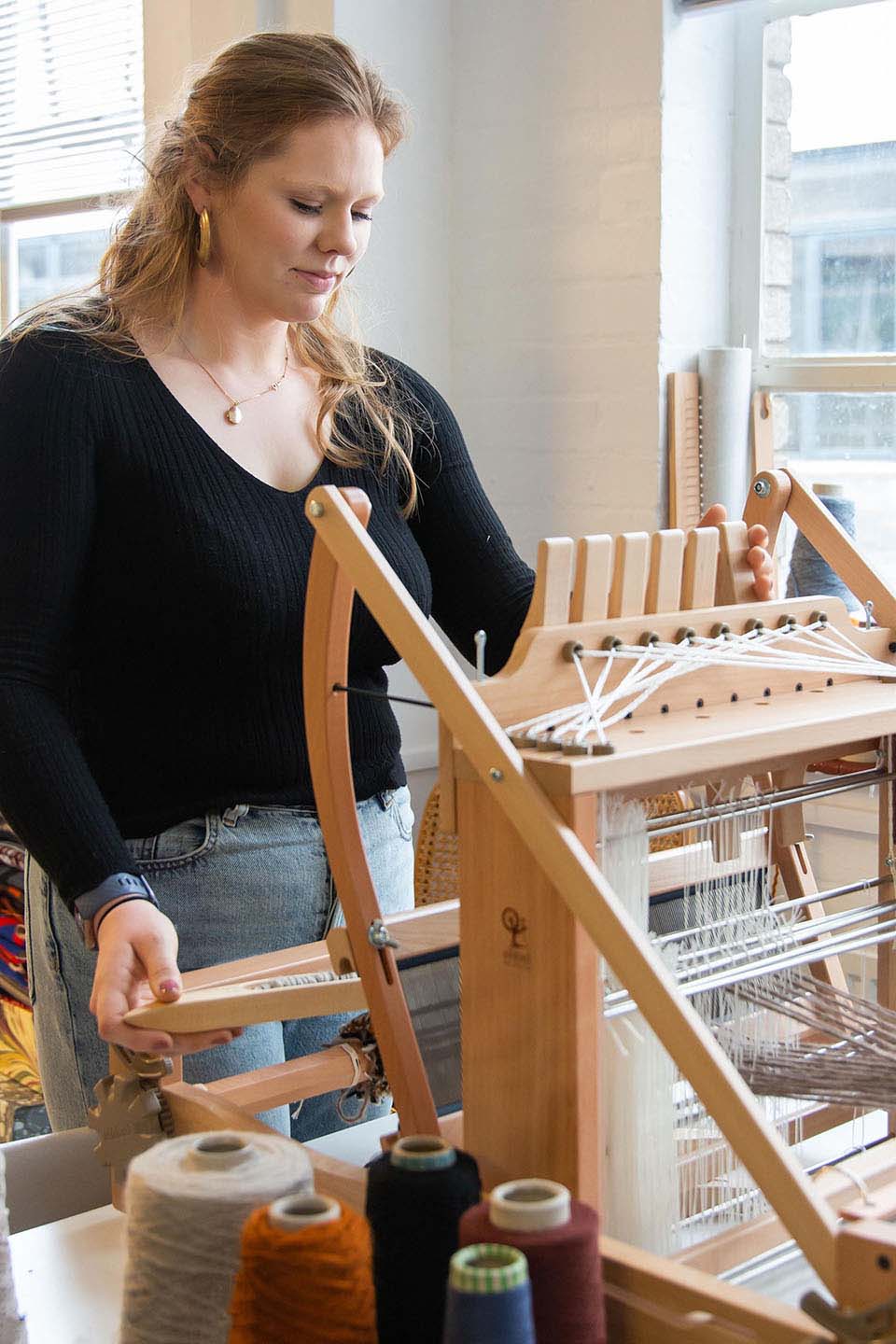 Having a visual impairment, I require additional support and the team at Loughborough have been so supportive. I have received support from the Disability Office and all the tutors within the department. I have a disability advisor who has helped me throughout the process of receiving my DSA (Disabled Students Allowance) and who is always easy to contact and speak to if I have any issues. Within the textiles department all of the tutors and technical staff have been so encouraging, and I have received an outstanding level of support.
Before I even started on the course, I received extensive support and guidance from the university not only discussing what measures would need to be implemented on the academic side but also with accommodation access and lighting modifications.
Both the university and the course have so many opportunities available to you so try and make the most of them all and give everything and anything a go as you may discover your new passion! If you are unsure as to what creative path you might like or if you just want to sample the university experience before committing to a three- or four-year degree I would highly recommend the Art Foundation course. You are able to sample all areas of the creative pathways and explore all the technical hubs that you use while on degree.
Within the department there are 6 technical hubs that you have the opportunity to utilise during your time studying. This allows you to learn skills that help support projects and discover techniques that you would have never previously considered.
One of the main things that I have loved about the Textile course is having the opportunity to explore and trial all the pathways; print, weave, IDP and MMT. Had I not had this opportunity I would have never discovered my love of woven textiles! Coming into the degree I was set on my love of print and print design, however when working with the looms and weaving my own fabrics I was captivated by the art of what could be achieved through creating a fabric from its original fibres.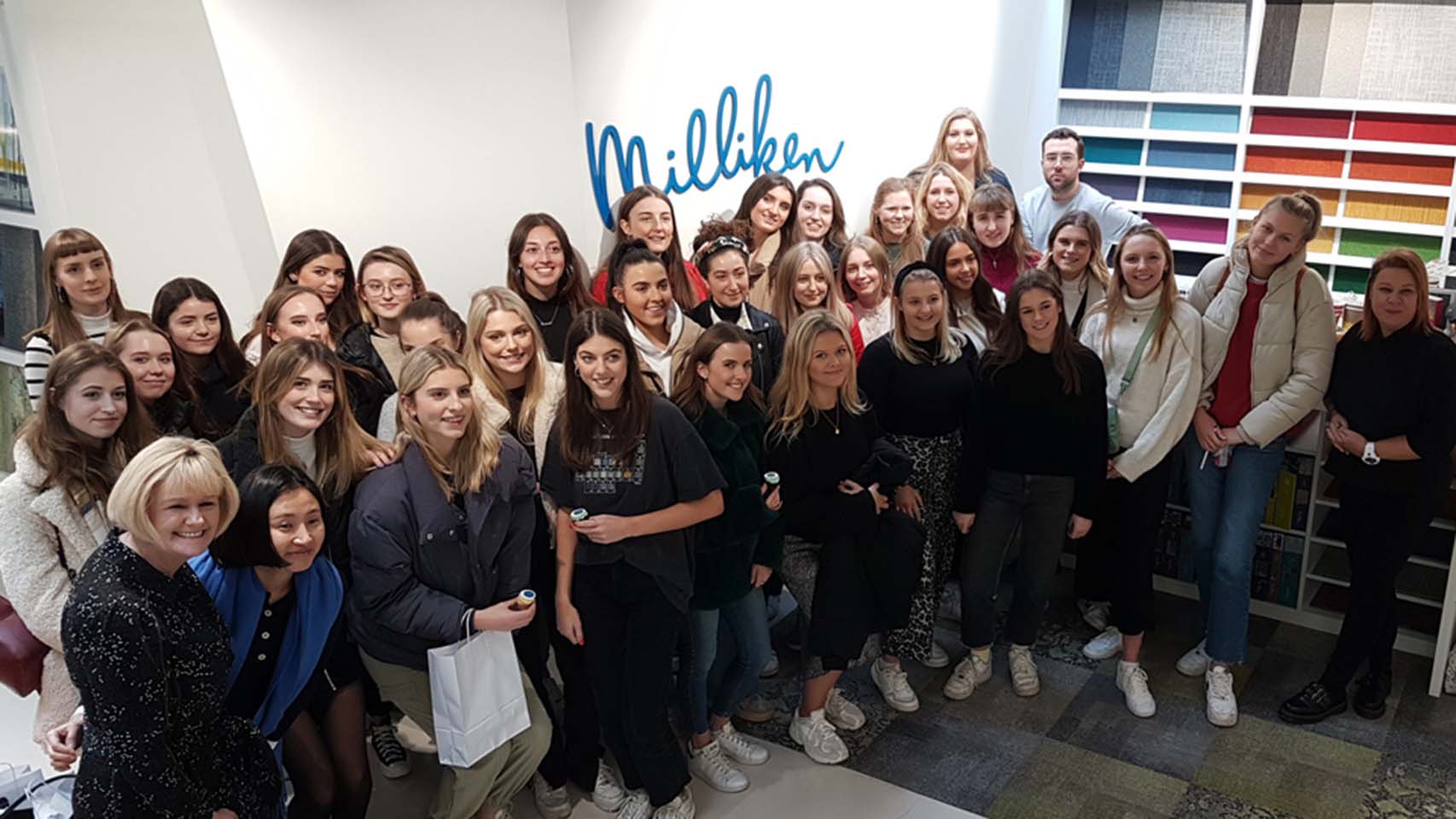 The tutors are always available to support, guide and push you and allows you to reach your full potential. Alongside the wealth of knowledge from tutors you are able to explore both traditional and hand processes with digital technologies that prepare you with all the fundamental skills required when working in industry.
As a weaver I am able to work with a wide range of looms from small table looms to, floor looms and an industry standard jacquard loom in the weave shed. This has allowed me to develop a large knowledge of a wide variety of woven processes that has prepared me for working in the industry. This is something I have seen proven whilst I have been out on placement.
There are so many aspects of the course that I have loved; the ability to explore the array of technical processes in the 6 hubs, having live projects with companies such as H&M and Milliken, and the opportunity to gain industry experience during your placement year so you can apply these additional skills that you have learnt within your final year.
During my second year at university, we were given the opportunity to work alongside the global textile design and manufacturing company Milliken to design a collection of carpet tiles. This opportunity to work alongside the Milliken team enabled me to explore the broad concepts and applications of textiles. I loved working on this project to be awarded first place was incredible, but it was finding out that one of Milliken's clients had expressed interest in my design work that made the entire experience even more special.
For the Milliken live project, we were given a brief set by the Milliken in-house design team to design carpet concepts for three different commercial environments for which I gained first prize. As part of winning I was invited to create an Instagram live on Milliken's Social Media Platforms to reveal my tiles and discuss my work which was exhibited at their showroom. This collaborative project was such a valuable experience and I am so honoured to have been awarded first place. Working alongside the Milliken team has shown me how diverse the opportunities are within the industry.