Managing our environmental impacts
In order to implement and demonstrate continual improvement to our environmental performance we have an Environmental Management System (EMS).
Our EMS covers the University's Loughborough and London operations as well as those of imago Ltd. A detailed scope documented what is included and what is excluded is defined in our EMS Manual (available on request).
An EMS enables an organisation to manage its environmental performance in a comprehensive, systematic and documented manner. It serves as a tool to reduce the impact, both immediate and long-term, of an organisation's operations on the environment. It encourages the allocation of resources, assignment of responsibility, and ongoing evaluation of practices, procedures and processes with a view to continual improvement of the system.
ISO 14001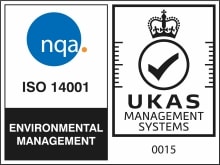 ISO 14001 is an internationally accepted standard that outlines how to put an effective environmental management system in place. It is designed to help businesses remain commercially successful without overlooking environmental responsibilities. It can also help you to grow while reducing the environmental impact of this growth. An ISO 14001 system provides the framework to allow you to meet increasingly high customer expectations of social responsibility as well as legal and regulatory requirements. ISO 14001 is the world's most recognised environmental standard.
In order to deliver our EMS we have Policy, Standards, Objectives and Targets, Strategies and Procedures known as Operational Controls, these can be found below.
Environmental policy and standards
The Environmental Policy sets out the institution's commitment to continual environmental improvement. It documents the principles through which sustainability will beembedded on campus and commits all staff to share in the responsibility for our environmental performance. The policy has been approved by University Council and signed off by the Vice Chancellor. From the Environmental Policy come the Environmental Standards. These set out the standards and/or behaviours which the institution expects from all staff, student and tenants with regards to each area of environmental management, and also what staff and students can expect from the University in these areas.
The Policy and Standards
Legislation, objectives and targets
Having identified our environmental aspects and impacts, and made a commitment through our policy to manage and mitigate these, the University must then set Objectives and Targets to do so. These also need to take into account any legislative requirements. In this section you can see the register of environmental legislation which applies to the University's operations as well as the Objectives & Targets which have been set.
Action plans
Action Plans enable the University to document how the Objectives and Targets set for each area will be achieved. The following therefore provide plans on how we will reduce our environmental impact across the key areas. The overarching University Sustainability Action Plan can also be seen here.
Operational controls
In order to deliver against our strategies the University needs to operate to certain consistent standards, which requires procedures to be documented. In the Environmental Management System these procedures are known as operational controls. This section is divided into 7 sections to make it easier to find the relevant operational controls for each area of Environmental Sustainability.