Pre-sessional Programme D
The main emphasis for Pre-sessional Programme Online D (online and campus-based) is on academic English. Whilst you are expected to read and conduct research on your subject area for your coursework, the Pre-sessional Programme covers English for academic purposes that can be applied to any discipline. Please note these programmes are full time (minimum 8 hours study per day) and attendance is compulsory.
Differences between online and campus-based programmes
| | |
| --- | --- |
| Online | Campus-based |
| Delivery: based entirely online with seminars and tutorials conducted via Microsoft Teams and learning materials on the university's virtual learning environment called 'Learn'. | Delivery: face to face classroom-based seminars and learning experience with materials available on the university's virtual learning environment called 'Learn'. |
| Student location: Study from the convenience of your own home/country. You will be required to have a quiet room to use to participate in seminars and tutorials. To attend assessments, you will need a private, quiet room. | Student location: accommodation available on the Loughborough University campus. Enabling you to attend the Loughborough campus and experience life in the UK. |
| Structure: Online seminars conducted in the mornings (UK time) which last 1 ¾ hours. Weekly contact hours including tutorials are approximately 7 ½ hours in a class size of approximately 6 students. Independent weekly study average of 32 ½ hours. | Structure: Classroom-based seminars conducted in the mornings (UK time) and last 3 ¾ hours. Weekly contact hours including tutorials are approximately 15 ½ hours in a class size of approximately 12 students. Independent weekly study average of 24 ½ hours. |
| Class sizes: Approximately 6 students per seminar group allowing more individual attention from the tutor. | Class sizes: Approximately 12 students per seminar group. |
| Orientation: Dedicated online materials available for students to use. | Orientation: Campus-based series of activities including trips, helping student to adjust to life in the UK. |
Our Pre-sessional Programmes have been carefully designed to maximise your learning potential in a supportive environment. We are using a successful teaching approach called 'flipped learning' where you work through learning materials before your live group seminar. Having these materials online means that you can look at them again in your own time, take a break when you want, look things up and fully prepare for your live group seminars with your tutor.
Dedicated study materials are available for you on our virtual learning environment called Learn. These materials have full instructions and carefully guide you through the learning tasks. The study materials are broken down into three main areas:
Programme materials that you have to complete in preparation for your seminar or tutorial with your tutor.
Homework that helps to consolidate your understanding.
Independent learning where you can focus on areas that you want to improve upon.
You will be working on these tasks either independently, with a study buddy or in a group. The study materials are delivered through online videos, interactive activities and worksheets. A weekly syllabus is published on Learn in advance to help you plan and manage your learning and time.
Assessments cover each of the four skills; reading, writing, speaking and listening, and are based on the academic skills and language development you learn during the programme. These assessments have been carefully planned into your timetables to enable you to develop your learning before you undertake them. Experienced tutors will mark your work and provide personalised feedback to help guide you on the areas upon which you could improve.
In 2022 100% of our campus-based students and 99% of our online students were able to progress onto their academic programmes.
The Pre-sessional Programmes are designed to equip you with the skills to succeed on your academic programme here at Loughborough University.
By the end of the programme, successful students should be better able to:
Deliver effective oral presentations.
Function within a variety of speaking situations in an academic context, including seminar discussions and tutorials.
Identify key points in a lecture and take effective notes.
Plan, structure, write and review extended pieces of writing.
Demonstrate an understanding of academic writing conventions, to include in-text citation, referencing, direct quotation and bibliographies.
Summarise and paraphrase effectively from written and spoken sources.
Write reflectively on their academic development and independent learning.
Use a range of reading strategies for different purposes.
Critically read, analyse and evaluate academic texts.
Locate, research and take effective notes from written sources.
Work independently and collaboratively.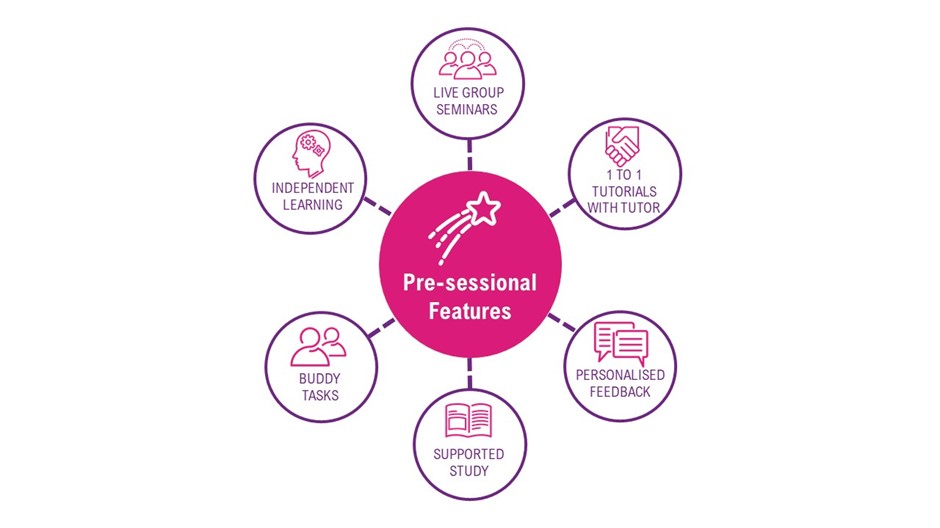 Live group seminars
Part of your learning will be compulsory attendance at seminars. These are conducted by your tutor and include other pre-sessional students. These seminars allow you to discuss learning and ideas with your peers; develop speaking practice and use of academic language, and work with others.
The number of seminars and tutorials you have each week can vary slightly depending upon the timetable and assessment schedule. On average you attend 4 live seminar sessions per week as well as having a weekly individual tutorial with your tutor.
1 to 1 tutorials with your tutor
We understand the importance of having regular one to one tutorials with your tutor and these are carefully planned into your schedule. Typically held once a week, this time with your tutor is focused on key learning and assessment elements throughout the programme giving you time to ask questions and develop a deeper understanding of the personalised feedback you receive.
Personalised feedback
Throughout the programme, you will be regularly completing and submitting tasks. Your tutor provides you with personalised feedback on these tasks which you can then apply to further improve your key skills. The feedback and tasks are also discussed in your tutorials.
Supported study
We appreciate that undertaking study which may be different from what you are accustomed to can be challenging. A core team of highly experienced academic teaching and learning professionals who understand these challenges have designed the programme and provide extra support to help you achieve your learning goals in a supportive environment. We support you in a number of ways throughout the programme from seminars to your tutorials and buddy tasks. However, we also provide other support systems:
Comprehensive induction to allow you to familiarise yourself with the learning environment, technology, and content of the programme. As part of the induction, you will attend live taught sessions as well as access programme materials, undertake tasks and meet your tutor and other students.
Timely topic specific forums are provided at key times in your learning to provide another layer of support where you can ask questions for further clarification.
Class forums are used during the programme where you can discuss specific topics such as academic culture with your seminar group and tutor.
Action plans are provided to help you organise and monitor your personal learning needs in the different key skills. These can then be used in tutorials to help focus and aid your development. There are a range of specifically created additional resources to help you target key areas of your learning journey.
An opportunity to be elected as a programme representative. As a programme representative you are a leader within your seminar group and can be the link between students and the core pre-sessional team. This is an opportunity to help shape the programme through feedback by yourself and your peers. We are responsive to feedback and make alterations where possible to aid your learning. This mirrors what happens on your academic programmes at Loughborough University and Loughborough University London.
Access to library materials with thousands of resources and support from Academic Librarians.
An orientation programme.
Buddy tasks
We learn so much when we work with others and our understanding of a subject increases. Within the programme there are specific tasks and activities you do with your 'study buddy'. A 'study buddy' is another student you work with and is allocated by your tutor. Your tutor will change who your 'study buddy' is during the programme to allow you to work with others and make new friends.
Independent learning
Independent learning is very important when studying at a UK university and is a skill that we help you to develop within the supportive environment. As well as undertaking learning within your seminar group, and with a buddy, there are many learning activities and tasks that you complete alone. You are then able to bring that learning and understanding to your seminar, study buddy or to your tutorials to get further help and guidance as you develop.
Technology requirements - online and campus-based
For both online and campus-based delivery, all students will be required to have the following technology for the full duration of their programme:
Laptop/Desktop of an appropriate specification:
Adequate drive space and memory (e.g., to run MS Teams, multimedia resources and store multiple files).
Working speakers, webcam and microphone (can be internal to your machine);
A smartphone capable of using the Duomobile app which is required for authentication to access university software (including the virtual learning environment, 'Learn');
A licenced and up to date version of Windows or Mac OS;
The latest version of Google Chrome or Firefox.
A stable broadband connection (minimum internet speeds - 10Mbps). Campus-based students will be able to access adequate connection when on campus.
We also recommend that students use a headset with a microphone for use during seminars and tutorials.
Last updated: 21st March 2023