When visiting open days whilst applying to university, Design at Loughborough stood out for its incredible building and facilities. Not only this but the reputation of design graduates from Loughborough is exceptional and the opportunity to do a year-long placement was a huge selling point.
The teaching staff are incredibly knowledgeable and are always approachable for help or discussion. The great thing about the course was the wide range of skills taught, including design, practical and technical skills.
The project which stood out for me was the injection mould tool design project. This combined industrial design with design for manufacture as well as real hands-on manufacturing of complex steel and aluminium parts. Being able to then use an injection moulding machine to create our parts proved to be an incredible experience of designing a part and seeing it through to final production using industry methods.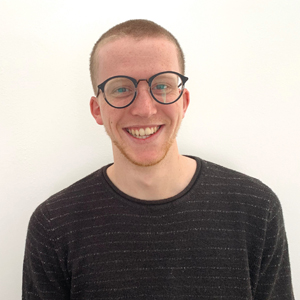 The most valuable part of the course was the opportunity to complete a year in industry. I worked as a design intern at TWO-O in Amsterdam for a 12-month period. I gained experience working on a huge range of projects including interiors, exhibition spaces, furniture, and civil engineering projects.
This internship allowed me to put into practice many of the skills I learned during my first 2 years on the course and add to this knowledge with real life projects and experiences. This experience has made me much more confident today in my abilities and would allow me to confidently approach a graduate job role.
My greatest career achievement would be during my placement year whilst working as a design intern at TWO-O, Amsterdam, where I became the companies lead designer after four months in my role.
This involved overseeing manufacturing projects whilst taking on managerial decisions and making important design decisions. At the end of the 12-month period I was kept on for a few weeks on a freelance basis. Working around other people with great work ethic inspired me to do as well as possible during my time at Loughborough.