Annabelle Loweth
Current student
Course
I have always loved textiles and the process of creating and designing fabrics. Before starting my degree, I completed an Art Foundation at Loughborough. The Foundation course at Loughborough allowed me to have an insight into life at university and the opportunity to explore all the creative hubs before confirming my desire to continue onto the textile degree course at Loughborough.
However, it was the quality of teaching, the universities connections with industry and the vast range and high-quality facilities available that initially drew me to choose Loughborough.
The course has so much support available and the teaching quality has been incredible. All the tutors and specialist technical staff provide expert guidance and knowledge enabling you to succeed and achieve your goals.
In your second and third year you are given your own dedicated studio space, that allows you to immerse and surround yourself with like-minded creatives. The studio creates an encouraging working environment where you are able to speak to other students across all pathways which creates an atmosphere of community and creative collaboration.
Having a visual impairment, I require additional support and the team at Loughborough have been so supportive. I have received support from the Disability Office and all the tutors within the department. I have a disability advisor who has helped me throughout the process of receiving my DSA (Disabled Students Allowance) and who is always easy to contact and speak to if I have any issues. Within the textiles department all the tutors and technical staff have been so encouraging, and I have received an outstanding level of support.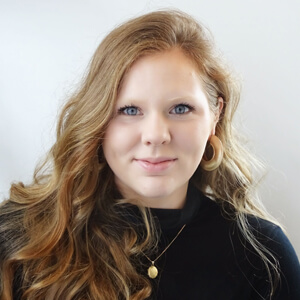 My greatest achievement while at university was being awarded first place in the Milliken Live project. Specifically, when I found out that one of Milliken's clients had expressed interest in my design work. To know that my work was recognised and inquired about has been one of the proudest moments I have had while at university.
We were given the opportunity to work alongside the global textile design and manufacturing company Milliken to design a collection of carpet tiles. This opportunity to work alongside the Milliken team enabled me to explore the broad concepts and applications of textiles. I loved working on this project and to be awarded first place made the entire experience even more special.
Integrated within the degree you are able to undertake a year in industry exploring, developing upon skills you have learnt while studying at university. My placement year so far has been an invaluable opportunity to advance technical skills and apply the knowledge I have gained in my first two years at university to a working environment.
I have been given the opportunity to be a valued member of each team, where my opinions and insight are respected. I have had the opportunity to creatively contribute and learn new design techniques that I can apply when retuning to university. The knowledge I have learnt from the technical and academic tutors in the weave shed allowed me to put the skills I had studied into practice.