Alice Burnhope
Alumna
Course
The Textile course was ranked number one in the country, so I knew it was the best University and course to be on. I completed the Art and Design Foundation course at Loughborough University and was offered a scholarship to pay for my degree education by Sarabande Foundation. Additionally, after completing the Foundation course, I had built a support network within education, social life, and sport. Therefore, Loughborough felt like the right balance and home to me.
Loughborough has inspired me to pick up a material and just experiment and have fun. Through creative play opens many opportunities and possibilities. With doing comes success if you are passionate and hardworking at your chosen subject.
The facilities were incredible, having the opportunity to learn skills and expertise in 5 different hubs, really allowed me to become the multi-disciplinary designer I am today. Additionally, the technical staff knowledge is beyond brilliant. I would come to them with the weirdest and wackiest ideas, and they would always allow me to execute the idea professionally whilst keeping the magic of the initial idea.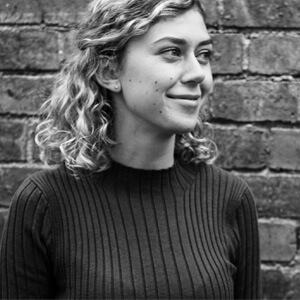 I did a placement year in London, working at PriestmanGoode, a transportation and interior design consultancy. Also, I worked at Anne Kyyro Quinn a fabrication and design consultancy as well as John Alexander Skelton a menswear fashion designer.
My placement year helped open my eyes to all the possible design jobs as well as fine tune my creative practice. Additionally, it allowed me to build many contacts within the industry which since graduating has offering me exposure opportunities and mentoring.
What I enjoyed most about the course was the practical element to be able to explore a topic or theme by manipulating materials for your desired audience. To see and be a part of the whole process start to finish is a real luxury which there is limited opportunity to do so when you are in the textile industry.
Final year was my favourite where I could bring my passions for environment and mental health awareness to the forefront of my design process, enabling two well thought through collections which has since been exhibited in several exhibitions and solo exhibitions.
What I would say to someone considering this course is that if you are unsure of what career to take but would like to be in the creative industry this course is the most diverse which will lead to endless exciting opportunities. You will gain prolific skill set within design, digital design and research which can be applied to any aspect within industry, making you a more rounded designer and therefore most sort after.