Abbey Hobbs
Current student
Course
I applied to Loughborough University's Art Foundation Diploma course after leaving school because I wanted the freedom to experiment with new processes and facilities that I had not been exposed to before. Loughborough University was always my first and only choice, because it has such a positive, nurturing learning environment where I knew I would be able to confidently express myself.
I discovered my keen interest in manipulating materials, and I began to specialise within Multi-media textiles design through to Degree level studies. I am always reflecting on my skillset and aiming to consistently learn new processes, then develop them beyond into fashion design. Textiles design is so much more than designing a print pattern or textured surface, it is building the most important, intricate foundation towards something potentially much greater.
I have received so much encouragement from tutors at Loughborough to keep expanding on my ideas, to delve into more depth within my projects and to build on different techniques. It so liberating discovering a new textile process whilst utilising the university's library resources. You can find so much inspiration from books about mediums that other artists specialise in. When I started university, I had barely any experience with how to even set up a sewing machine because I had not had access to one in the past. I had to come into the workshops in my own time and teach myself using the university's resources.
Being patient with practise is so important in every skill that you are trying to master, and I am so grateful with the skills that it has provided me with me now. I have produced some pieces that I am proud of and today I am creating my own pattern designs from scratch, with the technical knowledge to know how. The facilities at Loughborough University are so diverse and presents students with the freedom and potential to create something invaluable.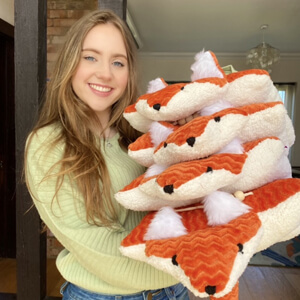 I have been lucky to have undertaken a variety of different internships during my placement year, which I am so grateful for, as work opportunities have been so scarce during the pandemic. I was an embroidery and embellishment intern at Suzie Turner Couture in London, where I was hand-sewing and beading couture bridal/ evening dresses.
It was quite challenging, as tasks were incredibly intricate, and our execution had to be very precise and professional. I gained a lot of industry knowledge that I think will be beneficial for my final year of degree and I learnt the importance of ensuring a safe and positive working environment when starting a placement.
I also worked in a Debenhams clothing store within their womenswear department, where I was directly exposed to how consumers perceive and observe current trends. I was introduced to visual merchandising within retail, creating new product displays and fixtures that would encourage customers to interact with new collections. My confidence and communication skills developed so much throughout this experience, as my role required me to give customers product knowledge daily and to be very adaptable in a busy working environment. I have learnt a lot of information about certain materials and styles through the textiles lectures on my course, and so it has been very useful throughout my placement year.
I have one more internship upcoming this summer, as a Showroom Assistant at MaxMara in Marylebone, London. MaxMara is a renowned Italian fashion company, known for their empowering, formal womenswear garments. I have been so grateful to have been able to get involved in a variety of different opportunities and build on my confidence as well as my skillset.
I love the opportunities that we are given on our course; we have multiple workshops to introduce us to new design possibilities and exposure to textiles-based competitions. I believe that it is so important to aim to build on your abilities; there is always something unique that you can take from a piece of research, from artists and so many other influential sources.
On my course there is so much that we have access to and being in such a close-knit environment with other students is so useful. I have learnt so much about myself from observing others and their own ideas. I have come a long way from my school days and even from my Art Foundation course; I am so much more confident in my abilities and as an individual.