Kathryn Geary
Current student
Loughborough University has always had an excellent reputation for art and design; therefore I knew the standard of teaching would be extremely high and I would gain the skills and confidence to apply for a degree in a creative pathway of my choice.
The workshops are very well equipped and highly qualified technicians were on hand to offer support and guidance on my projects. Most of the academic and technical tutors are also practicing artists and I found they were all very generous with their time and happy to share knowledge.
As a mature student I did not feel confident enough to jump straight into a degree. I had worked for almost 30 in the civil service, but it was my long-held dream to study art and design. I knew that if, for whatever reason I could not continue to a degree, I would still have a good qualification from a high-ranking university for my CV and I would learn new artistic skills. The Foundation course made me realise that art and design is what I really wanted to do and leaving my office job was absolutely the right choice.
I was automatically offered a place at Loughborough to study Textiles after I successfully completed my foundation year. I intend to take a placement year to gain valuable experience in woven textile design and eventually I hope to work for myself upon completion of my degree. I think without the Foundation course I would be less equipped to understand other areas of art and design or feel so confident that I had chosen the correct creative pathway.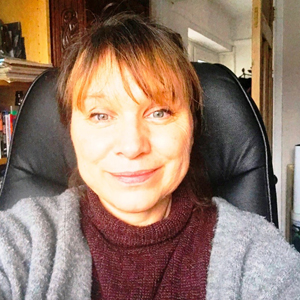 The course is very well structured, and covers all aspects of art and design, so whether you are potentially interested in Fine Art, Graphic Design or Textiles you will experience so many aspects of these disciplines to help you make an informed choice about your chosen degree.
I think it would be amazing if more mature students came to Loughborough to study and the foundation course offers a very important steppingstone into Higher Education, especially for students like me who really struggled to self-educate over the years. I really enjoyed the variety the course offers; I had the opportunity to experience many different specialisms in art and design. It really helped me to discover what I wanted to achieve from a degree in creative arts and gave me the confidence to development my ideas, but also learn from my mistakes.
I have really enjoyed taking part in live competitions and briefs. For example there was a postcard competition in collaboration with Joshibi University in Japan. Students from Japan visited Loughborough to curate the postcards we designed. In addition a brief called 'fashionista' was exciting in that we had to create fashion garments from minimal materials and resources. The course is fast paced, and no week is the same.
Loughborough really is a nurturing place and although I am a mature student I feel so well supported by the staff and fellow students. The standard of work that the students create is incredibly high and I feel very privileged to be doing my degree here.