Iona Palmer
Current student
I chose to do an Art Foundation because I knew I wanted to do a creative degree, but I was not sure which one would be best suited to me. I loved the community atmosphere of the Loughborough campus, and the Foundation course seemed very well organised, with good access to a broad variety of facilities.
It gave me an opportunity to try out a broad range of facilities, from ceramics to fabric printing, which helped me to decide which I enjoyed most. The course encourages you to be experimental; it is a great place to learn alongside students of all disciplines and backgrounds.
I am aiming to work as a designer within the sustainable fashion industry. The foundation course helped to deepen my love of fabric, texture, colour, and surface, while starting to work out what my design style might look like. It helped me to articulate my ideas more clearly and was a great way to prepare for moving onto a creative degree course.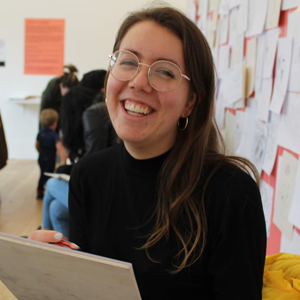 What I enjoyed most about the Foundation course was the community atmosphere, and the fact that there is no limits to what materials you can use. You can also get involved in university life, stay in halls, and get to know people from different degree courses. It is fun, experimental, and freeing to work outside of the pressure of A-levels or a degree.
One of my highlights was going to a talk on sustainable fashion by Patrick Grant, which was inspiring and provided a great insight into the future of fashion. On my foundation course I really enjoyed going on trips with friends to galleries, especially ones organised by the university as it gives you the opportunity to discuss the exhibitions with tutors too.
I have also loved being on my placement year, getting an insight in what it is like to live and work in London. The degree course prepared me well for this move, giving me the confidence and tools to apply to internships.