Self-powered bionic bandages for rehabilitation
Researchers at Loughborough University are developing super-smart textiles which capture energy from natural body motion to remotely monitor your movements and health information and transmit that data to health professionals via a mobile.
One out of seven people in the world suffer from some sort of disability, and access to rehabilitation care is scarce globally due to the lack of facilities and trained professionals.
The aim of our research is to provide at home, remote, inexpensive, and comfortable rehabilitation care globally using super-smart textiles.
Super-smart textiles are designed to capture energy from natural body movements and to create electrical signals that can be used to measure your body movements as well as physiological parameters.
This technology paves the way for bionic bandages and smart t-shirts and trousers which will monitor and support rehabilitation while we are getting on with our lives. It has the potential to significantly increase the access to rehabilitation care.
The research is funded by the Royal Academy of Engineering and Loughborough University School of Mechanical, Electrical and Manufacturing Engineering.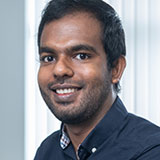 Mechanical, Electrical and Manufacturing Engineering