3 v 3 Wheelchair Basketball Format
Research from the Peter Harrison Centre for Disability Sport has contributed to the development of a 3 v 3 format of wheelchair basketball that has recently been included as a medal event at the 2022 Commonwealth Games.
Wheelchair basketball is currently a 5 v 5 sport that has gained immense popularity at the Paralympic Games. The International Wheelchair Basketball Federation (IWBF), who govern the sport, were interested in developing a 3 vs 3 format of the sport, as has been done with great success in the running version of basketball. 3 vs 3 wheelchair basketball does exist, however there are a variety of different formats, with different rules that are played in different locations around the world. Subsequently, the IWBF were keen to develop and promote a single format of 3 vs 3 that could be played worldwide, with the hope that it could be recognised as a standalone version of wheelchair basketball and be eligible for inclusion at international competitions. This led the IWBF to contact the PHC about whether any research could be conducted to facilitate the selection of the most appropriate format.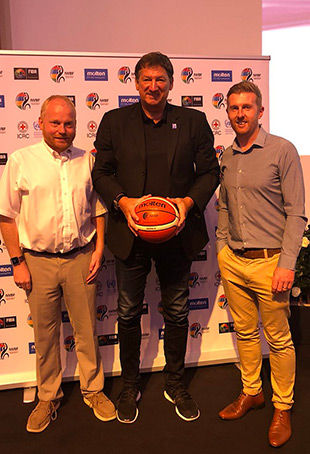 Led by Dr Barry Mason in collaboration with Dr Andrea Bundon from the University of British Columbia, the PHC devised a programme of research to examine the three different formats of 3 vs 3 wheelchair basketball currently in existence:
Full court – 28 x 15 m, 2 baskets
Half court – 14 x 15 m, 1 basket
Modified court – 22 x 15 m, 2 baskets
The programme of research included some field-based testing of each of the three formats used to help understand the physical and technical demands of each format. Interviews and surveys were also incorporated to qualitatively gauge the perceptions of key stakeholders within wheelchair basketball (athletes, coaches, officials) with regards to each format.
The research involved the use of some innovative technology, namely the indoor tracking system and some inertial measurement units, to help accurately quantify the workload of 15 highly trained wheelchair basketball players during each game format. Video analysis was also included alongside to establish the technical demands and differences between each format.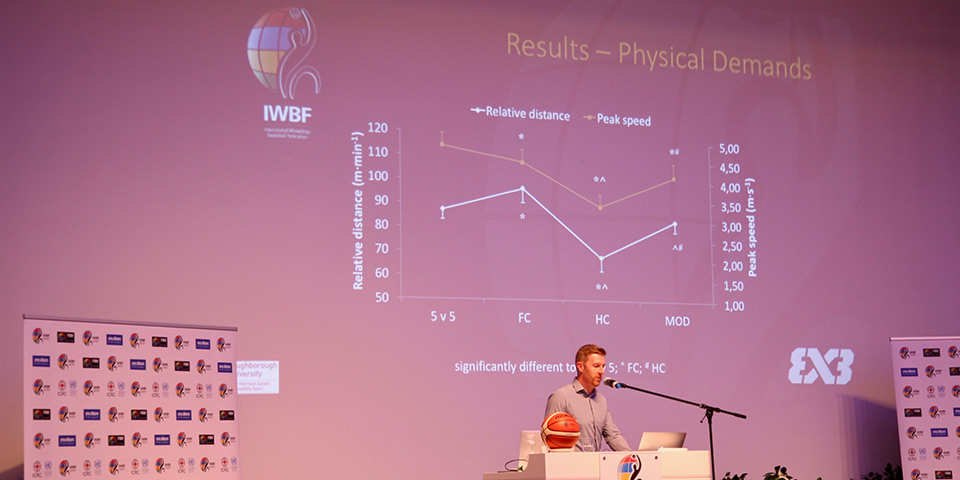 It was revealed that game format had a significant bearing on the external workload imposed on players, with greater distances and higher speeds demonstrated during the full court version compared to others. However, few changes in technical performance were observed during the different 3 vs 3 formats. The qualitative data revealed that stakeholders were very keen to see a 3 vs 3 format of the sport, as it would make the sport more accessible in countries where fewer athletes exist or where geography prevents 5 vs 5 wheelchair basketball from being a possibility. Stakeholders felt that although the full court format was the quickest, as evidenced by the on-court testing, it may lead to the sport becoming a bit of a 'one-man show' and not as inclusive as other formats. Alternatively, the half court format appeared favourable from a logistical perspective. Less space was required, 2 games could take place at the same time and it was felt that this format would be more spectator friendly.
Based on all of this research, which was fed back to the IWBF at their Annual World Congress 2018 in Hamburg, Germany by Dr Mason (see photo), the sport identified the half court format as the version of 3 vs 3 wheelchair basketball they wanted to support and promote moving forward. Subsequently, the sport submitted a proposal for the new format to be included as an event at the 2022 Commonwealth Games in Birmingham, which has recently been accepted. This was a landmark occasion for the sport, making its first appearance at such an international competition amongst one of only a few other disability sports.
Banner image credit: Richard Gillin