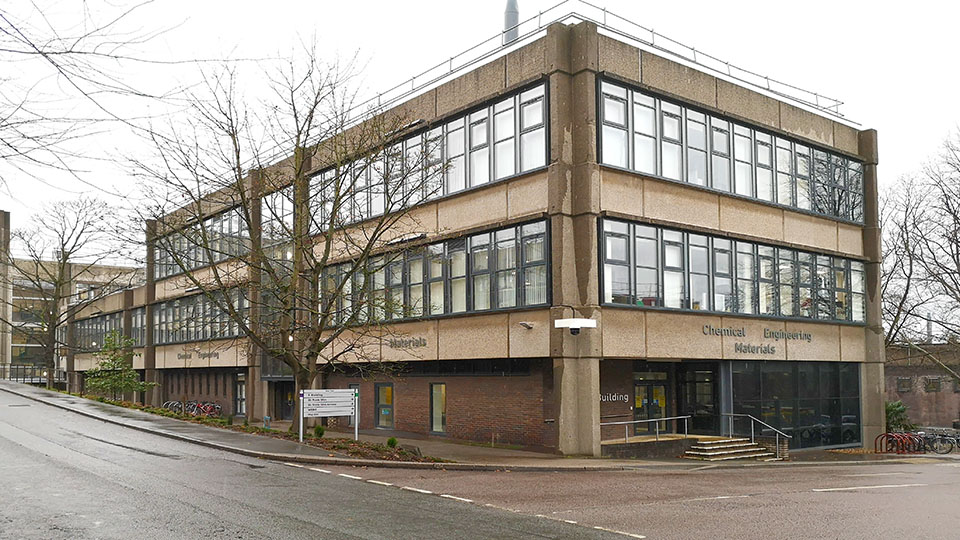 Loughborough Materials Characterisation Centre is located within S-Building which is situated on the West Park of the Loughborough campus.
Our Reception is on the ground floor of S-Building (Materials/Chemical Engineering Building), room S1.042
By Road
Loughborough University is less than two miles away from junction 23 of the M1 motorway.
If you are travelling from the M1, follow the signs for Loughborough from Junction 23. After passing the Link Hotel and Harvester Restaurant on your left (approximately 0.5 miles from the M1), enter the roundabout and take the second exit.
Remain in the right-hand lane when approaching the security barrier. State that you are visiting the Department of Materials in the S Building and you will be issued a parking permit.
At the roundabout beyond the security barrier take the first exit onto University Road and continue under the overhead walkway. Take the next left, you can park in the multi-storey car park at the bottom of the hill.
On foot from the car park, return via the route you took in the car back towards University Road and you will see the entrance to the Materials Department on your right-hand side, on the corner. The LMCC Office is in Room S.1.042, which is just off the entrance foyer.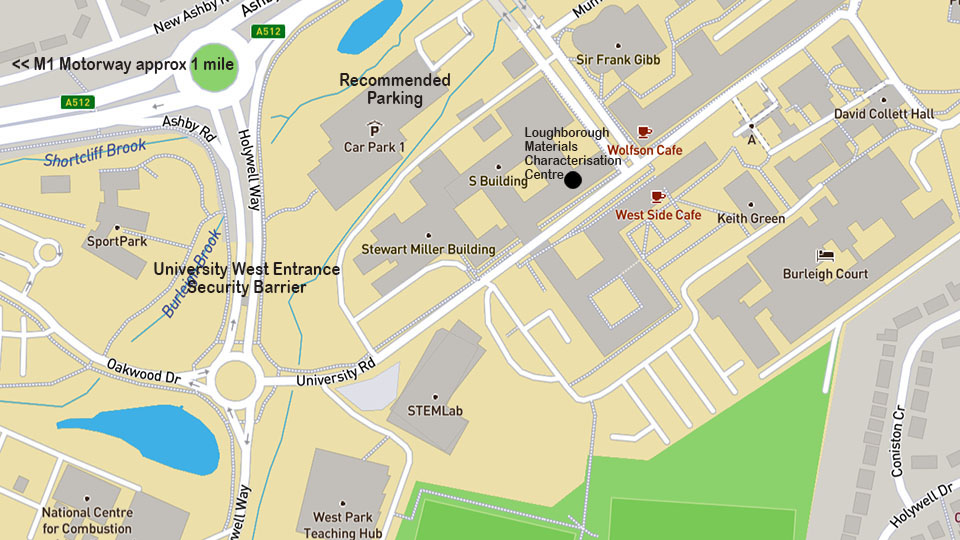 By Rail
London is one-and-a-half hours away by train, Birmingham one hour and Manchester and Leeds around two hours. Taxis are normally available from outside Loughborough train station and the journey should cost around £6 - £8.
The University shuttlebus runs to and from Loughborough station every 20 minutes. Kinchbus Number 7 commences from Loughborough Railway station and brings you straight to campus. The stop you require is "Mechanical Engineering", which is also just a few yards from the entrance to Materials.
By Air
East Midlands Airport is only 7 miles away and offers both domestic and international flights. For destinations and a full timetable contact the East Midlands Airport Information Desk: Tel: +44 (0)871 919 9000.
Other important international airports are also within easy reach:
Birmingham International Airport - 35 miles approx 50 minutes
London Heathrow - 115 miles approx 2 hours