Our Theme Leads help develop and promote innovative, internationally relevant and interdisciplinary research in our six core research themes.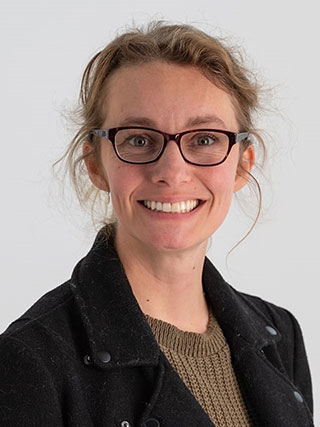 Jessica Robles
(Language and Social Interaction)
Jessica is fascinated by how moral troubles are implicated in ordinary social interactions. Her research has explored many topics in which morality surfaces, from little words such as "like," to political arguments, family interactions, and responses to racism. She conducts qualitative research using discourse analysis and teaches qualitative methods courses in the Social Psychology programme.
Jessica's research involves discourse analysis of language and social interaction; she transcribes recorded ordinary interactions in a range of settings, from the interpersonal and relational (among friends, family) to the organisational and institutional (related to health, politics, education, business). Most of her work focuses on mundane conversations in which something moral arises, particularly when something goes awry. She is especially interested in practical problems, challenges, troubles, and dilemmas—those moments when interaction acquires a little "danger" or requires a bit of delicacy. Jessica's doctoral dissertation used a series of such situations to theorise that the relationship between communication and morality is centrally concerned with the social organization of difference. Her subsequent publications have further sought to understand how morality is entangled everyday distinctions, disalignments, and disagreements. Her book Everyday Talk: Building and Reflecting Identities (2nd edition, 2013), written with first author Karen Tracy, works through many of the concepts, theories and perspectives underlying my research, and is frequently used as an undergraduate textbook in courses on discourse, identity, and culture.
Language and Social Interaction
James Stanyer
(Political Communication)
James Stanyer is Professor of Communication and Media Analysis at Loughborough University. He is a political scientist by training, gaining his PhD from the London School of Economics in 1999. His research and teaching interests lie primarily in the area political communication in a national and comparative context. He has published on a wide range of topics including: the personalization of politics; political news and journalism; online political campaigning; politicians and impression management, and comparative research methodologies. His work has appeared in a wide range of academic journals and books, he has authored several books – "The Creation of Political News" (Sussex, 2001) "Modern Political Communication" (Polity, 2007); "Intimate Politics" (Polity, 2013); and co-edited the "Political Communication Reader" (Routledge, 2007); "Communicating Populism" (Routledge, 2019).
James has been both principal investigator and co-investigator on projects funded by the ESRC, the BBC Trust, the UK government and third sector organizations. He has served on the editorial boards of various journals, is a member of the Network of European Political Communication Scholars and was a founder member of the COST Action IS1308, Populist Political Communication in Europe . He is also a member of the political communication sections of: the American Political Science Association, International Communication Association, The European Communication Research and Education Association, the Political Studies Association.
Political Communication
Emily Keightley
(Media, Memory and History)
Emily's main research interest is memory, time and its mediation in everyday life. She is particularly concerned with the role of media in the relationship between individual, social and cultural memory. Emily's research explores the roles of photography and phonography in the articulation of everyday memory and the gendered nature of mnemonic experience. Emily's research also involves the exploration of the temporal structures of modernity, and she has interests in cultural transmission and mobility.
Media, memory and history