Mapping the crisis journey
Having a robust plan for any eventuality during a chemical, biological, radiological or nuclear incident (CBRN) is the difference between life and death.
With this in mind, Loughborough Design School has worked with End Users to deliver 'top down' and 'bottom up' research for each stage and operational level of an emergency response – from the first blue light responders on the scene up to the most senior governmental positions.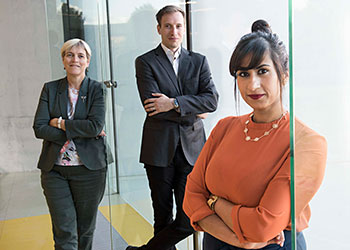 The complex system of real-time decision-making also aims to bridge the gap between the detection and diagnostic technology, giving emergency responders instant guidance about which resources and equipment best fit the circumstances.
Led by Professor Sue Hignett, the team used their Human Factors (Ergonomics) research on pre-hospital care to analyse the system and human interactions that occur in the event of a CBRN incident.
They started with 'top down' research by looking at EU (NATO) policy for multi-services emergency response (fire, ambulance, police and military) and developed the first EU harmonised concept of operations (CONOPS).
The systems map shows the Gold (governmental), Silver (hospital), Bronze (scene) and Blue-Light Response (first responders) communications and tasks across the levels of command.
This gives an important framework for the development of new CBRN technologies to increase situational awareness, accuracy and efficiency in the emergency response including detection, communication, diagnosis and decontamination.
A further consideration is CONOPs for vulnerable populations in evacuation, triage and decontamination.
Their recommendations include planning evacuation routes to consider mobility impairments and a range of communication options within the response team to support vision, hearing and language differences.
The 'bottom up' Human Factors research looks at the detailed use of each Toxi-Triage technology to help End Users understand how it is designed to be used ('work-as-imaged').
They are now looking at real activities during the Field Exercises ('work-as-done') to help technology developers produce innovations which will work in a real CBRN response, for example when wearing heavy gloves and visors in Personal Protective Equipment.