News
Why French poet Charles Baudelaire was the godfather of Goths
Goths are typically regarded as being on the fringes of society – members of a subculture which finds beauty in the darker elements of human experience.
And while their dress code is much imitated – and celebrated – over Halloween, they have a proud history that stretches far beyond a seasonal horror festival.
In fact, the French poet Charles Baudelaire (1821-67) could easily qualify as the template goths (and other bohemians) aspire to.
He often dressed in black, dyed his hair green, and rebelled against the conformist, bourgeois world of mid-19th century Paris in both his personal life and his art.
His first collections of poems, Les Fleurs du Mal (The Flowers of Evil, 1857), was prosecuted for offending public morals, challenging its audiences with its startling treatments of sex, Satanism, vampirism and decay.
No wonder his words would one day be set to music by The Cure.
Aside from his writing, Baudlaire's dissolute life was a checklist of boho credentials. He fell out with his family. He went bankrupt. He pursued reckless sexual experiments and contracted syphilis. He developed a drug habit.
He associated with artists, musicians, writers and petty criminals rather than "respectable" people...
Dr Nick Freeman, of the School of Social Sciences and Humanities, discusses why Charles Baudelaire was the 'godfather of Goths' in The Conversation. Read the full article here.
Notes for editors
Press release reference number: 19/174
Loughborough University is equipped with a live in-house broadcast unit via the Globelynx network. To arrange an interview with one of our experts please contact the press office on 01509 223491. Bookings can be made online via www.globelynx.com
Loughborough is one of the country's leading universities, with an international reputation for research that matters, excellence in teaching, strong links with industry, and unrivalled achievement in sport and its underpinning academic disciplines.
It has been awarded five stars in the independent QS Stars university rating scheme, named the best university in the world for sports-related subjects in the 2019 QS World University Rankings, University of the Year by The Times and Sunday Times University Guide 2019 and top in the country for its student experience in the 2018 THE Student Experience Survey.
Loughborough is in the top 10 of every national league table, being ranked 4th in the Guardian University League Table 2020, 5th in the Times and Sunday Times Good University Guide 2020 and 8th in The UK Complete University Guide 2020.
Loughborough is consistently ranked in the top twenty of UK universities in the Times Higher Education's 'table of tables' and is in the top 10 in England for research intensity. In recognition of its contribution to the sector, Loughborough has been awarded seven Queen's Anniversary Prizes.
The Loughborough University London campus is based on the Queen Elizabeth Olympic Park and offers postgraduate and executive-level education, as well as research and enterprise opportunities. It is home to influential thought leaders, pioneering researchers and creative innovators who provide students with the highest quality of teaching and the very latest in modern thinking.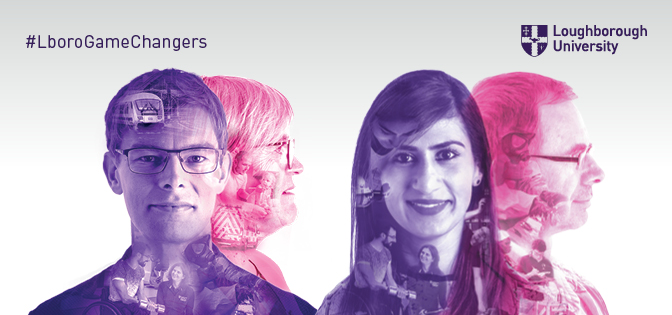 Loughborough staff, students and alumni make a real difference. They challenge convention, think creatively and find solutions to some of the biggest challenges facing society today and in the future.
Meet the #LboroGameChangers at lboro.ac.uk/lborogamechangers