Our staff
Dr Justine Wood PhD, Fordham University; BA, Fordham University; MA, Fordham University; Advanced Certificate in Financial Econometrics and Data Analysis, Fordham University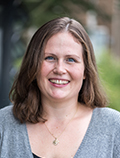 Lecturer in Business Economics
Central Bank transparency; monetary policy; Higher Education economics; the history of economic thought
+44 (0)1509 223622
BE.2.07 (Sir Ricahrd Morris Building)
Justine is a Lecturer in Business Economics. She is the module organiser for Quantitative Economics (ECA004), Foundation Maths for Quantitative Economics (ECA013), Research and Communication Skills for Economists (ECC142), and co-organiser for History of Economic Thought (ECB016).
Justine studied at Fordham University in New York City and has a background in Monetary, International, and Financial Economics.
Justine's current research interests include Central Bank Transparency, Monetary Policy, Financial Economics, Higher Education Economics, and the History of Economic Thought.