Undergraduate study
Placement year
The opportunity to take an employability-enhancing "sandwich" year of industrial training between the second and third years of academic study is available on all our BSc and MPhys programmes. Additionally, in the final year of the MPhys programmes there is a 60-credit research project which can be carried out in industry or a research institution.
The vast majority of students taking a sandwich year find it a very valuable experience. It enhances your studies and can help you in your choice of career - by helping you develop a network of industry contacts, strengthening your CV with hands-on practical experience, boosting your confidence and informing your decisions about the kind of career you want.
In addition, most students earn a salary, and many placements lead to a job offer after graduation. For the employer, an industrial placement is often a year-long recruitment and selection process.
Many of our industrial placements have been abroad, principally in Western Europe. It is not always necessary to be fluent in the local language, although familiarity with the language is always an advantage and students are encouraged to take the appropriate language modules before they go. Students are responsible for arranging their own industrial placements and may undertake any suitable scientifically oriented employment. The Department has contacts with a wide variety of employers and most students arrange their employment with one of these. The University's Careers and Employability Centre is there to provide support with finding opportunities and honing your skills at applying for roles and performing well at interviews.
Placements and Careers Fair
Exibitors are invited to campus each year to promote their placement and careers opportunites at a dedicated School of Science fair. Students who have returned from placement also present posters or videos sharing the experience of their year in industry with students thinking about going on a placement. Watch the video below about our annual fair.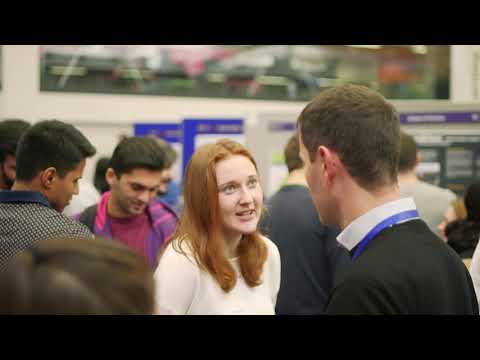 The annual fair invites leading employers to campus to promote placement and graduate job opportunities for our students.
Recent placements include
Siemens
Rolls-Royce
IBM
Lloyds Banking Group
Network Rail
MBDA Missile Systems
EADS München (Germany)
KFA-IFF Jülich (Germany)
Max Planck Institut Stuttgart (Germany)
General Electric
STFC (Science and Technology Facilities Council)
MasterFoods (Australia)
Rutherford Appleton Laboratory
UBS Global Asset Management
QinetiQ
Sharp
Phillips
Reeves Oilfield Services
Kodak
National Physical Laboratory
Thames Water
Taking an industrial placement is definitely a good idea. I would recommend it to anyone. DS, Physics BSc DIS graduate