Aerospace Engineer: Reaction Engines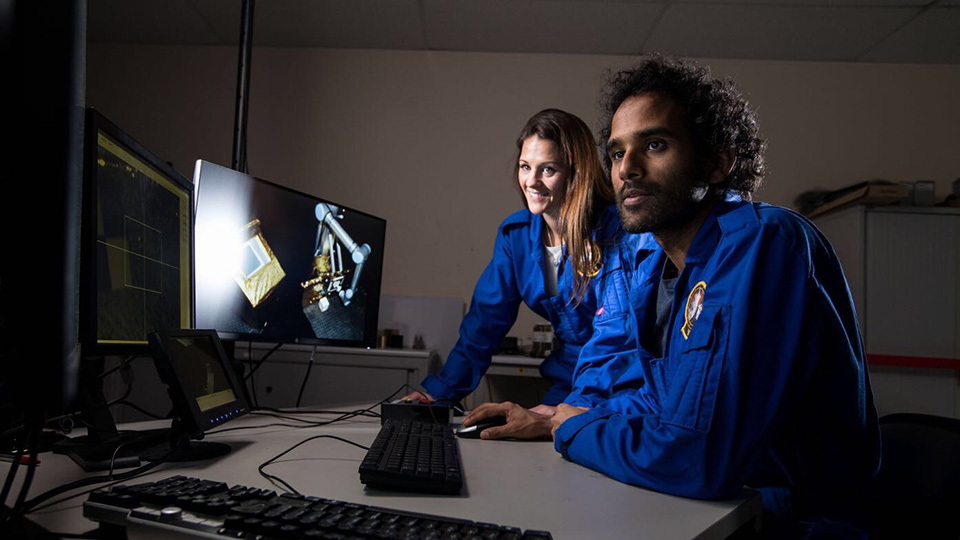 Vijay Shah is an Aerospace Engineer at Reaction Engines. Recently, he competed on BBC2 programme 'Astronauts: Do you have what it takes?', where he reached the final five. Vijay graduated from Loughborough in 2006 with an MEng in Aeronautical Engineering.
Why did you choose to study Aeronautical Engineering at Loughborough University?
First and foremost, I was looking for a university that would offer me a first-class education in aeronautical engineering. Loughborough has a long history in this field and amazing facilities. When I joined, Loughborough's links with industry meant they had a prototype to the Eurofighter Typhoon sitting in the foyer which was inspirational.
But going to university isn't just an academic choice and Loughborough gave me the impression of a place that met my own ethos: Work hard, Play hard. I was not only looking at a great engineering university but a place that I could discover new things, try new sports and activities. Loughborough's unrivalled sports facilities and numerous clubs and societies proved to be too good to miss.
How has Loughborough University inspired you and helped you to progress in your career?
Loughborough gave me the opportunity to get out of my comfort zone, both academically and socially. There were plenty of opportunities that were on offer but nothing was handed to you on a plate. You had to go and get them and there is no better preparation for the world of work than that.
As a result I attended a Space Science course in Arctic Sweden, an Aviation tour in Taiwan and was sponsored to attend the International Astronautical Congress in Japan.
Would there be one piece of advice that you would give to current or prospective students looking to study the same course that you did?
Be prepared to work hard. Aeronautical engineering is an incredibly demanding subject to study, but that's also one of its greatest attractions - you choose aeronautical engineering to challenge yourself. It will test you in more ways than you can imagine, but if you work hard and use the support services on offer, you can succeed and the cliché stands, 'the sky is not the limit'!
Did you take part in any extra-curricular activities during your studies? If so, how did this impact upon your Loughborough experience?
In my first year at university, I joined five clubs but quickly learnt that with 35 hours of lectures a week I could only find time for three of them. Both the mountaineering and breakdancing clubs took me out of my comfort zone, one of which led me 3000ft up into the mountains and the other performing in front of 3,000 people in the student union! I became the training secretary to the mountaineering club and president to the breakdancing club in the latter years of my studies.
University is such an amazing opportunity to try new things, the clubs I joined allowed me to try things I would've never have done otherwise and to develop myself in different ways to my academic studies. I got to meet some amazing people and go on some incredible adventures. One weekend I could be ice climbing in Scottish mountains and the next, battling against another university crew in front of thousands. It is important to realise that soft skills are equally as important as academic qualifications and sports and societies are the best way to develop these.
Did you complete a placement whilst at Loughborough? If so, how do you feel it benefited you?
Between my second and third year I had a placement year which I spent at Marshall Aerospace in Cambridge. University can be a bit of a bubble so being at an actual engineering company, I had my first real taste of what life as an engineer would be like. I used the money that I earned to attend a six week mountain leadership training expedition in Iceland. Having that year off also gave me a break and a chance to reflect and organise myself, from being on a 2:2 average at the end of my second year I managed to graduate with a first class with honours.
How did you come to compete in BBC2 programme Astronauts? Tell us about the experience.
I first heard about the BBC 2 Astronauts programme on an advert on Twitter. When the last actual ESA Astronaut Selection was almost a decade ago it seemed like an opportunity too good to miss. But the process to even being selected for the programme was challenging. There was an application process including our CV followed by several rounds of telephone/Skype interviews before a final sixty applicants were invited to Broadcasting House in London for a selection day. The selection day consisted of a group teamwork activity, fitness test and face to face interviews. This was cut down further before a final selection day consisting of a another interview, a medical examination and a psychological evaluation. The final twelve of us were only told that we were selected two weeks before the start of filming.
Taking part in 'Astronauts' has been one of the most incredible yet challenging experiences of my life. All the filming was packed into an intense three week period where we were kept completely isolated from the outside world. On top of that we had no idea where we were going from one day to the next and at some points were blindfolded!
When we got to these locations we'd have to wait, sometimes for hours, for our one and only opportunity to prove we could do whatever challenge they had planned for us which we wouldn't know the details of right until the last moment.
Can you tell us more about the company/organisation you are working for currently?
I currently work for a small aerospace propulsion company called Reaction Engines Ltd. For 30 years they have been working on designs for a novel single stage to orbit spaceplane, called Skylon. Right now we are concentrating on the propulsion system to make this happen, a Synergetic Air-Breathing Rocket Engine (or SABRE). The critical technology of the engine is a high efficiency heat exchanger or precooler that can cool the incoming 1,000C (Mach 5) air to cryogenic temperatures (-150C) within a fraction of a second before entering the engine. We are currently gearing up for a full demonstration of this heat exchanger technology in the USA early 2018.
Can you tell us about your career journey so far?
I started my career at a small aircraft company called Slingsby Advanced Composites in the depths of rural North Yorkshire. It was a fascinating place to work where the design and manufacture of aircraft happened metres from each other. Being a small company, from day one I had to contribute to their main project which was to design and build a UAV for BAE Systems within six months. I was responsible for the structural analysis of the wings and for the full structural test of the aircraft. It was a pretty amazing start to my career.
From there and over the course of 7 further years, I moved to The Netherlands to work on the Airbus A350 programme, to France to work for a start-up designing a new 19 seater all utility metal aircraft and then to Bristol, UK as a signatory on the A350 and A400m programme. My last role came with a lot of responsibility as I was signing off the calculations that showed that the 300 seater aircraft was structurally sound for flight.
What has been the highlight of your career so far?
Seeing the A350 entering service has been a major highlight, especially as the aircraft will be flying for the next 30 years. However, when we test the experimental precooler working at 1000C next year that is going to surpass anything I've done up until now - the engineering has been ridiculously complicated!
What does the future hold for you?
There are so many things I'm interested in that it is hard to predict. I would love to contribute to space exploration and especially with designing a space plane. But I'm also a passionate environmentalist and can't help but think that my engineering skills would be useful to help with the enormous challenges we are facing with climate change.
And finally, the European Astronauts Corp applications are expected to open up again in 2-3 years' time which would be a pretty awesome job to apply for.
How have your experiences as a Loughborough University Student helped you to get to where you are now?