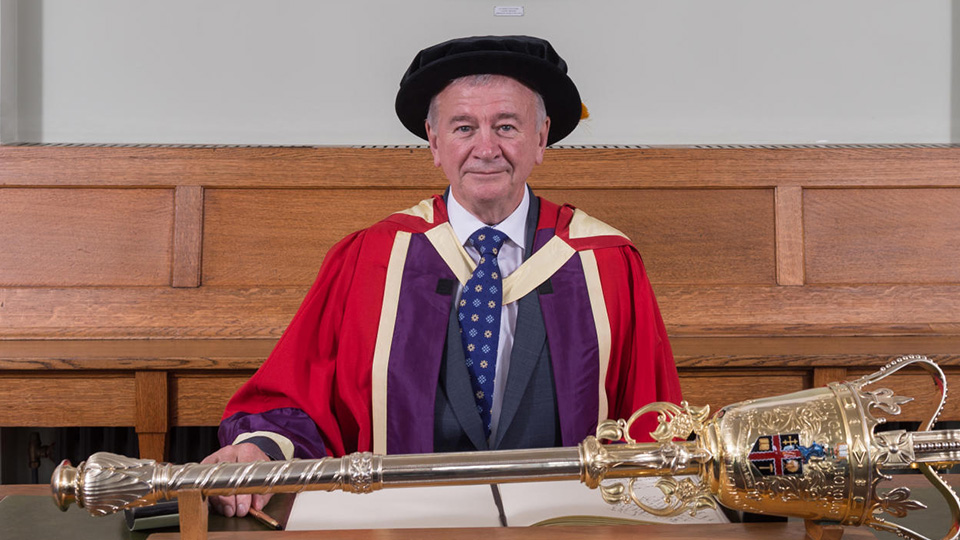 Terry Morgan was awarded an Honorary Degree in Summer 2017. Here you can read his degree oration.
Can you imagine a world without engineering? Engineering impacts on our everyday lives; without it the world wouldn't function as it does now. This is why engineering as a discipline is so essential, but even more so the individuals that work within it.
Today we celebrate the achievements of a leading engineer in today's society.
Sir Terry Morgan's work has had a significant impact on business over the years. His distinguished CV lists a number of senior roles, including; Managing Director at (Land Rover) Rover Group; Managing Director for Royal Ordnance; and Group Managing Director, Operations at BAE Systems. Throughout his career, Sir Terry has developed an understanding of the critical importance of excellent leadership skills and has overseen a number of change programmes that focused on developing excellent leadership behaviours as a means for creating more competitive organisations.
More recently, Sir Terry has worked in the rail industry. From 2002 to 2009 he worked as Chief Executive Officer for Tube Lines, the public-private partnership company that was responsible for the maintenance, renewal and upgrade of the infrastructure of three London Underground lines.
In 2009 he took on his current role as Chairman of Crossrail, where he leads the Board, and on communications with shareholders and varied stakeholders. The organisation was established to develop a new metro railway that will run through central London and as the biggest addition to the South East transport network in the last 50 years, is Europe's largest construction project.
During his time at Crossrail, Sir Terry has moved from an Executive to a non-Executive Director role, and has used the opportunity to devote more time to 'giving something back to the world of Engineering'.
Sir Terry strongly believes that the contribution engineers make to society deserves proper recognition and has used his position to change perceptions regarding vocational skills and the importance to business of apprenticeship programmes.
He began his own career as a Craft Apprentice at Lucas Girling Ltd in 1968, following, what he describes as 'his first setback', failing his 11 plus, and attending a secondary modern school. Whilst at Lucas Girling, as a mature student, and married with a child, Sir Terry completed an MSc in Engineering and Production Management.
As part of his push in today's society, Sir Terry has overseen the recruitment of 550 apprentices at Crossrail - a number which continues to grow - as part of a wider programme supported by the Skills Academy in East London.
As the former Chair of the National Skills Academy for Railway Engineering and the current Chair of the Manufacturing Technology Centre and the High Speed Rail College, Sir Terry has also overseen the building and the intended building of skills centres of excellence for each of these programmes. Both centres focus on the vocational skills development for apprentices in the infrastructure sector.
Sir Terry's achievements and endeavours have been recognised in a number ways during his career, including his appointment to Commander of the Order of the British Empire in 2009 for his services to public transport, and his knighthood in 2016 for his services to infrastructure, skills and employment. Sir Terry is also a Fellow of the Royal Academy of Engineering, the Institution of Engineering and Technology and the Institution of Civil Engineers.