Former Red Arrows Pilot: Royal Air Force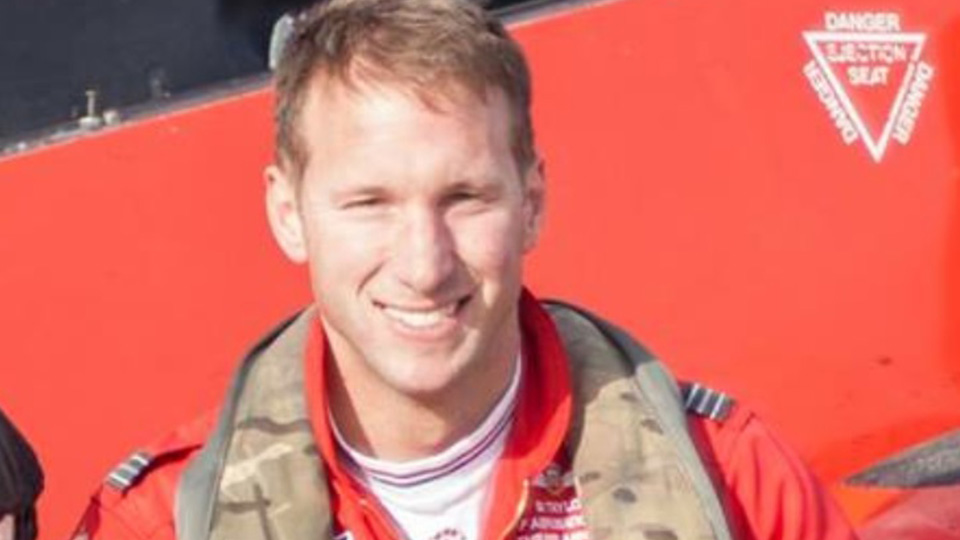 Simon Taylor graduated with a degree in Ergonomics in 2002. Since graduation, Simon has flown with the RAF and currently works in the Red Arrows as "Red 6". He was formerly "Red 7". Here he talks about his time at Loughborough, a range of flying experiences and some of his most notable flypasts to date.
Why did you choose to study Ergonomics at Loughborough University?
I always enjoyed Human Sciences subjects at school and I wanted my degree to have a practical, problem solving focus. I read about all the incredibly diverse modules that make up Ergonomics and thought that seemed like a really interesting challenge with lots of modern applications.
How has Loughborough University inspired you and helped you to progress in your career?
I feel incredibly privileged to have had the chance to study at Loughborough. From the outset the staff and students I was surrounded by were incredibly dedicated and talented. Whether academic, sporting or both, the achievements of some of the students gave me the hope that with dedication on my part and support from the University I could achieve things I had previously thought unattainable. I was also struck by the level of humility demonstrated among these students and it's stayed with me how important it is to keep your feet firmly on the ground.
Would there be one piece of advice that you would give to current or prospective students looking to study the same course that you did?
I would say take every opportunity that comes your way. Ergonomics is such a broad subject and you can do so many different careers with it as a subject. Don't confine yourself to one discipline just because you think that is what would interest you most. If you broaden your horizons you might be surprised what you end up doing.
Did you take part in any extra-curricular activities during your studies? If so, what impact did these have on your experience?
I played for Loughborough Students' Rugby League for 3 memorable seasons and loved every minute of it. I'm pleased to say I'm still good friends with a few of the boys from that team. I was also lucky enough to play for Scotland Students on a tour around Germany and Italy, an amazing experience that was made possible by the sponsorship provided by the University. Without the benefit of playing a competitive team sport at Loughborough I don't think I would have the confidence or the teamwork ethic that I do now, both of which are vital in any career but none more than my current role.
What made you decide to join the RAF and how was this experience?
In all honesty it was quite a late decision. I had always considered joining the RAF as a pilot but I always thought you needed to study maths and physics. When I actually looked into it and found out the requirements I thought I would give it a go. I really haven't looked back. I've definitely benefitted from the structure that comes from training to be a pilot. It's been a tough but incredibly rewarding 13 years. I've seen so much of the world, whether it was flying the Tornado and Typhoon fighters or in my current role in the Red Arrows. There's nothing quite like someone trusting you with a £70 million aircraft! I can honestly say I wake up every Monday and look forward to going into work.
When did you make the move to join the Red Arrows?
There are a few prerequisites to joining the Red Arrows. You have to be a current serving fast jet pilot in the RAF, you need to have been flying for approximately 10 years to have the required experience and you also need to be assessed by your boss as 'above average'. You have to volunteer for the Reds and then go through a pretty gruelling week long assessment process consisting of a nerve wracking flying test and a formal interview. The team take on 2 to 3 people each year and you generally do a 3 year tour with the team. I first applied in 2014 and I joined the team in 2015.
How do these flying experiences differ?
Flying on the front line is a very different challenge to flying formation aerobatics with the Red Arrows. I started off flying the Tornado which is a big, fast, heavy bomber. I then moved on to fly the Eurofighter Typhoon which is a modern fighter with incredible performance. It's very easy to fly but it's designed that way as you are on your own so it gets quite busy working all the on board systems and 'fighting' the aircraft. Thankfully the ergonomics are far superior to the Tornado! The aircraft that the Red Arrows fly, the Hawk, is very old and extremely simple compared to the Typhoon. It's a real 'fly by the seat of your pants' pilot's aircraft which is perfect for what we need in the Reds. For me, flying in the Red Arrows is the pinnacle of military flying. It's an incredibly tough, unforgiving workup where teamwork, honesty and humility are essential. The team has set a standard over the 52 years it has been around and is unapologetic about maintaining those standards. As a new guy you feel the pressure to not let yourself or the team down. It's an incredible experience flying at airshows all over the world, we really feel proud to be representing the UK.
What has been your proudest moment so far in flying with the Red Arrows?
Apart from flying in front of my family, getting my red flying suit at the end of winter training last year was a very proud moment. It's the culmination of 7-8 months of hard work, training from September to April, when we are awarded our authority to display in front of the public during the summer display season. On that day you get to get rid of your green flying suit and put on the famous red one.
Have there been any key events where you have done a flypast that have been of particular interest?
This autumn we were lucky enough to do a nine-week, 20,000-mile tour to the Middle East and the Asia-Pacific regions. We were the first UK military fast jets ever to land in Vietnam and China. In China, we displayed nine times in six days at the country's largest airshow, Zhuhai, to more than 300,000 people at the event and several hundred million more watching on television. It was overwhelming how welcoming everyone was and the huge interest in the team. We also conducted displays or flypasts in Kuala Lumpur, Singapore, New Delhi, Hyderabad, Karachi, Muscat, Abu Dhabi, Bahrain and Kuwait City. Each time, the team represented the UK and showcased the best of British, supporting trade, industry and business links. Domestically, we always love doing the Queen's Birthday Flypast and we also flew over Twickenham for the Rugby World Cup final in 2015, which was an amazing experience.
What do you love the most about your job?
I love being part of a team of very normal people that all, wholeheartedly, buy into a common goal. That goal being producing the best display we can through hard work, determination and the pursuit of perfection. We always say we have never done a perfect show because there is always something to improve. The final product for us is a show that we are immensely proud to perform in front of the public and represent the UK when we perform abroad. The response you get from the public when we speak to them on the ground is amazing and hopefully, by watching a show, someone is inspired to achieve something they didn't think was previously attainable.
---