Former Executive Assistant to the Chairman and Board member: Aston Villa Football Club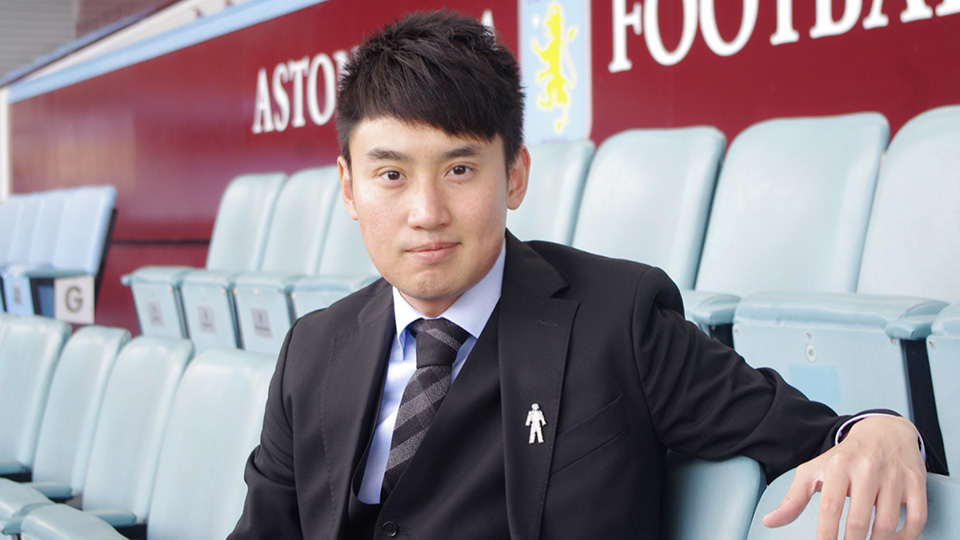 Rongtian He joined Loughborough University as a Sport Management student in 2012, graduating with an MSc. Here he discusses his journey from Loughborough to begin working for the football team he has supported since he was a child.
Why did you choose to study for a Master's degree in Sport Management at Loughborough University?
It was very simple. When I decided to study sports related majors in graduate school, I chose the best sports school in the world. I always have had a strong interest in sports management and choosing Loughborough was a life changing decision for me.
How has Loughborough University inspired you and helped you to progress in your career?
Loughborough University has a prestige reputation in the UK, in the beginning of my internship at Aston Villa and Talksport, I received a lot of praise from my colleagues for being a Loughborough graduate. For me, I really like our school slogan, "Where History Begins", as my dream of pursuing a career in the football industry really started from here.
Would there be one piece of advice that you would give to current or prospective students looking to study the same course that you did?
If you love sports and want to have a career in the sports industry, Loughborough is the right decision for you. The most important thing here is not to learn various textbook knowledge, but to be able to meet and share your experience with people who also have a strong passion for sports. Working and exploring with people who have the same dreams and passions, you will soon realize that you have already taken your dreams one-step closer.
Did you take part in any extra-curricular activities during your studies? If so, how did this impact upon your Loughborough experience?
I went to South Africa during the Easter holiday in 2013 to participate in the "Balls to Poverty" program. This program not only allowed me to complete the FA Coaching course, but also gave me the unique opportunity to go to the other end of the globe to experience and learn with representatives from different schools.
This experience is absolutely rewarding and something money can't buy.
What was your favourite thing about Loughborough?
Both, to be honest I didn't spend a lot of time at the school library except for during exams period and honestly speaking, I wasn't the stand out one at school in terms of academics. However, I was actively involved in sports activities such as football, basketball and even swimming. Besides, I also spent a lot of time with everyone at the Union. Overall, I believe my year and experience in Loughborough was second to none.
Loughborough has the best sports facilities. If you are a sports lover, this is the place for you.
Can you tell us about your career journey so far?
I worked for a bank as a Customer Manager for a very short period before I came to the UK in 2012. During my study at Loughborough, I did an internship at Red Lantern Digital Media and Talksport London. I joined Aston Villa in 2014 as Asia Market Advisor, and then in 2016 I was been promoted to Executive Assistant to the Chairman and Oversea Business Officer, becoming the member of the Board.
Can you tell us more about becoming the Executive Assistant to the Chairman and being on the Board of Aston Villa FC?
I was involved in the acquisition process. After the acquisition when Recon Group's Chairman Dr. Tony took over the club in 2016. After that I was promoted to Executive Assistant to the Chairman and Oversea business officer.
What do you love the most about your job?
You have to face different challenges every single day, you need to handle the pressure from football, commercial, PR etc. The best feeling is you feel like you are making progress every day.
What does the future hold for you?
Keep the hard work up to achieve more. I haven't thought about the next steps in my career yet, but one thing I am pretty sure is I will stay as long as possible in the sports industry which I love so much.
What has been the proudest moment of your career so far?
In 2016, I was promoted to the Board of Aston Villa Football Club, which is the club I supported since I was 12 years old. I worked hard to achieve this but I will not stop the hard work, the journey just started.