Founder: Life After Professional Sport / Professional Footballer: Exeter City FC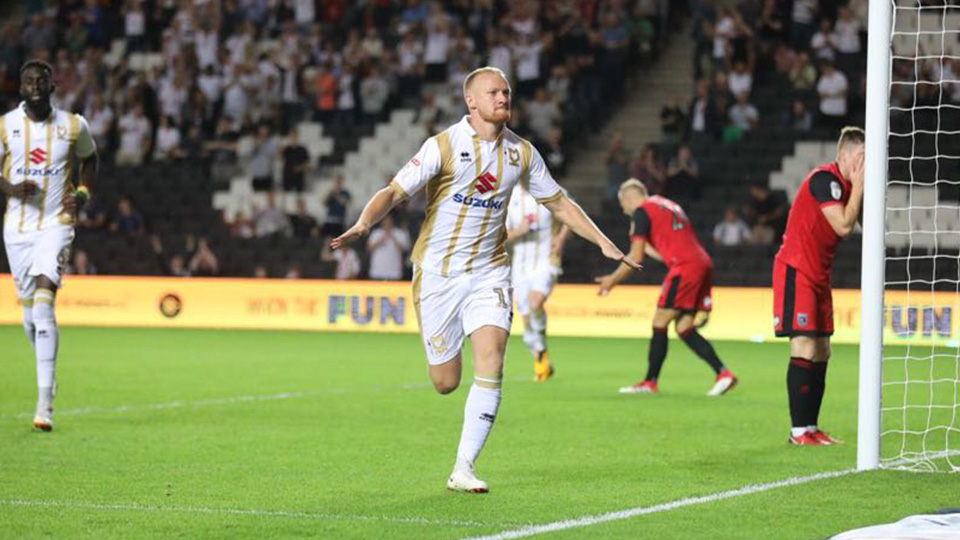 Robbie Simpson graduated with a degree in Sports Science And Mathematics in 2007. He has played semi-professional since a young age, and currently plays for Exeter City. He has also set up his own business, Life After Professional Sport (LAPS). Here you can find out about LAPS and his football career so far.
Why did you choose to study Sports Science and Mathematics at Loughborough University?
Loughborough is well renowned for being the top sporting university in the country and as I was playing semi-professional football at the time, I really wanted to go to the best sporting institution. I obviously had a passion for sport, hence wanting to study Sports Science, but I also have a love of numbers and mathematics comes naturally to me, so I decide to do a joint honours degree.
How has Loughborough University inspired you and helped you to progress in your career?
Loughborough was amazing for my football career. As stated, I was playing semi-professional football whilst studying, and joining Loughborough I also decided to join the university football setup. The setup is so professional and without a doubt enhanced my game; this was proven when at the end of my second year at Loughborough I was offered the chance to turn pro with Cambridge Utd.
Luckily Cambridge Utd were very willing for me to complete my degree, so we made a plan to balance student life and professional football work. It worked a dream, proven by obtaining a 2:1 joint honours BSc degree in Sports Science & Maths PLUS in football being recruited by then Championship side Coventry City.
This whole process I went through has inspired me in the foundation of LAPS as I am living proof that it's possible, and indeed beneficial, to have other interests and educate yourself alongside your sporting career.
Would there be one piece of advice that you would give to current or prospective students looking to study the same course that you did?
My advice would be to choose modules to suit you! The advantage of doing a joint honours is the fact you get to choose the modules you do from each. So if you are good at exams rather than coursework, like me, you can choose the modules where you don't actually need to do a dissertation.
Did you take part in any extra-curricular activities during your studies? If so, how did this impact upon your Loughborough experience?
As discussed above I was part of Loughborough University Football and I have to say my Loughborough experience wouldn't have be the same without it. It was everything, and I have made friends for life through Loughborough football. The Wednesday socials after a victory in the day were what you would look forward to the most...getting up for 9am lectures on a Thursday was a struggle!
Can you tell us more about founding Life After Professional Sport (LAPS)?
I became a professional footballer in 2006, and in 2012 I had a spell where I was out of contract and struggled to get an offer that I was looking for from new teams. I thought I may have to retire and look for a new career, however there was no platform for a former footballer to turn to for help and support with this transition.
Obviously I had a degree behind me, but the reality is that is rare in footballers. Having spoken with many of my former Loughborough friends in different sports, it dawned on me that this wasn't just an issue in football but every sport. It's a huge issue and one filled anxiety and problems when athletes and sports stars come to this point.
In 2015, having thought about and researched for 3 years I met my co-founder Rob Steed. Rob works in recruitment and was asked by 3 separate companies to recruit former sports stars for them. This came about from a former Olympic silver medalist rower, who broke all sales records with the first year of his employment. However, Rob found sports stars hard to find and get to. So Rob & I put these two needs together and came up with the LAPS platform.
What is the aim of LAPS?
The aim of LAPS is to help sports professionals and elite athletes plan for and transition into new fulfilling careers post their competing days. We offer guidance and advice on CV writing, interview technique, how to network and promote entrepreneurship.
We have information on over 200 job roles, including video interviews with over 75 former elite athletes who have transitioned into new careers explaining their transition and how sport has helped them. Plus of course, we have thousands of job opportunities advertised on our platform ready for our members to apply for. LAPS is a totally free service for current and former elite athletes and sports professionals.
What made you decide to work with LAPS as a Membership Director, following your career in football?
It made sense once founding LAPS that I concentrated on membership and how to build and grow our membership. I already had an advanced network in football and coming from Loughborough University I already knew lots of other elite athletes across other sports. It was easy for me to get access to the sporting bodies and player/athlete associations to hopefully work alongside them and assist in their duty of care to this exceptional talent pool.
What has been the best moment of your football career? Have you had a favourite team to play for?
The best moment personally would be my goal at Anfield against Liverpool in the FA Cup. It was at the Kop end to put us 1-0 up, a left foot shot from 25 yards. Was pretty special! As a team my best moment would be my full debut for Coventry at Old Trafford against Manchester Utd that we won 2-0. Those two moments will stay with me forever!
What does the future hold for you?
Hopefully I still have a few more playing years left. I want to achieve a promotion on my CV before I retire and I hope to do that this year with Exeter. Outside of football I hope to continue to grow and develop LAPS so it becomes the hub that sports professionals know is there when they need it. My other interests include coaching and finance so I will keep my options open and develop myself in these areas also.