TV Presenter and Broadcaster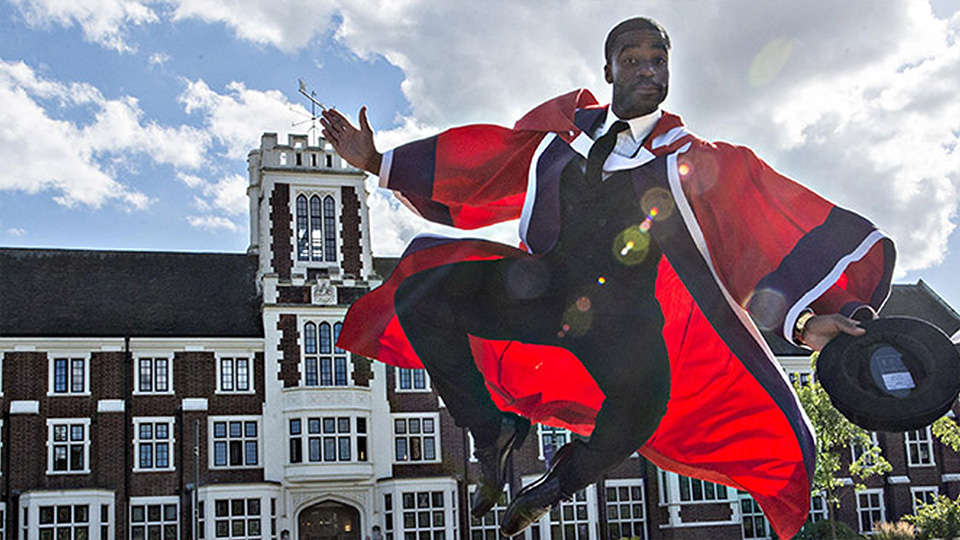 Alumnus Ore Oduba was awarded an Honorary Degree in Summer 2017. Here you can read his degree oration and watch a video produced during his visit.
At Loughborough we seek to develop our students as creative, confident and adaptable 21st Century citizens, who will go on to make a significant impact in the next chapter that follows their graduation. This notion is supported by our students' dedication to achieve the best they can, and their resilience when faced with challenge.
Today I have the pleasure of presenting to you a Loughborough graduate that is a true reflection of exactly why we take this approach.
Ore Oduba graduated from Loughborough in 2008 with a degree in Sports Science and Social Science, and has since gone on to achieve a significant amount in a short space of time.
Shortly after leaving Loughborough Ore landed his first presenting role, joining BBC children's Newsround as a reporter and breakfast bulletin presenter. He was quickly promoted to deputy presenter in 2009, and in 2010 he began presenting the main Newsround bulletin. During his time at Newsround Ore also put his sporting knowledge to work, presenting spin-off show Sportsround.
Ore's aim had always been a career in sports broadcasting, and in 2014 he made his debut presenting solo, on the morning slot for the Commonwealth Games on BBC One and BBC Sport.
In 2012, ahead of the London Olympic Games, Ore presented and reported on the BBC's British Olympic Dreams, a documentary series following some of Britain's biggest medal hopes as they prepared for the 2012 Olympic Games. In the lead up to the Games Ore also presented a programme called Ultimate Sports Day for CBBC.
Other appearances over the years for the TV and radio broadcaster and presenter, have included BBC Radio 2, ITV's This Morning, The One Show, The National Lottery Draws, and co-presenter of live cinema relays from the Royal Opera House, Covent Garden, with former ballerina Darcey Bussell.
However it was last year, in 2016, that the full extent of Ore's talents were revealed. And not just those in relation to his broadcasting and presenting skills.
He started the year taking part in the Sports Relief Challenge 'Hell on High Seas', in which he sailed 1,000 miles from Belfast to London with five other celebrities, helping to raise over £1 million for the appeal.
Later in the year he headed out to Rio to present coverage of the 2016 Summer Olympics on BBC Four throughout August 2016.
On his return from Rio, Ore took on a new challenge, that took him away from the pitch and pool, and into the somewhat glittering unknown, when he participated in the fourteenth series of Strictly Come Dancing. During the series Ore captured the public's imagination by showcasing his incredible talent, and even won praise from Patricia Ward, the widow of Gene Kelly. His dedication to succeed received him regular high scores, including a maximum points performance in the final, which ultimately saw him crowned champion.
In the nine years since graduating from Loughborough Ore has proved that anything is possible when you commit yourself to achieving it. He is an inspirational role model to the younger generation, and a shining example of what Loughborough graduates can and do achieve.