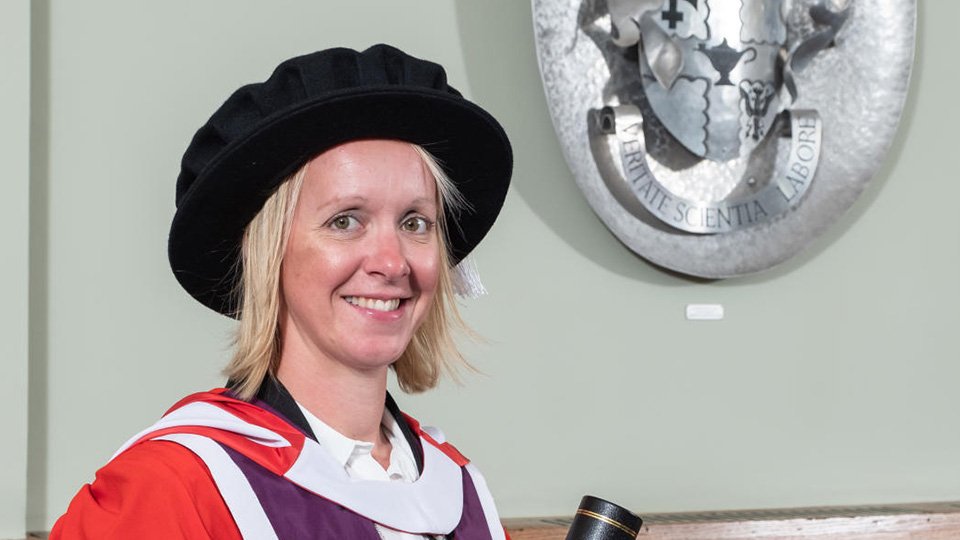 Alumna Mel Marshall was awarded an Honorary Degree in Summer 2018. Here you can read her degree oration.
As a university, we have celebrated many elite sportspeople, and we are always proud to do so. Today, we celebrate one of our own, who has seen the very highest levels of success.
Melanie Marshall's extraordinary international career as a British swimmer started over two decades ago, at the 1995 European Youth Olympics in Bath, where she achieved four gold medals aged only 13. In 2000, her journey with us at Loughborough began when she came here to study Applied Sport Science, and has remained part of our fabric ever since.
Melanie's list of sporting accolades is significant. She is a double Olympian, five-time Olympic finalist, and the second most decorated female at the Commonwealth Games – taking home no less than six medals at the 2006 Melbourne Games alone.
In 2004, she was ranked number one in the world when she broke the British 200m freestyle record, which cemented her place in the Olympic Games in Athens. She has over 20 international medals across the World, European and Commonwealth Games.
Melanie announced her retirement from swimming following the 2008 Beijing Olympics and started her world-leading career as an elite coach. She joined City of Derby Swimming Club as Head Coach, before joining us here in Loughborough as the National Centre Lead Coach for British Swimming, where her swimmers include a name you may recognise - Adam Peaty.
Melanie has coached Adam Peaty to unprecedented success; he holds two world records in both 50 and 100m breaststroke and is one of just three British swimmers to have won gold at all four major national events – the Olympic, World, European and Commonwealth Games.
It is no surprise, then, that Melanie was named British Swim Coach of the Year three times in a row, and in 2014 she was named International Swim Coach of the Year.
Showing the real strength of her character as a coach, in a recent BBC interview she explained that she subscribes to the motto 'leaders eat last'. Melanie puts her athletes and their performance first, and the results speak entirely for themselves.
In addition to coaching, Melanie invests her time into charity work, where she has raised tens of thousands of pounds, as well as motivational speaking, where she empowers others to reach their own highest levels of success. I would like to share some of Melanie's own words, which are pertinent to all of those celebrating their achievements today:
"Success is a formula made up of character traits including dedication, determination, resilience, sacrifice, enthusiasm and positivity. Learn how to live by these traits and you will be successful in any walk of life."
Chancellor, I have the honour to present to you, and to the whole University, Melanie Marshall, for the degree of Doctor of the University, honoris causa.