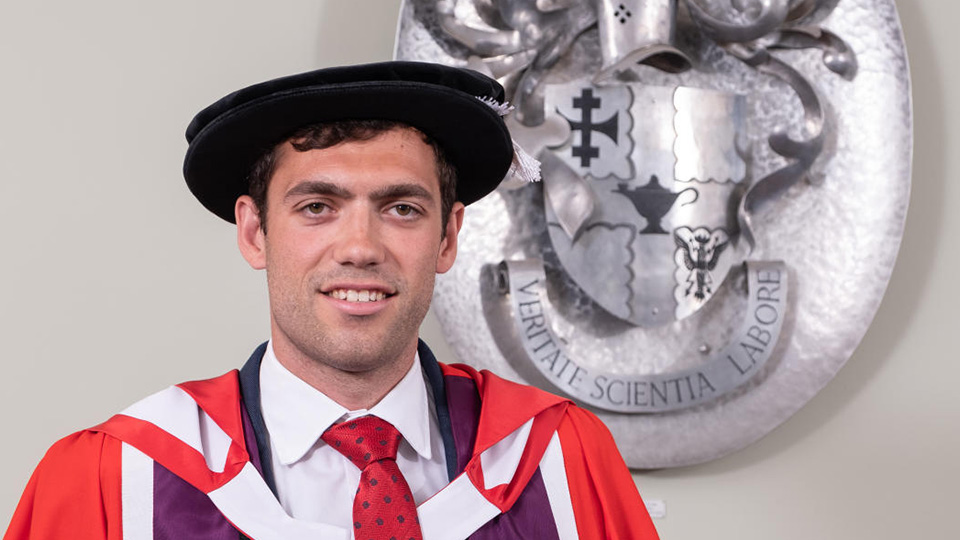 Alumnus Matt Gotrel was awarded an Honorary Degree in Summer 2019. Here you can read his degree oration.
Chancellor,
Loughborough is associated with many sporting greats. Whether they studied here or trained here, as a University we are proud to have supported many sportsmen and women in their quest for success.
Today we welcome and celebrate an individual that was part of the incredible Team GB that dominated at the 2016 Rio Olympic Games.
Matt Gotrel was crowned an Olympic champion after winning Gold with the men's eight rowing team.
Matt's Road to Rio actually began whilst he was here at Loughborough as a student. From the age of eight he had been a keen sailor, alongside his father and grandfather. After learning the ropes, he quickly took to high-performance skiff sailing, progressing into the Olympic 49er class. He had always been told that his physique would suit rowing, so made the switch whilst studying at Loughborough for a degree in Systems Engineering.
Matt graduated in 2012 and in the same year made his debut with Team GB Rowing, at the 2012 European Championships in Italy. He was part of a men's eight that finished fifth, just two seconds behind gold-medallists Poland in an exceptionally close final. During the same year he also won the Wyfold Challenge Cup with Nottingham Rowing Club at the Henley Royal Regatta and was part of the Loughborough University squad that topped the medal table at the British Universities and Colleges Sports Regatta.
Over the next four years Matt worked hard and reaped the rewards. In 2013 he made his World Rowing Cup debut in Sydney winning Gold with the men's eight. The following year he won gold in the World Rowing Championships along with a bronze at the European championships.
In 2015, the penultimate year in the lead up to Rio, Matt again took gold at the World Rowing Championships, making him a two-time world-champion. He also won silver at the European Championships in 2015.
Rio 2016 was the big one though. Several of his team members had competed in Olympic competitions previously, winning silver and bronze in Beijing and London respectively, but they wanted the top spot in Rio. During the final, the team swept their opposition out of the water to take the gold medal. They led the race throughout and finished well clear of everyone else.
This incredible moment was part of Matt's Olympic debut. And remember, in comparison to others Matt was still relatively new to the sport.
In 2017 Matt was awarded an MBE in the Queen's New Year honours for his services to rowing, an achievement that he described himself as unbelievable and a huge honour.
Matt has now returned to the sport he has loved from a very young age and is back in a boat representing his country as a member of the Great Britain SailGP Team, competing in an international yacht racing league.
Matt's inspiring story is one of dedication and determination, and it is one that we are proud to tell. In addition, Matt has always been willing to give his time to support us at events and acts as a proud ambassador for the university. We are most grateful to him for this.
Chancellor, it is with great honour and pride that I present to you and the whole University, Matt Gotrel, for the award of Doctor of the University, honoris causa.