Director of Performance: LA Clippers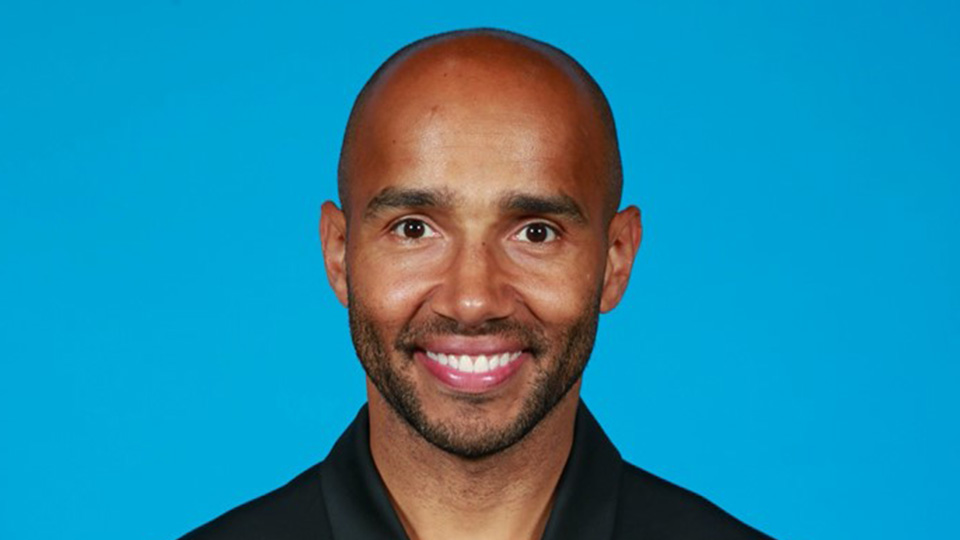 Mark Simpson graduated from Loughborough University in 1994 with a degree in P.E and Sports Science. Mark began his successful career as a Research Assistant in the Sports Development Centre at Loughborough University and is now Director of Performance at LA Clippers.
Why did you choose to study Physical Education and Sports Science at Loughborough University?
I had a huge passion and interest in sports performance and fitness from an early age, and I also really enjoyed playing all sports (with football being my main sport). So I wanted to pursue a career working either in sport or in physical training. I saw a degree in PE & Sport Science as a way to achieve this ambition. I chose Loughborough to do the course because - quite simply - it was regarded as THE best University for PE and Sport Science in the country (and the world no-less). Loughborough was actually revered at my secondary school.
How has Loughborough University inspired you and helped you to progress in your career?
Loughborough University has inspired and helped me in many different ways. In terms of inspiration, as a student and as an employee at the University, I witnessed tremendous sporting achievements. These included Olympic and Paralympic medals and world records. I also observed how many Loughborough students from a variety of departments went on to enjoy great careers, which was hugely inspirational.
In terms of how Loughborough helped me in my career, just having a degree from Loughborough helped me immeasurably. The quality of the education I received helped me in my roles, and the reputation that Loughborough had helped me to land these roles in the first place! Furthermore, I was fortunate enough to have been given the opportunity to launch my career at Loughborough, which began with my very first job in 1995. I ended up performing three different roles over an eight-year period at the University, and received a significant amount of training from the University. All of this led me to where I am now.
Would there be one piece of advice that you would give to current or prospective students looking to study the same course that you did?
Yes. It sounds clichéd, but I would say don't take the course for granted. It is a special course, that provides all the necessary fundamental knowledge and skills that will help if you want to go into roles in sport and exercise based research and teaching, or roles in sports participation or sports performance. As a strength coach and a sport scientist working in high performance sport, I benefitted hugely from what I had learnt in modules such as the biomechanics, physiology, principles of fitness, and sport psychology. I would say that the quality of the education enabled me to perform my role to a high level, and enabled me to distinguish myself from other candidates for roles that I applied and interviewed for.
Did you take part in any extra-curricular activities during your studies? If so, how did this impact upon your Loughborough experience?
Very much so! I played for the football team for 2 years (and so was a member of that club). I also represented Telford Hall in a variety of intramural events (as eclectic as weightlifting, table tennis and track and field!). I was the chairperson for a music/lifestyle society called the Soul and Dance Society. Soul and Dance Society members would enjoy an array of social activities that centred around the musical genres of soul, R'n'B, dance music, house music and reggae!. I also co-hosted a radio show on Loughborough campus Radio, called the Malibu Cru (named after a famous rum drink!).
Can you tell us more about the LA Clippers and what it is like to be the Director of Performance?
The LA Clippers are a professional basketball team in the National Basketball Association (NBA). They are owned by Steve Ballmer (former CEO of Microsoft), and they play out of an arena in downtown Los Angeles called the Staples Centre.
My job involves overseeing the integration and delivery of a range of sports performance services to our players in order to reduce injury rates and enhance competition performance. I work with a team of highly trained specialist medical and science practitioners, and together we all work with our highly talented players in a very exciting and high scoring sport. It's a fantastic job, and I know I am very fortunate to have it. It's also very demanding, and our team plays 82 games in the regular season alone, and this is over a 6 ½ month period. We also play in many different states across the USA, so the travel demands are huge. But it's all worth it!
Can you tell us about your career journey so far?
I started out in 1995 as a Research Assistant in the Sports Development Centre at Loughborough University, where I researched fitness testing protocols for the Metropolitan Police. In 1996, I went on to become the Sport Science Manager at Loughborough University, where I was responsible for the development and provision of a range of sport science services to high performance sports teams and programs – including British Athletics, British Swimming, England Cricket, Leicester Tigers Rugby Club and the England Rugby team.
After 8 years in this role, I moved on to become the North West Lead Strength and Conditioning Coach for the English Institute of Sport, working out of Manchester. It was in this role that I began my work with British Cycling, as the team's Lead Strength and Conditioning Coach. I ended up working with the British Cycling team over an 8-year period, during which they enjoyed unprecedented success at the Olympics and World championships. I worked with notable riders such as Victoria Pendleton, Sir Chris Hoy and Jason Kenny, and I was an integral part of a world-renowned sports performance program. Whilst performing this role, I was also able to consult with soccer teams, including Aston Villa, Birmingham City and Manchester City. In addition, I also performed a lead role in the United Kingdom Strength and Conditioning Association, as a tutor and an assessor.
In late 2011 I was offered a role to work as a sport scientist at the NBA team the Oklahoma City Thunder. This was an opportunity to become the first ever full-time dedicated sport scientist in the four major US sports (NFL, NBA, MLS and NHL). It was too good of an opportunity to pass up, even though I was only 5 months away from the 2012 London Olympics and working with the nation's best athletes and cyclists. In my first season with the Oklahoma Thunder the team went all the way to the NBA Finals, and then in subsequent seasons the team reached the conference finals on two further occasions. I also got to work with some of the league's best players, including Kevin Durant, Russell Westbrook and James Harden.
In August of 2016 I joined the LA Clippers as the Director of Performance, a role that has involved working with superstar players such as Lou Wiliams, Deandre Jordan, Chris Paul and Blake Griffin. So that's pretty much it to date!
What do you love the most about your job?
I love the variety! No two days are the same. The athletes are also all very different. We travel from city to city and play 29 other teams. So there's a lot going on!
What does the future hold for you?
I would say "who knows!" I would never have predicted my career to date. I do love my job hear at the Clippers, and I do enjoy living and working in the USA, especially in Los Angeles. So right now, I'm focused on this job, and also in settling down with my wife to be! At some point I am hoping to be able to give back more - to help those who are in need and to help up and coming practitioners in my field.
What has been the proudest moment of your career so far?
I think the day I landed my first job would have been my proudest moment, because of the pride it imbued in my family, and in particular my mother. I didn't have an easy or privileged upbringing, and the day I received the offer of my first job from Loughborough was the culmination of a difficult life journey for all of us.