Dr Maggie Aderin-Pocock MBE
Space Scientist and Founder: Space Innovation Ltd.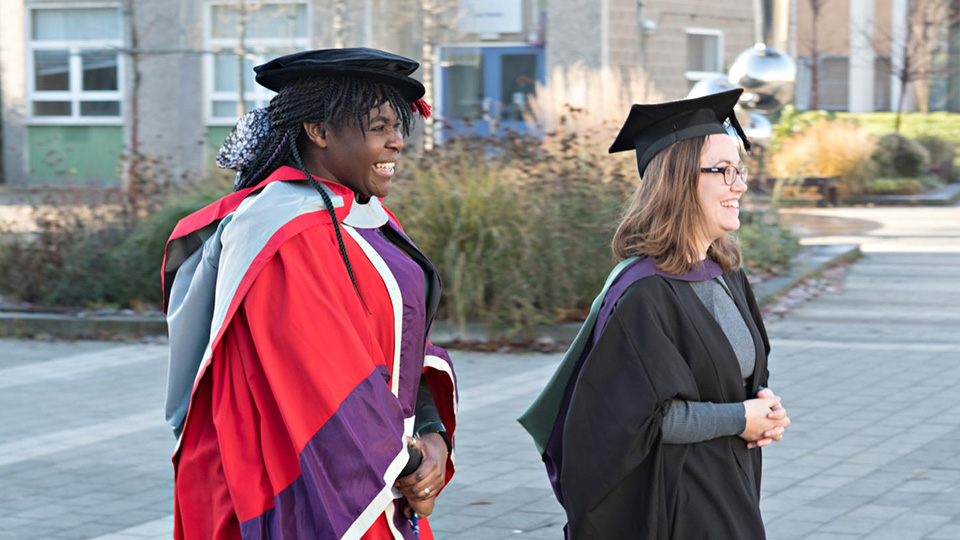 Dr Maggie Aderin-Pocock MBE was awarded an Honorary Degree in Winter 2017. Here you can read her degree oration.
As a university, we have celebrated the achievements of many great scientists over the years, and today we celebrate another: Dr Maggie Aderin-Pocock MBE.
Dr Aderin-Pocock is a space scientist and founder of Space Innovation Ltd. We are recognising her today for the significant contributions she has made to the field of science, and in particular, making it accessible to the public.
Maggie's passion is presenting science to a general audience, and she strives to demonstrate that, to quote her words, you 'don't need a brain the size of a small planet' to understand, participate in and enjoy the subject.
Maggie studied at Imperial College where she obtained her degree in Physics and her PhD in Mechanical Engineering. She has worked on many innovative projects in the private sector, academia and government and has also become a successful TV personality.
Maggie has won a string of accolades for her work and was awarded an MBE for her services to science and education in 2009.
In December 2011, Maggie won the Talkback Thames new talent award at the prestigious Women in Film and TV Awards for her BBC 2 programme, Do We Really Need the Moon? She went on to present Do We Really Need Satellites? and was one of the leading scientists on Channel 4's Brave New World.
Maggie is currently presenting Sky at Night on BBC 4, Mini Stargazing for Cbeebies and is a panellist on Sky One's science quiz show, Duck Quacks Don't Echo. She also makes regular appearances on The One Show, Newsnight and Woman's Hour and was a guest on Radio 4's Desert Island Discs.
As well as immersing herself in television and radio, Maggie has also spent much of her career making novel, bespoke instrumentation ranging from handheld landmine detectors to an optical subsystem for the James Webb Space Telescope.
To further share her love of science, Maggie conducts 'Tours of the Universe' and other public engagement activities, showing school children and adults around the world the wonders of space.
Maggie, who has dyslexia and was told as a child not to follow her dream of becoming an astronaut, is committed to inspiring new generations of astronauts, engineers and scientists and dispelling myths about careers, class and gender.
Back in 2014, the University had the honour of welcoming Maggie to the campus as she delivered our first-ever Claudia Parsons Memorial Lecture - a series of lectures that examined the careers of women in science, technology, engineering and maths subjects, or STEM subjects as they're better known.
Her talk, titled Women in Science: The Challenge, saw her discuss pioneering women in space science, her own adventures and triumphs and how female representation can be changed across STEM subjects. She also led a masterclass on public speaking and communicating research effectively during her visit.
Maggie is an outstanding role model, leading the way for future generations of scientists and encouraging audiences to embark on their own journeys in scientific exploration.
Chancellor, I have the honour to present to you, and to the whole University, Dr Maggie Aderin-Pocock, for the degree of Doctor of Science, honoris causa.