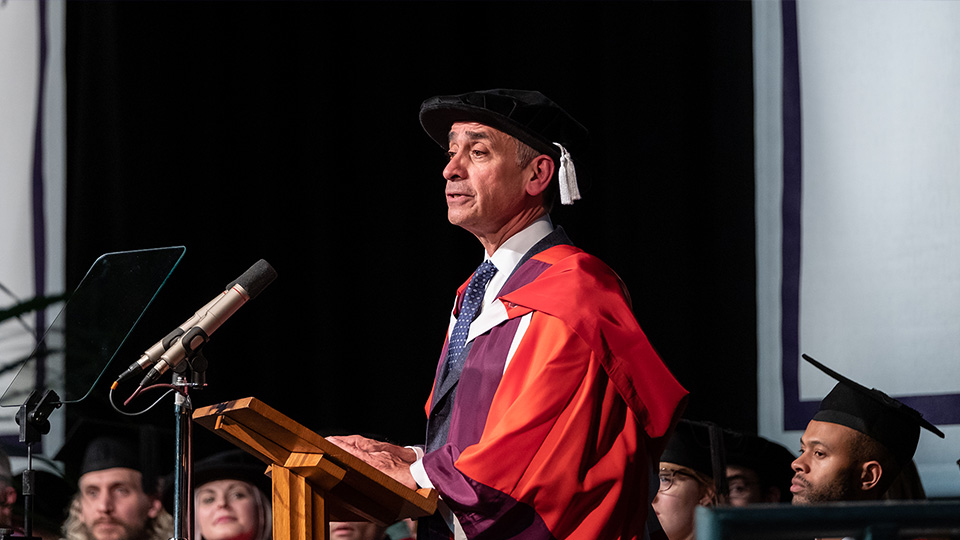 Lord Darzi of Denham was awarded an Honorary Degree in Winter 2018. Here you can read his degree oration.
Chancellor
Innovation is the key to continuous success – whatever field you work in. It drives change, implements something new, and creates solutions that add value for the end party.
Today I am honoured to stand alongside an individual whose name is synonymous with innovation and change within a sector that is important and relevant to us all, healthcare.
Professor the Lord Darzi of Denham, an academic surgeon and medical expert, has been the driving force behind a number of innovations in surgical practice.
Born in Baghdad, Professor Darzi moved to Ireland at 17 to study medicine at the Royal College of Surgeons. After obtaining his degrees in 1984, Lord Darzi went on to complete his postgraduate degree at Trinity College in Dublin.
Choosing to move back to the UK to further his career, in 1991, at the age of 31, Lord Darzi was appointed consultant surgeon at Middlesex Hospital, before moving to St Mary's Hospital in 1994.
The same year he also joined Imperial College London, where he gained his professorship in 1996, before becoming head of department in 1998.
Professor Darzi currently holds the Paul Hamlyn Chair of Surgery at Imperial College London, the Royal Marsden Hospital and the Institute of Cancer Research. He is Director of the Institute of Global Health Innovation at Imperial College London and Chair of Imperial College Health Partners. He is also an Honorary Consultant Surgeon at Imperial College Hospital NHS Trust.
In addition to his profile as one of the country's top surgeons, Professor Darzi has also established himself as a leading figure in global health policy and innovation.
His research focuses on achieving best surgical practice through innovation in surgery and enhancing patient safety and the quality of healthcare. Within this, minimally invasive surgery and allied technologies are the main area of focus – for which Professor Darzi and his team are internationally recognised.
Considered a pioneer of robot-assisted procedures, Professor Darzi and his team work to develop technology that will minimise the physical and psychological impact of surgery. Their developments have included robots that can operate on patients when guided by the surgeon's gaze, and a wireless body sensor network that can monitor patient's recovery from abdominal surgery at home.
In recognition of his achievements in the research and development of surgical technologies, Professor Darzi has been elected as an Honorary Fellow of the Royal Academy of Engineering; a Fellow of the Academy of Medical Sciences and in 2013 was elected as a Fellow of the Royal Society.
He was also knighted for his services in medicine and surgery in 2002.
In 2007 his career followed a route he had not previously envisaged, when he was appointed Parliamentary Under-Secretary of State at the Department of Health. During his two years with central government, Lord Darzi led a huge review of the NHS which put in place reforms to embed quality as the fundamental principle of the NHS.
It was during this time that Professor Darzi's dedication and impressive workload management shone, as he took on the ministerial role in addition to this existing commitments and responsibilities – maintaining his normal surgical workload throughout.
Upon stepping down from his role in government in 2009, Professor Darzi continued to be a leading voice in the field sitting as the United Kingdom's Global Ambassador for Health and Life Sciences until 2013. He is currently a Council Member for the UK's Engineering and Physical Sciences Research Council and has been a member of Her Majesty's Most Honourable Privy Council since June 2009. In January 2016, Professor Darzi was awarded the Order of Merit by Her Majesty the Queen for exceptionally meritorious service towards the advancement of medicine.
Professor Darzi is whole-heartedly dedicated to his profession; he is an innovator that pushes for change; he is a problem solver – constantly looking for solutions that are of great benefit to society. Professor Darzi embodies all aspects of our ethos here at Loughborough University London and is an inspiring example to all our graduates here today.
Today we recognise his contribution to research into global health policy and patient safety, as well as his support of research and enterprise activities in our own Loughborough Design School, whom he has supported in the past.
Chancellor, I am honoured to present to you, and to the whole University, The Lord Professor Darzi of Denham, for the degree of Doctor of Science, honoris causa.