Former Retail Director: Debenhams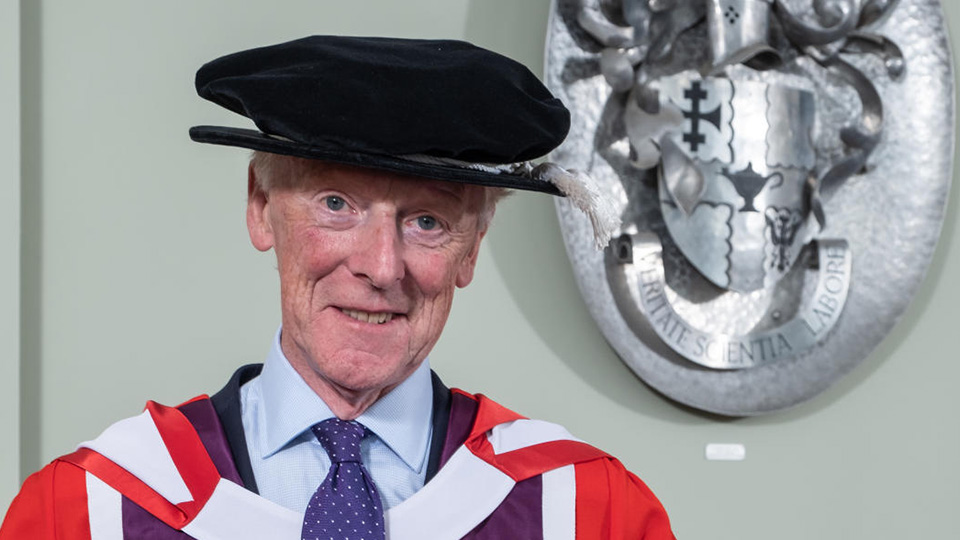 Alumnus Jim Murphy was awarded an Honorary Degree in Summer 2018. Here you can read his degree oration.
The University continues to flourish and grow because of the strong foundations of success that we have built over decades. Many individuals have contributed to that success over the whole of their careers, and indeed their lives.
Jim Murphy is someone who has been foundational to this University, and today we celebrate the longevity and quality of his service to us.
Jim was educated at St. Edwards College, Liverpool and at Loughborough University, where he graduated with a degree of BTech Ergonomics and Cybernetics in 1969 and an MSc in Human Sciences Research in 1972.
Whilst studying at Loughborough, he embodied the community spirit we are known for and took on the role of chairman for Hazlerigg/Rutland Hall. He also met his wife, Val, here. In keeping with the Loughborough family, Jim's brothers Brendan and Peter, and their wives are all alumni of the University.
After a variety of personnel and consulting roles, Jim joined The Burton Group in the early 1980s, moving to Debenhams Plc on its takeover in 1985 where he served as a Retail Director. He had a remarkable career in business, holding a significant number of directorships.
As part of the University, he has taken on a number of vital roles, including as a Lay Member of Council, Chair of the Imago Board, Chair of the Joint Negotiating & Consultative Committee of the University and its trade unions, and a member of the School of Business and Economics' Strategic Advisory Board.
Jim's chairing of the Joint Negotiating Committee was exceptional. Trusted equally by the University's management team and campus trade unions, Jim played a major role in creating the very strong and positive employee relations seen here at Loughborough.
Jim has had a particularly strong relationship with the School of Business and Economics, providing tremendous support to the Retail team and the BSc Retailing, Marketing and Management degree. He was actively involved in supporting the degree from the mid-1990s when he encouraged Debenhams store managers to provide annual retail workshops and field trips to new stores, the Oxford Street flagship store and Head Office in London.
In 1996, Debenhams commenced a pilot retail placement programme with the Loughborough Retail degree; instigated by Jim Murphy and the Leicester store manager at the time, Steven Gaunt, who recruited the students into his store. The success of the Leicester retail placement pilot led to national roll out.
Jim gave an industry dimension to the teaching and research in Business and Economics and in 2012 delivered a guest lecture on Debenhams International Strategy with the Debenhams International Director. He has an enviable list of contacts from the retail industry, property investors, developers and agents which have proved invaluable for connecting our staff and students with industry partners.
In his role as Trustee for the British Council of Shopping Centres, and Non-Executive director of Simons Group Ltd, Jim was a valued advisor for three ESRC research funding applications, providing important industry contacts and facilitating letters of support from collaborators. Jim is also well-known as a mentor to individuals and their personal development, encouraging them to pursue new avenues of research.
Since retirement, he has given back generously of his time, and his loyalty to Loughborough has been unwavering. Many colleagues throughout the institution speak highly, and fondly, of him. They talk of his capability, his unfailingly modest nature, and his honesty, sheer decency and fairness which have underpinned the University's HR, industrial relations and governance.
Chancellor, I have the honour to present to you, and to the whole University, Jim Murphy, for the degree of Doctor of the University, honoris causa.