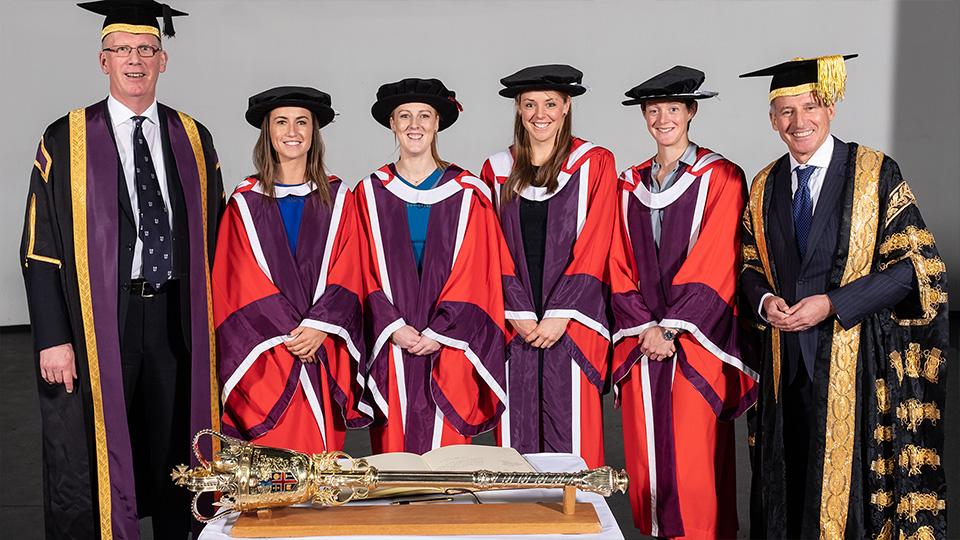 Four alumnae from Team GB Women's Hockey were awarded Honorary Degrees in Winter 2018. Here you can read their degree oration.
Chancellor,
Although two years have now passed, the excitement and impact of Team GB's exhilarating performance at the 2016 Rio Olympics lives on. And why wouldn't it? The team smashed their medal target, finished second in the medal table, and achieved a number of notable firsts. Great Britain really were nothing short of great.
Amongst the throng of incredible performances, there was one team that really captured the nation's heart with their winning ways in Brazil: The Women's Hockey team.
The team, which included five Loughborough alumnae, took Gold for the first time in women's hockey history. The team won all five of their group games, and their quarter and semi final matches during a phenomenal Olympic tournament.
The final was against reigning champions The Netherlands, who fought hard to defend their title, with Team GB coming from behind twice to equalise and take the match to penalties, which saw Team GB storm to victory.
Today we are honoured to present four of the team's incredible players to you.
Dr Hannah MacLeod graduated from Loughborough in 2005 with a BSc in Sport and Exercise Science. She made her international debut for England at the age of 19 and since then has amassed over 150 caps for her country. The double Olympic medallist was part of the teams that succeeded in the London 2012 Olympics and the 2016 Games in Rio. Hannah has also been a part of several other medal winning performances, including the Commonwealth Games and World Championships.
Goalkeeper Madeleine Hinch graduated from Loughborough in 2013 with a BSc in Sport and Exercise Science. She has over 100 caps for England and Great Britain. Like her team mates, Madeleine has a string of medals from other major championships. Her performance in Rio was nothing less than outstanding. Well known for her penalty saving ability, the current world number one female goalkeeper essentially secured Gold for the team in the final. Prior to any game, Madeleine is known to carry out her own meticulous research into the opposition – and she'd clearly done her homework that day – saving every penalty attempt from the opposition.
After first picking up a hockey stick at the tender age of 7, by the age of 28 Nicola White was a double Olympic medallist. She graduated from Loughborough College in 2013 with a BSc in Applied Sports Science. Making her senior international debut in 2009, Nicola now has over 180 caps to her name and 13 medals from two Olympic Games, two Commonwealths, and several world cups and championships. She was one of the youngest members of the team when Team GB took Bronze in London 2012.
Giselle Ansley first experienced hockey from a pitch side pushchair – watching her mum play. A few years later she started to play for Paignton Junior Hockey Club in Devon and hasn't looked back since. Giselle is now a key part of the international team's backline. Her skills as a strong and powerful defender have earned her over 130 international caps and several Olympic and European Gold medals. Giselle graduated from Loughborough in 2014, just two years prior to her Olympic glory, with a BSc in Sport and Exercise Science.
All four players have since been awarded MBEs in the Queens New Year Honours for their contribution to the sport and achievements in Rio.
The real impact of the team's achievements was seen in the public's reaction to their victory. Since the team won Gold it has been reported that over 10,000 new players have been inspired to pick up a hockey stick and join a club, and since 2012 the number of young girls in hockey has doubled.
It is with great pride that I stand here with these four outstanding Loughborough alumnae today.
Chancellor, I am honoured to present to you, and to the whole University, Hannah MacLeod, Madeleine Hinch, Nicola White and Giselle Ansley, all for the degree of Doctor of the University, honoris causa.