Team GB and England Hockey Coach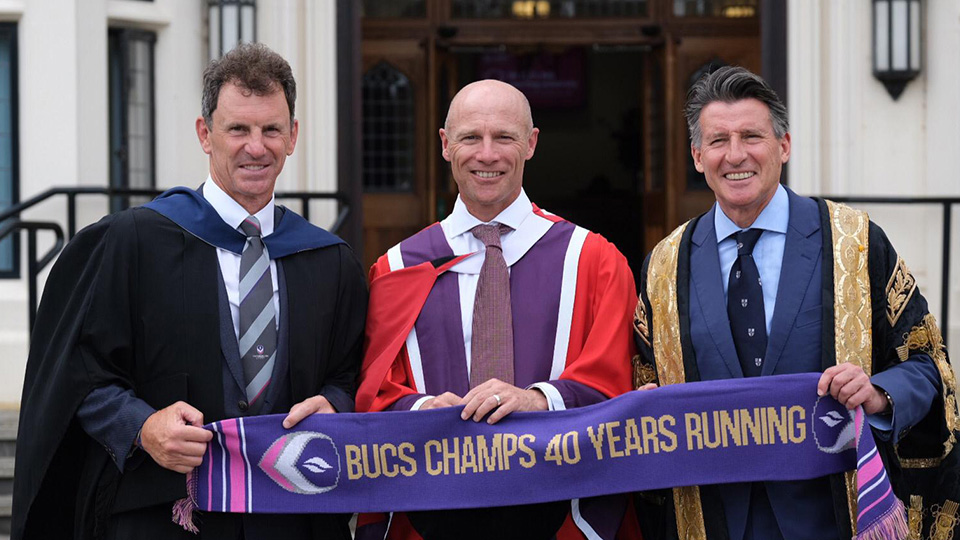 Alumnus Danny Kerry was awarded an Honorary Degree in Summer 2019. Here you can read his degree oration.
Vice- Chancellor,
Introducing this individual to you today for the award of Doctor of the University is an honour on many levels. For his incredible achievements within his sport; for his inspiring approach to his work which gave Team GB its first ever womens gold medal in hockey; but also having personally known him for many years I can vouch for his diligence, his desire to constantly improve and his commitment to the values of sport; all of which should serve as a great source of inspiration and motivation to our students graduating today.
I am of course talking about Team GB and England Hockey Coach Danny Kerry.
Danny first stepped into the realms of coaching here at Loughborough, as captain of the Men's first team. A very strong hockey player himself, his leadership skills were clearly evident at this point. He graduated from Loughborough in 1992 with a degree in Physical Education and Sports Science.
After completing a higher degree Danny started lecturing at Brunel University, where he also worked with the Men's hockey BUCs team, winning three consecutive finals in a run of five.
At the same time Danny was also working with Ealing Ladies Hockey Club in the English Hockey League and in 1997 was appointed to work as an assistant coach to the England Under 18 Men's group, before becoming head coach in 2001. The desire to include Danny's influence on a team's performance and culture was already beginning to spread.
His involvement with both women's and men's hockey continued over the next few years, working as an assistant coach to the England under 21 Men's team during the Junior World Cup Programme, and then from 2001 taking over as coach to Canterbury Ladies, where he won the National Cup in 2003 and a silver medal in the European Cup Winners Cup in 2004.
Danny was then appointed Head Coach to the England Women's Senior Team in 2004, where he spent the best part of 13 years taking the team from 11th to 2nd in the world rankings, using his influence and skill to develop a team that would capture the nation's heart and inspire a new generation of hockey players.
He led the team to their first Olympic medal in twenty years, winning Bronze at the London 2012 games. Under his leadership and guidance, the team then delivered, quite literally, the golden moment of Team GB's Olympic Games in Rio 2016, when they won Gold.
Other medal wins during his tenure as Head Coach included a gold at the European Championships in 2015, and silver at both the Commonwealth Games in 2014 and Champions Trophy in 2012.
In 2017 he started a new chapter in his professional career, taking up the position of Head Coach for Great Britain and England men's Hockey – a role for which he was described as 'the outstanding applicant in a worldwide search'.
His devoted years of service to the Great Britain team and sport in general have been recognised through several awards, including the International Hockey Federation Coach of the Year and Team GB Coach of the Year. His winning ways have made him the most successful coach in the history of modern British hockey. He was also awarded an MBE in 2017 for his services to women's hockey. But having listed all of Danny's outstanding achievements in sport, one thing stands out above all else, his unwavering integrity in sport and life, and his whole hearted commitment to care for the players in his charge.
Vice-chancellor, today I have the honour of presenting to you, and to the whole University, Danny Kerry, for the degree of Doctor of the University, honoris causa.