Paralympic Athlete: Discus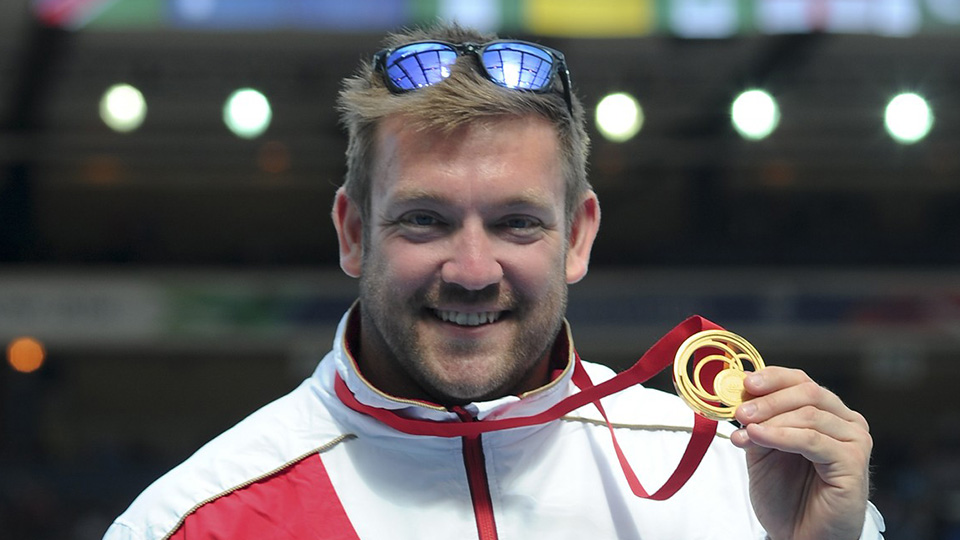 Alumnus Dan Greaves was awarded an Honorary Degree in Summer 2018. Here you can read his degree oration.
Our exceptional achievement in sport is the result of having outstanding teams and individuals with a winning mindset, and importantly who believe anything is possible with hard work and determination.
Dan Greaves is an elite discus thrower with this exact attitude, which has seen him compete - and succeed - on the biggest of world stages.
A Loughborough University alumnus, Dan graduated with a degree in Sport and Exercise Science in 2006. He continued his studies to gain an MSc in Sport and Leisure Management in 2009.
Dan is also a local lad and has trained here on campus for many years, starting out at Charnwood Athletic Club at the age of 13, where he was quickly recognised as having great potential. The list of medals he has amassed since then is nothing short of extraordinary.
Dan has competed in five consecutive Paralympic Games since the age of 18 – at his first Paralympic Games in 2000, Dan took home the silver medal for Discus in the F44/46 category. In 2001 he became the first Paralympian to represent Great Britain in an able-bodied event with selection for the GB junior team.
In fact, he holds a quintet of Paralympic medals with gold at Athens 2004, where he set a new world record, as well as silver medals at Sydney 2000 and London 2012, and bronze medals at Beijing 2008 and Rio 2016, maintaining an impressive record of a medal in every games he has competed in.
In 2012, for his home Paralympics, he was successfully nominated to carry the Olympic Torch – a proud moment and a very well-deserved honour.
Alongside his haul of Paralympic medals, Dan also holds four World Championship medals. At the World Athletics Championships in New Zealand in 2011, he broke the world record again, with a throw of 59.98m.
He also has four European Championship gold medals, and won gold in the 2014 Glasgow Commonwealth Games. He then extended his British record to 62.34m when also winning the European title that year. Indeed, his medal haul continued last year with gold in the 2017 British Athletics Championships.
As someone who has performed at the highest level in Paralympic sport alongside a GB cap in able-bodied competition, Dan has been an inspirational role model in both arenas and has spoken about the importance of increasing access to sport. In an interview with The Independent, he said: "That's part and parcel of our legacy: to bring through the next crop of young sports people with a disability and give them a chance to compete in general, as well as a chance to try to make the level that we're at."
Last year, we were proud to induct Dan - or 'Discus Dan' as he is fondly known by his fans - into the Loughborough Sporting Hall of Fame, where we recognised him for his success in Paralympic Discus; and we are very proud to be celebrating his great achievements again today.
Chancellor, I have the honour to present to you, and to the whole University, Dan Greaves, for the degree of Doctor of the University, honoris causa.