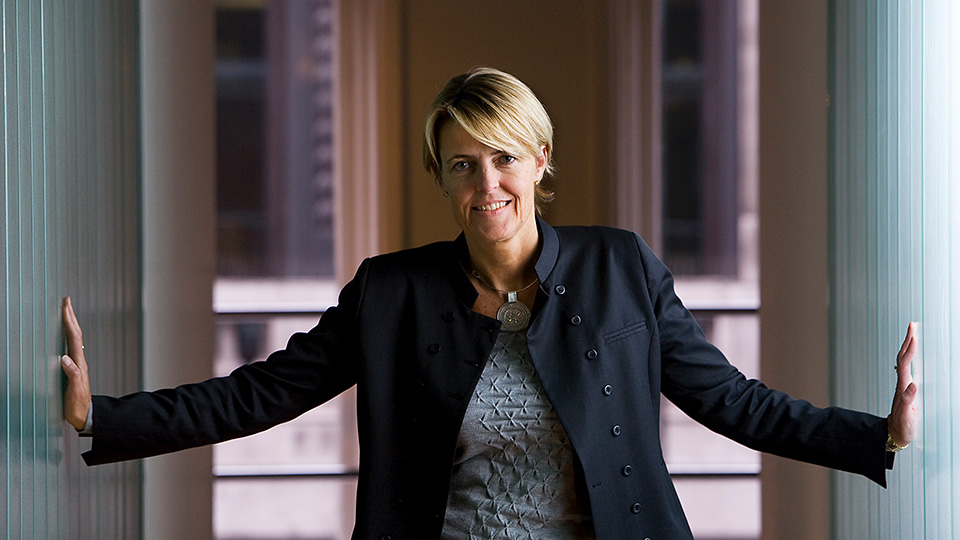 Alumna Christine Hodgson was awarded an Honorary Degree in Summer 2019. Here you can read her degree oration.
Chancellor,
As a university we aim to improve young people's life chances. We provide a student experience full of opportunities that is designed to make sure any student, whatever their dream, whatever their goal, can take away the skills and experience they need to feel fulfilled and move forward in the next stage of their life.
I am honoured to present to you today, an individual who is not only a Loughborough graduate that has had a very successful career in business and finance, but an individual who has made substantial contributions to the wider community to ensure that there are opportunities for everybody in business.
Christine Hodgson graduated from Loughborough University in 1987, with a First-Class Honours in Accounting and Financial Management.
She is now Chairman of Capgemini UK, Head of Group Corporate and Social Responsibility and is a member of the Global Group Executive Committee.
Christine has enjoyed an impressive career, working for several respected accountancy firms before rising through the ranks at Capgemini UK. After graduating she joined accountancy firm Coopers & Lybrand, who are now part of PricewaterhouseCoopers, where she specialised in corporate finance and qualified as a Chartered Accountant. Rising to the level just below Partner at a comparatively young age, Christine then moved to Ronson plc, where she held several senior positions including Corporate Development Director.
She then joined Capgemini UK, where she has spent over 20 years. Prior to her current role with the organisation, Christine worked as Chief Executive Officer for Technology Services for North West Europe and Chief Financial Officer for both Capgemini UK plc and the company's Global Outsourcing Division, a role in which she won Woman of the Year in the CWT Everywoman in Technology Awards in 2011.
Adding to her financial accolades, Christine is also a Senior Independent Director at Standard Chartered Bank plc and is a Fellow of the Institute of Chartered Accountants in England and Wales.
Christine is an advocate for encouraging more women to achieve top positions in the world of IT and currently chairs Capgemini UK's Women Business Network which aims to attract and retain female talent. Christine also co-founded the organisation's UK Women's Business Network, now known as the Inclusive Network.
Inspiring the next generation and making sure opportunities in the world of work are available to all young people, regardless of their background, is also high on Christine's agenda.
In 2014 she was personally asked by Nicky Morgan, the then education secretary, to set up the Careers and Enterprise Company. She embraced the opportunity, setting up a company that continues to support greater engagement between employers and schools and colleges, to help inspire and prepare young people for the world of work.
Christine also provides guidance as a board member of the Prince of Wales Trust Business in the Community, a business-led membership organisation that is dedicated to responsible business, including creating a skilled, inclusive workforce today and for the future.
She was also previously a member of the Audit Committee of the Queen Elizabeth Diamond Jubilee Trust, who focus on empowering a new generation of young leaders; and a board member of the Tech Partnership, a network of employers that worked to inspire young people from all backgrounds about digital careers.
Not only has Christine enjoyed an impressive and successful career to date, she has kept her passion for social mobility and used her strong influence to ensure opportunities are available to all.
Chancellor, it is a great privilege to present to you and the whole University, Christine Hodgson, for the degree of Doctor of the University, honoris causa.