Director of Sport in Zambia: Ministry of Sport, Youth and Child Development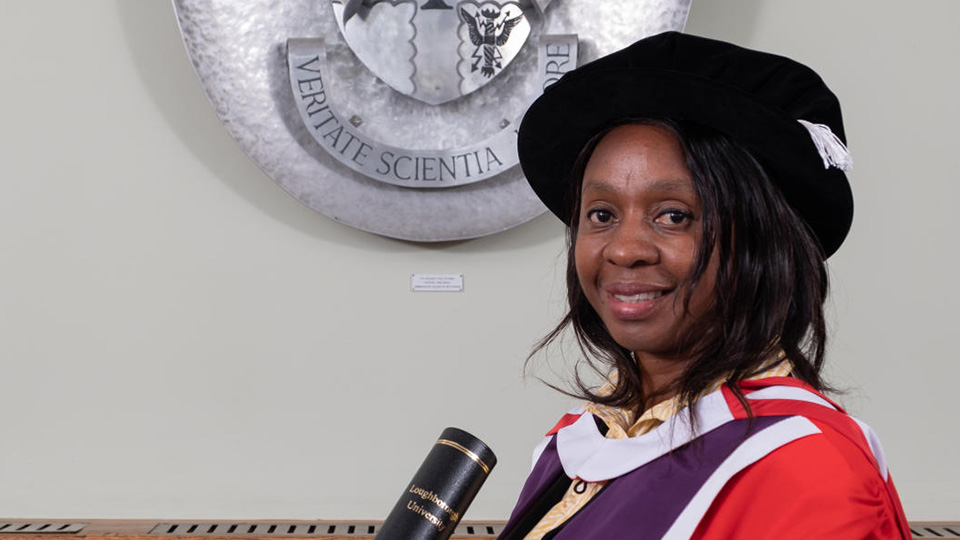 Alumna Bessie Chelemu was awarded an Honorary Degree in Summer 2019. Here you can read her degree oration.
Chancellor,
As a university we focus on ensuring that all members of the Loughborough family have access to sport regardless of their ability of interest. Why do we do this? Because of the physical, mental and social benefits it brings to individuals and communities.
The inspiring female leader that joins us today has successfully championed the power of sport to improve the life chances of thousands of young people in Zambia.
Bessie Chelemu has been a formidable advocate for the role sport can play in Zambian life and over the course of her career she has worked tirelessly to grow sport and educational opportunities to enhance the life skills and chances of Zambia's youth.
She has held several positions at the Ministry of Sport, Youth and Child Development working her way from Provincial Child Care Officer up to her current role as the first female Director of Sport in Zambia, where she is responsible for the overall coordination, planning and development of sport programmes and projects in the country.
Bessie completed an undergraduate degree in Development Studies and Demography at the University of Zambia, and then pursued a master's degree in sport management from the University of Northumbria.
Her higher education journey has now gone full circle, as since 2011 she has been lecturing part-time in sport nutrition and management at the University of Zambia under their distance learning programme.
Around the same time, she also worked at the Olympic Youth Development Centre as Deputy Director for Programmes where she was responsible for initiating and developing sport and non-sport programmes. Whilst in this role she led on developing partnership engagements with international sport organisations.
And this is where we as a university have personally benefitted from Bessie's influence and knowledge.
Bessie understands the high value of partnerships and has been a key advocate and supporter of the Wallace Group, a partnership created in 2004 by several leading UK universities, including Loughborough, to support sports development for young people in Zambia.
Bessie has helped the Group navigate some tricky political issues in a fiercely independent, proud but peaceful Republic democracy.
Over 120 Loughborough staff and students have spent time in Zambia as part of Volunteer Zambia, an international volunteering programme run by the group, that sees individuals volunteer their time to deliver sport sessions to young Zambians. Bessie has been one of the key people to facilitate opportunities like this for our students, and when necessary has been a strong source of support in helping them overcome any difficulties.
Loughborough students that visit Zambia consistently describe the experience as 'life changing' 'humbling' and 'inspiring'. We have the vision and support of Bessie Chelemu to thank for this.
Through her leadership and patronage to the Wallace Group, Bessie has greatly enhanced what we have been able to achieve in Zambia, brokering support from the International Olympic Committee, Commonwealth Office, UK Sport, and the British Council.
Bessie is currently engaged in establishing a Department of Physical Education, Coaching and Sports Management at the University of Zambia, a vital next step in developing a sustainable 'in country' capacity to develop and grow their sport industry.
As is typical of Bessie, she turned to Loughborough University first in terms of the partnership opportunity and promoted Loughborough to senior staff in the University of Zambia and in the Ministry of Education.
I wish I could relay all of Bessie's career highlights and contributions to sport in Zambia – but it is that extensive, there simply isn't enough time here today. One thing that is very clear though is that over the last 25 years Bessie has continually sought to better her own skills and knowledge, through various development opportunities, to then give back to society through her work in sport.
Her story should be a source of inspiration to all students graduating today and she herself will continue to be a valuable member of our Loughborough family.
Vice-Chancellor, it is with great pride I present to you today, Bessie Chelemu for the award of Doctor of the University, honoris causa.