At the end of April, Forest Women were crowned League Champions, confirming their place in the Women's National League (WNL) play-off final this weekend. Following their 3-0 win against Stoke, in which alumna Becky Anderson secured the first goal of the match in the 25th minute, they won the FA Women's National League Northern Premier Division for this first time since 2007/08.
They also won the FA Women's National League Cup following a 3-2 win against Watford after extra time, with alumna Charlotte Greengrass getting the ball in the back of the net in the 42nd minute. It was Forest's first League Cup final since 2011.
This season's top goal scorer, alumna and staff member Charlotte Greengrass, has scored 22 goals this year. Charlotte graduated in July 2022 with a degree in Psychology and now works at the University in the Marketing and Advancement department. We asked how she feels heading into the game this weekend:
"We've been working so hard to gain promotion to the Championship and have celebrated so much success up to this point. I am so proud of everything we have achieved as a club with winning the league and league cup. Hopefully, we can round it all off this weekend with a win and secure promotion. It's always been my ambition, and our ambition as a club since I joined in 2020 to get promoted so to be so close at this point is really exciting."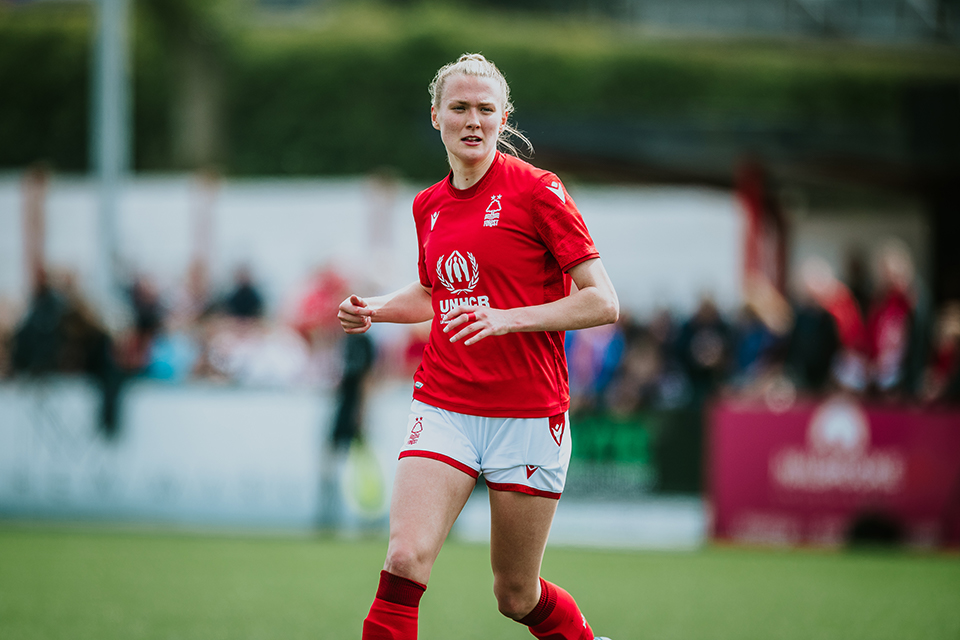 C‌harlotte Greengrass. Image: Ami Ford
Alumnae playing for Forest Women are:
Becky Anderson, number 19, midfielder (BSc Sport and Exercise Science 2014)
Sophie Domingo, number 7, winger (BSc Psychology 2022)
Charlotte Greengrass, number 22, striker (BSc Psychology 2022)
Hayley James, number 21, defender (BSc Mathematics and Sports Science 2016 and PGCE 2017)
Rosetta Taylor, number 17, midfielder/winger (BSc Sport Management 2022)
Amy West, number 11, midfielder, (member of university staff)
Nottingham Forest Women will play Watford on Saturday 20 May, 1pm at Stadium MK – tickets start at £5, and it will also be streamed via BBC iPlayer from 12:50pm. We wish the team all the best.