Around 100 people came together in the Edward Herbert Building for the afternoon to witness a cake decorating demonstration and for a chance to meet the Bake Off star.
Several volunteers got involved in the demonstration as he showed people how to pipe buttercream onto cupcakes in several different ways.
During the event, attendees also had the opportunity to ask Rahul questions about how he started baking, his favourite cakes, and gained a few top tips before getting the chance to purchase a copy of his new book and to meet the author.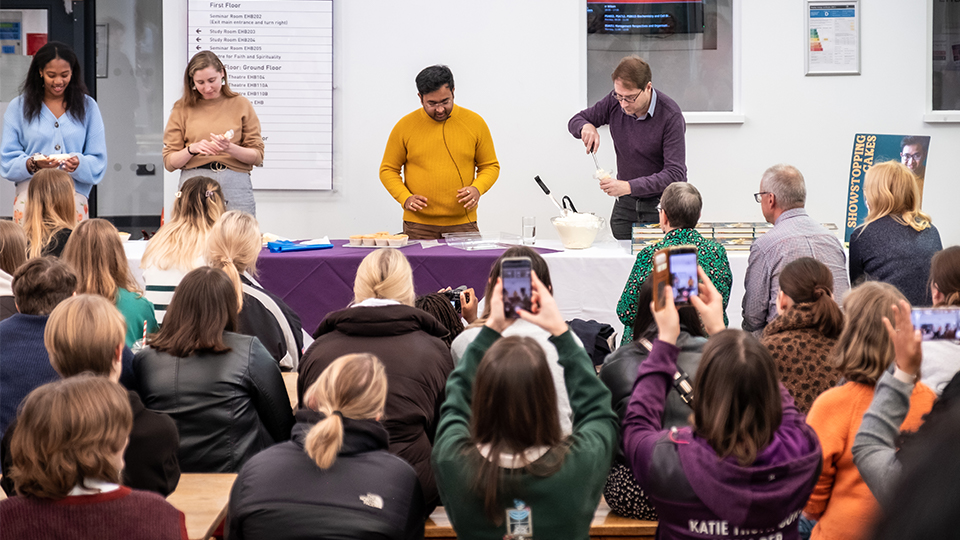 Rahul shared how he had discovered an interest in cooking and baking when he moved to the UK for his PhD in 2010. He found friendship and a love for the kitchen by getting involved in the Landscape and Gardening Society at the University. Many of his friends from his time at Loughborough attended the event, including Senior Lecturer Dr Alena Pfoser, who hosted the Q&A.
He talked about practising for Bake Off and how he shared his bakes with staff in shops in his local area in Rotherham. He also discussed maintaining friendships with people from the show, baking cakes for weddings and christenings, and of course embarking on his first book, published four years after his win.
Has winning Bake Off changed him? No. Rahul said that whilst his friends may laugh and joke about the popular TV show on occasion, he was still the same person. Baking remains his hobby alongside his day job as a Researcher at the University of Sheffield.
Thank you to Rahul for sharing his insights with the Loughborough family.
You can find out more about his book, Showstopping Cakes, online.