Around 20 alumni, mostly from Telford Hall, spent the weekend celebrating at Loughborough. Their busy schedule included a trip down memory lane with a stroll into the town centre and a campus tour.
They ended their day with a celebratory dinner at Loughborough's Burleigh Court and culminated their reunion on Sunday with a walk in the neighbouring Bradgate Park, home to ruins and wildlife.
On the reunion, Richard Scott said:
"We also, inevitably, spent a good deal of time talking and reminiscing and thoroughly enjoyed ourselves."
Andrew Weston, Angela Rose, Colin Watkin, Dave Hansell, Dave Witham, Elzunia Williamson, Gordon Williamson, Gwen Hansell, Ian Machell, Janet Scott, Jill Wild, Mike Horlor, Mike Wild, Pam Piercy, Paul Taylor, Phil Lomas, Richard Scott, Rob Piercy, Sue Pinhay, Vicki Horlor.
Some of the group attending had great memories of being a part of the Loughborough Colleges and University's athletics teams. They shared several photographs from their time at the University (below).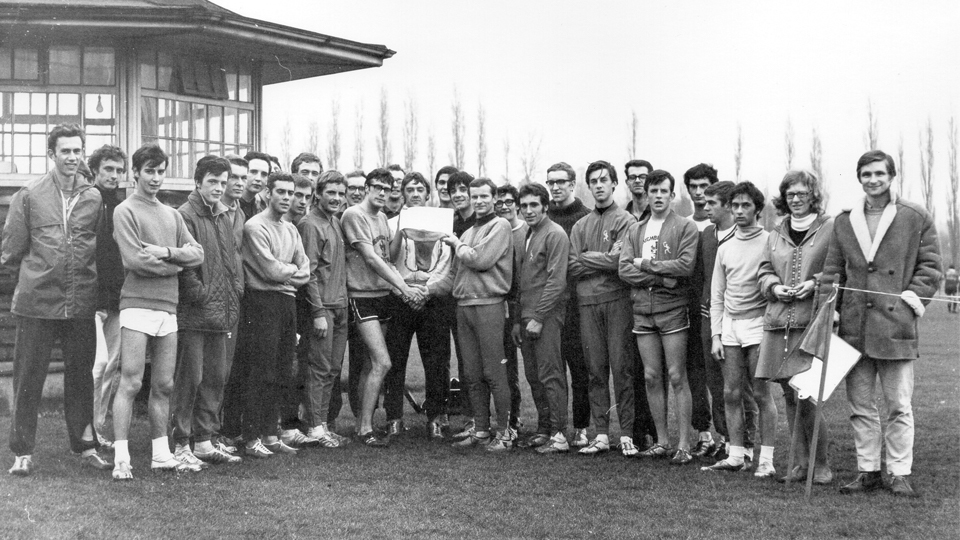 University and College athletics teams 1969, featuring: Phil Watson, Julian Bunn, Frank Thomas, Richard Scott, Mike Wild, Mike Down, David Price, David Blackburn, Graham Bell, Keith Broadbent, John Kirkbride.
Richard said:
"At the time of the tournament, the majority of Loughborough maintained a college status, with the exception being the old Engineering College (Loughborough College of Technology - LUT) which was granted University status in 1966. Below is a picture of Loughborough University Athletics Club 1969."
‌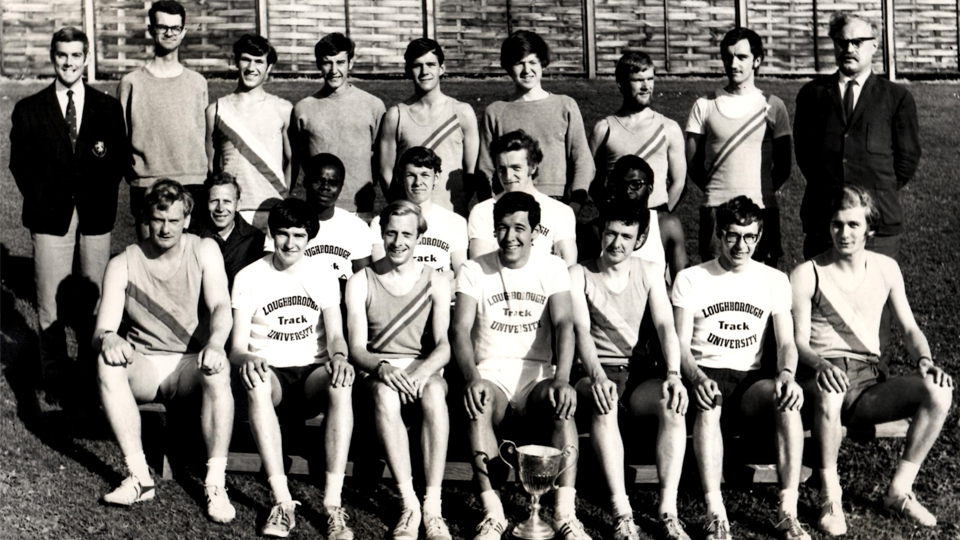 Loughborough University Athletics Club, 1969 featuring, left to right: Mike Down, Dr Roberts, Julian Bunn, Tim Joscelyne, Mike Seal, Pete Lewis, Mr Futcher. Middle row: Tony Endiwo, Richard Scott, Will Bartholemew, Tony Igadaro. Front row: Barry Crowther, Simon Male, John Barrus, Quentin Craddock, Ged McAllister, Barry Taylor, Pete Humphreys.
According to our alumnus Richard Scott, this change created a rivalry as the LUT split from the remaining colleges. These colleges were supposedly nicknamed 'the Jocks' and annual cross-country events turned into highly competitive contest between the University and Colleges.
1969 was a significant year for the University team who seemed to be favoured with an abundance of good runners that year which resulted in a win against the Colleges. This resulted in the University team being the only university team to 'beat the jocks' that year.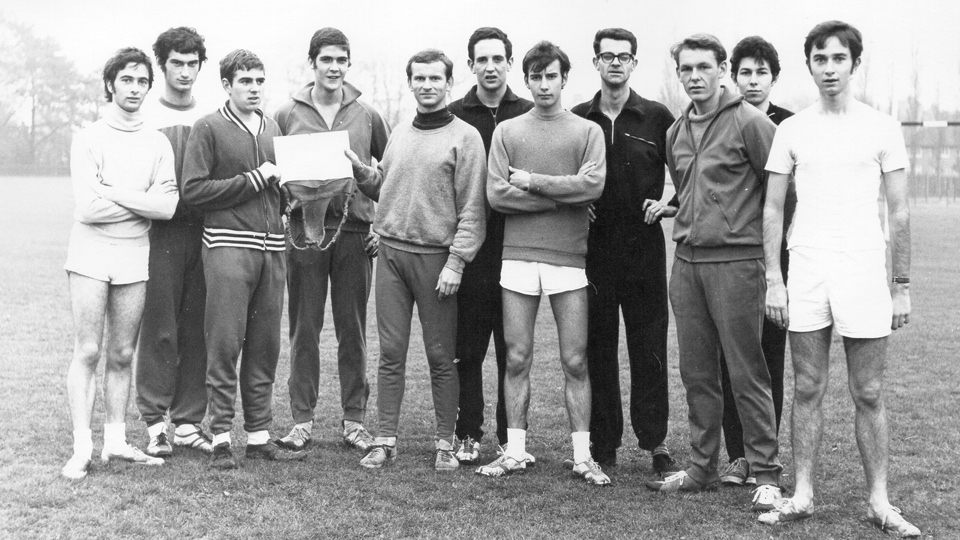 University Second team, 1969, featuring: David Blackburn, Keith Broadbent, Mike Wild, Julian Bunn, Richard Scott, Peter Hale.
‌If you have any reunion or throwback stories to share, get in touch. ‌