Alec recently celebrated his centenary birthday. The alumnus attended Loughborough on two separate occasions. He began his time at Loughborough in 1939 and was studying for a degree in Aeronautical and Automotive Engineering, until 1941 when this was disrupted by the Second World War. He returned to finish his studies in 1946, seven years after he first started. ‌
During his hiatus, the alumnus was in the Belgian Army as part of the 349-squadron, eventually going on to serve as a spitfire pilot in the Royal Air Force later in the war. Alec was in the RAF until 1946 when he left to rejoin Loughborough and complete his studies.
During his time at Loughborough, Alec stayed at Quorn Hall and was President of Rutland Hall. Whilst at the University, he enjoyed being part of the Aircrew Association. Alec represents an image of a classic engaged Loughborough student, taking part in different societies and sports activities, including the tennis team.
The alumnus' association with Loughborough became multigenerational with several of his family members going on to attend the University. This includes his great nephew-in-law, Richard Lauder (Mechanical Engineering, 1988) and his great-great nephew, Oliver Nolan, who is a current third year student of Geography.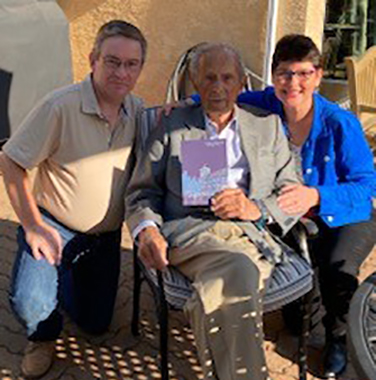 Alec Uydens with Richard Lauder and Lara Lauder.‌
Alec's birthday was celebrated in his home in Canada with his family, some of whom travelled to visit him from the UK. They organised a presentation that included images from the University archives. Snapshots from the Aeronautical Engineering department in the 1940s featured in his special celebrations. Alec's family even organised for Alex to receive a card from the Vice-Chancellor, Professor Nick Jennings.
You can learn more about Alec, including some stories from Loughborough and more about his time in the RAF, via YouTube.