The prosthetic device was designed as part of a second-year Sports Technology module. Neve and her group were assigned a brief to design 'A Sports Product/Device for Athletes with a Disability Training or Competing at Loughborough University'. She took the lead role in the project and contacted Emmanuel Oyinbo-Coker, a current student at Loughborough College who trains at the University. He is a T46 para-sprinter, a classification for para-athletes with a single below or above the elbow amputation.
The group worked with Emmanuel to develop a sprint start support device for the sprinter's upper arm to rest on at the beginning of a race. When asked what the sprinter thought of the process and her experience with the development of the device, Neve said:
"He loved the idea and gave great feedback at each stage of the design process. He has been training with the device for a year and obviously he is getting on very well with it. He used the exact device we made him in both the heats and final of the T45-47 100m at the Commonwealth Games which he then went on to win and break a Games Record.
"We began this project with just a rough sketch of our idea and to see it evolve into a device used by a Commonwealth Games gold medallist has been incredibly rewarding!"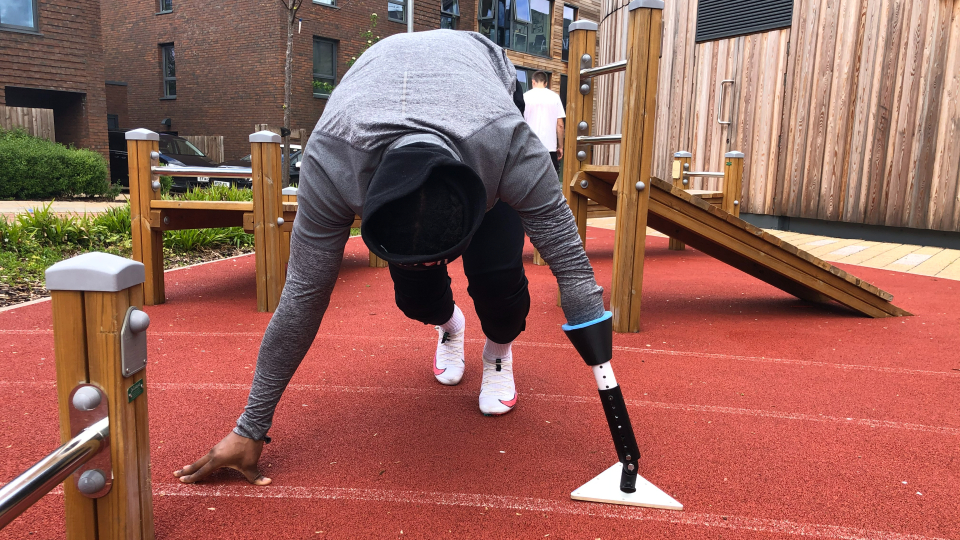 ‌
Image: Emmanuel Oyinbo-Coker training with the device at Claudia Parsons Hall
The final of the T45-47 100m on 2 August saw the College student clock 10.94 seconds, his first time under 11 seconds, beating Australian Paralympian Jaydon Page and English Paralympian Ola Abidogun who placed second and third respectively.