Students who are part of the University's Afro-Caribbean Society worked in collaboration with University staff and with alumnus and University Council member Mike Wedderburn to bring the event together.
Athletes and high-profile professionals from the sports industry were welcomed to speak to more than 100 students who attended sessions throughout the day which focused on themes including breaking into the industry as a minority, changing the narrative, and overcoming barriers.
Opening the day and hosting a range of panel discussions and one-to-one interviews was alumnus and Sky Sports News Presenter Mike Wedderburn (MSc Sports Science 1989). He remarked:
"Huge kudos to the students who have put this together, they have worked tirelessly to make this an event to remember."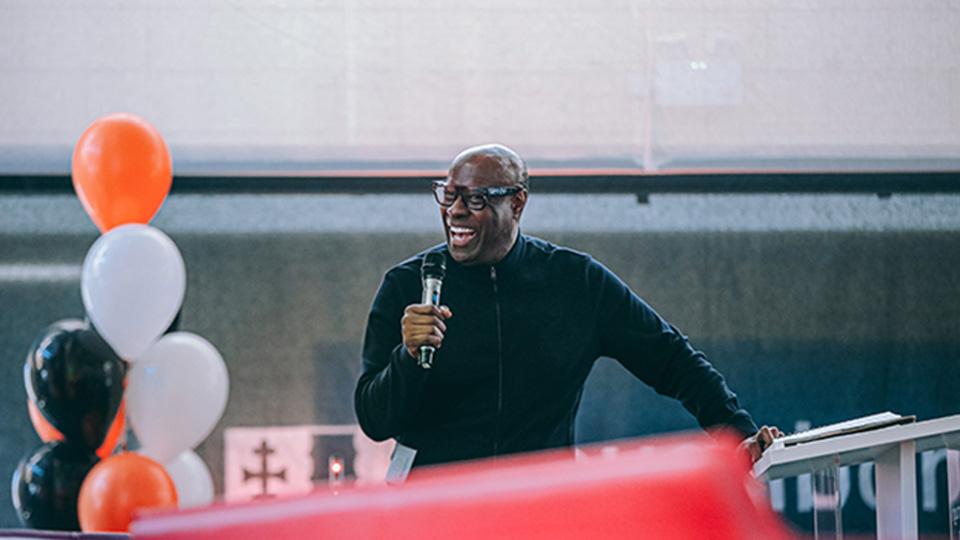 M‌‌ike Wedderburn
Co-founded by current Business Analytics student Samuel Ola and Accounting and Financial Management student Emmanuel Shittu, the pair explained the importance of the Black in Sport Summit, and the reasons behind launching the event this year. Samuel said:
"We wanted to explain why we started this in the first place. We started this to celebrate the achievements of Black people in sport and also to learn from the stories of our amazing speakers. We're also trying to create opportunities for minorities to break into the sport industry."
During the day-long event, attendees had the opportunity to hear from alumna and Commonwealth Gold medallist, netballer Ama Agbeze MBE (MSc Finance and Management 2007). She discussed changing the narrative with BISS co-host Mayowa Quadri, who is the Brand and Editorial Officer for VERSUS.
Speaking about her experiences, Ama said:
"Growing up I would smile, grin, and be chilled. People took that as I was a fool - that wasn't the case.
"When I did my GCSEs, people were like 'she's actually really bright' - I wasn't just the person in the corner smiling."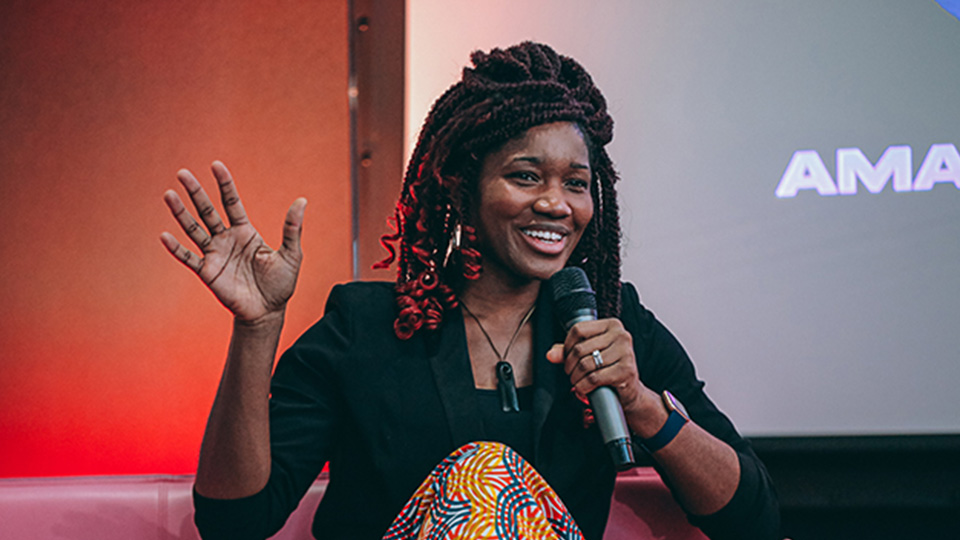 Ama Agbeze MBE
A panel was formed to discuss breaking into the sports industry as a minority. Alumna Simbi Sonuga, who is Senior Manager, Strategic Operations at Octagon, discussed imposter syndrome and reflecting on achieving successes:
"Sometimes you just need to remind yourself of all of the things you have overcome to get to where you are.
"Remind yourself where you actually started. Remind yourself that you're at university […] Remind yourself how you were a pest to all those people that you had to reach out to to get to where you are."
Simbi was joined by Ulundi Makhanya, Head of Commercial Partnerships at Northampton Saints; Jonas Dodoo, Elite Performance Consultant and CEO of Speedworks Training; and George Imafidon, CEO of Motivez, Engineer at Team X44 and Board Member at The Hamilton Commission.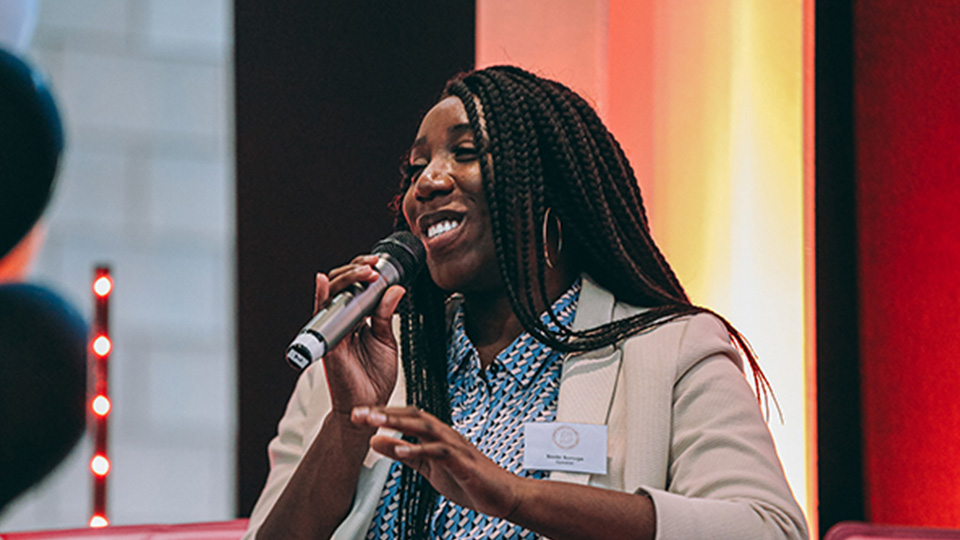 Simbi Sonuga
Current Loughborough student and Paralympic T38 100m Champion Thomas Young teamed up with fellow Paralympian Karé Adenegan, who won two silver medals in Tokyo. They discussed balancing their sporting commitments with studies and day-to-day life and being role models to other young people. Thomas said:
"If I can inspire the next generation that's a massive bonus for me. It's really good to see the next generation coming through."
Karé added:
"When I started wheelchair racing, I didn't see anyone who looked like me. I'm proud when people say I'm a role model."
Other speakers included Darren Lewis, Sports Football Writer and Assistant Editor at the Daily Mirror, and Sky Andrew, the first Black British football agent. They were in discussion with Mike about overcoming barriers and in particular discussed racial bias in commentary and the importance of educating others. One student asked: "Is it our job to educate people?"
Sky Andrew answered:
"It is. When you're a young person and you're full of ambition and verve, and you need a light, you need something to follow. I can understand why people say that its not the responsibility of certain people to educate but sometimes people feel very much on the outside. In terms of politics, people feel on the outside, they don't feel as if they're part of it.
"History shows that if the Williams sisters can become great tennis players, other black tennis players follow. Barack Obama – other politicians will follow. I understand that some people will say that it's not the job of certain people to have that responsibility, and to be fair a lot of well-known sportspeople don't like to have that responsibility."
Darren Lewis added a quote from Nelson Mandela – it always seems impossible until it's done. He continued:
"I think you can substitute the word 'education' for 'inspiration' because I think there are lots of people who are doing things that in their own way educate without them having the burden of having to educate.
"In some respects I do see your question […] If you are in a workplace, we don't really want someone coming to you on race issues all the time, that's not your job. What should they be doing? Improving their recruitment so that there are other people they can speak to or getting someone dedicated to a specific job and taking responsibility for the areas that they're putting on to your shoulders. But I think there are ways to educate without actually taking on a role."
Anthony Watson, England Rugby star, discussed his experiences via a live video link, and pre-recorded interviews were shared by Ebony-Jewel Rainford-Brent MBE, Chris Hughton, and Brendan Batson.
Students were also afforded the fantastic opportunity to meet with employers during the day and to undertake a challenge that gave them the chance to be considered for internships at Sky Sports and Kukri. Other employers supporting the event included Catapult, PING Golf, BCOMS, DAZN group and VERSUS.
On the launch of the event, Professor Nick Jennings, Vice-Chancellor and President of Loughborough University, said:
"The Black in Sport Summit is a fantastic student-led initiative. By providing a platform to champion the achievements of Black people in sport, we hope to change the narrative and inspire the next generation of sport leaders."
Thank you to everyone who took part in the day, and especially to the speakers who volunteered their time to share their experiences. A video round-up of the day will be available soon.
If you are interested in taking part in future BISS events, please get in touch.
Photography: Flynn Duggan, current student