Ollie Piddubriwnyj
Subject area
At the time, when I was researching courses and universities, Graphic Design was the most hands-on course in the country, and it was one of the last HND courses to convert to a degree, which I believed would give me my best start for a career as a designer.
I was most attracted to Loughborough because all the tutors were actual practicing Graphic Designers and that really appealed to me. For example one of my tutors, Ola, designed the Walkers Crisps pack. Impressive hey!
One of my favourite University moments was I designed a project for Harley Davidson and was grilled in front of the entire class by a lecturer about it. I thought it had gone badly but at the end Peter Webster (the lecturer) smiled and said, "well done, you've passed". It was simply a test to put me in a real-life situation, which believe me, I've been in 1000 times since and without that extra push would probably never have been prepared for.
Overall, the quality of the teaching was exceptional. It was really hands-on, possibly even informal at times, but it really worked. I know for sure it was responsible for delivering some really great designers that have gone on to have phenomenal careers.
When I was a student, I actually commuted to University every day from Nottingham but often stayed with friends I'd met on the course for nights out. There's a great social community at Loughborough, it's always been that way and it will continue to be.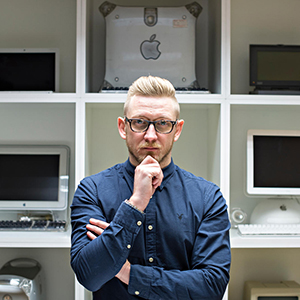 When I graduated, my first job was at an agency called WM Associated in Nottingham. They worked for some really big brands across a wide range of sectors. This was such a lucky start to my career, and I learned so much from people that I really respect. Quick name drops for Colin Wood and Jo Muddiman here!
Then I decided I'd take my destiny into my own hands. After spending almost 6 years there I decided to take the plunge and fly solo. Thinking back, a few 'wow' moments and milestones on my career journey have been:
Without a doubt the course had every bit of influence on my career, particularly at the start as I was lucky enough, and thanks to Loughborough University and the lecturers - prepared enough, to be offered the first job I went for.