Olivia Azzopardi
Course

Subject area
I chose Loughborough because of the large campus and the quality of teaching and materials I had access to on my chosen course. The best thing about the Fine Art course is the variety of practises and mediums you can experiment with. From mixing pigments to create high quality oil paints for traditional painting to creating contemporary sculptures out of welded metal sheets.
I studied the Art- Foundation course and became enthralled with Ceramics. I created a series focusing on the detrimental effects of mining on the earth's surface, creating blasted rock-like ceramic sculptures. Currently on first year I have just started a new project focusing on drapery and the human form. This project consists of life and plaster casting recreate traditional Renaissance and Greek sculptures.
The Hubs technical staff and course tutors are in the top of their field and provide great guidance and knowledge to specialist areas and alongside teaching they produce their own pieces as working artists. This duality of being both a teacher and successful artist really inspires students to keep up the momentum and quality of their own projects.
The social atmosphere is so warm and inviting, the societies are fun and friendly. Moving into halls is a big step, but as soon as you move in you become a part of the Loughborough family. We help each other out. An amazing atmosphere filled with loving and caring students.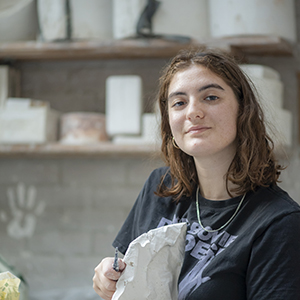 As a student with a hearing impairment I have been given support with having a DSA (Disabled Student's Allowance) which has helped me with my lectures.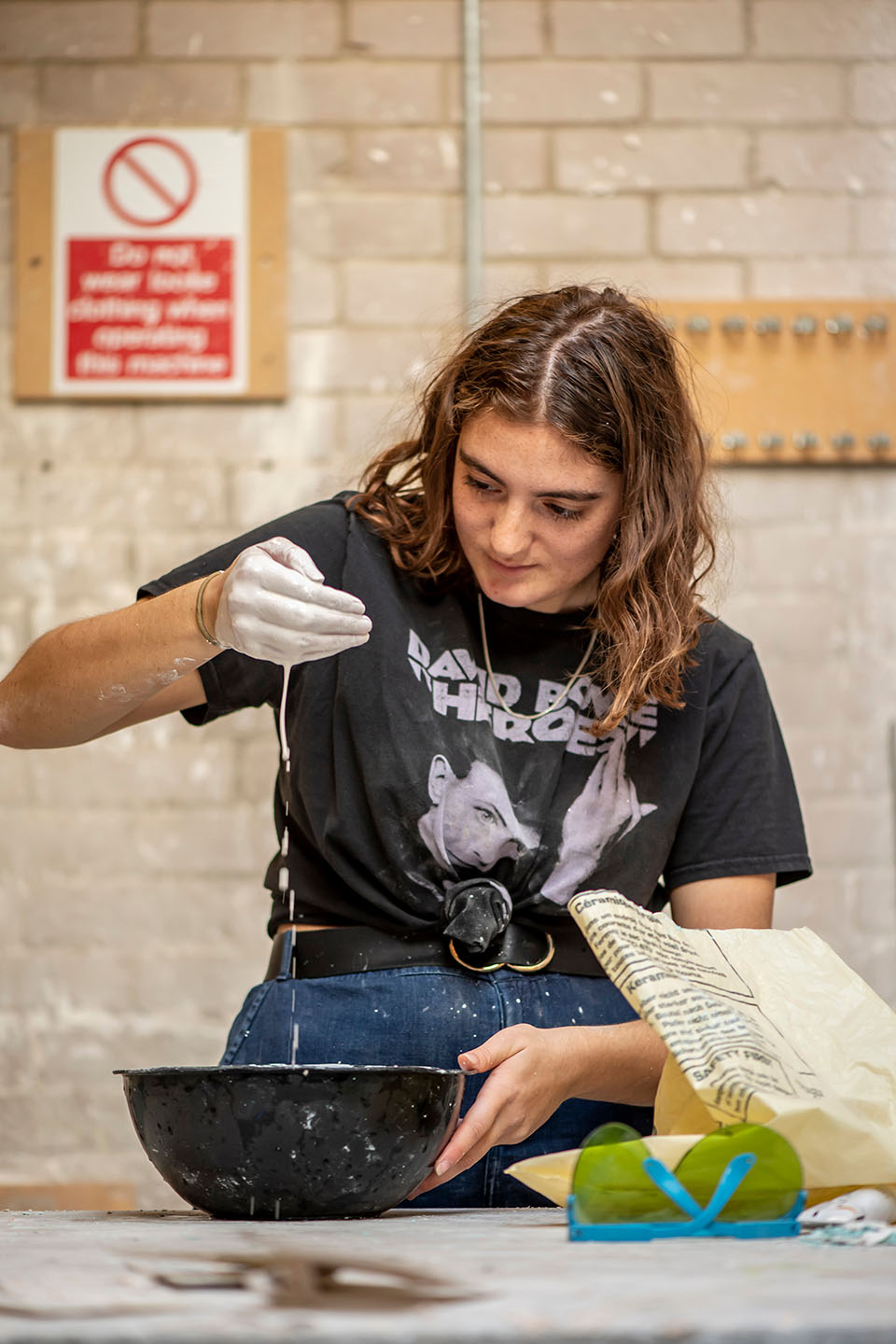 The tutors are very understanding and there is a great Disability and Mental Health service on campus and in my department that have helped and guided me through the course so far.
To anyone considering studying this course – prepare to become an independent thinker. The artwork you create from the course is all made from your personal interests – self motivation is the most valuable asset to this course. Be open minded to new mediums and practises, I originally came to this university thinking I was going to pursue a Textiles degree, after the Foundation I became an Artist. Anything is possible.
The ultimate goal is to partake in the Study Abroad programme to Joshibi University of Art and Design in Japan for the placement year! Then when I graduate, I hope to become an independent artist, exhibiting sculptural works across the globe. The year abroad will help me to network with businesses and investors in Japan. The degree will help me realise my ambitions.