The thing that I loved the most about my course was the variety. My modules varied from poetry to web design and therefore you could develop a multitude of transferable skills.
There was also a lot of freedom to create what you want out of the course, whether this was choosing modules or selecting which essay questions to do. This meant you could hone in on your strengths, or alternatively explore new topics that you may not have before. In addition, everybody in the department was friendly and approachable and provided a fantastic network of support during all stages of your degree.
I started off by doing some independent research about placements, as well as subscribing to email alerts from the Careers Network for the School of the Arts, English and Drama which highlighted appropriate placement opportunities. I found the department to be really supportive and it was easy to find help for application processes, whether this was from the careers network, lecturers, or other students.
To secure my placement I sent a CV and a cover letter which included specific points that Disney had requested me to include. Following this, a few months later I was asked to create a presentation and invited to an assessment day which involved group work, a written assessment and multiple interviews. This sounds intense and although I was nervous, I found the day enjoyable and was just so pleased to have gotten that far in the process.
My key area of responsibility was for Disney Consumer Products which covers all EMEA collaborations – including high end fashion – for our many franchises, however my job role also covered Disney Store, DisneyLife and Disney Media Distribution.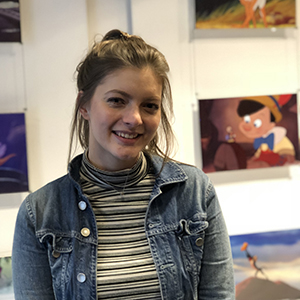 One of the best things that I was involved in during my placement year was the many projects for the release of Star Wars: The Last Jedi. I featured in a global announcement video, liaised with other teams and an agency to create a product look book for press, worked at the product showcase Force Friday II and got involved with some really cool collaborations which were literally out of this world.
I also specifically worked on the Mickey and Minnie franchise which I adored, and I have been involved in some very exciting plans.
There were so many skills that you can learn from a live working environment in comparison to a lecture hall. Organisation was something that I have always strived to improve, but this can be difficult in a University setting when you are surrounded by your friends and various other distractions. However, when you are working to deadlines that directly contribute to a campaign, organisation is your best friend.
As well as this, it was also really exciting to have a taste of where my course could lead me in the future and puts into perspective how worthwhile the hard work has been. Doing a placement year has been a healthy break from education and has given me even more motivation for final year than I ever had before.
My advice to anyone considering a placement would definitely be to just go for it. Confidence in my ability is a real issue for me and I'd been putting off my application for The Walt Disney Company for weeks and weeks as I thought it was a waste of time, and after not hearing back for a few months I thought I'd been proved right. It's such a shame to think that I could have missed out on all of these invaluable experiences due to my lack of self-confidence.
It is likely that you will not get the first placement that you apply for, however it is so important to use any setbacks constructively and pick yourself back up for the next application.
I also think that at our age it is crucial to grab every opportunity that you can, before and during placement. University students often have a lot of free time which can be utilised so get involved in any volunteer projects or societies that interest you. Not only is it fun, but the more things you have in your application that define and differentiate yourself from others, the more likely you are to stand out.
Leigh graduated from Loughborough University in 2019.