Khubayb Muhammad
Subject area
I was attracted to Loughborough University due to its impressive reputation and when I visited the University for an open day I was completely sold. I found that at Loughborough you are fortunate enough to have access to some very knowledgeable, friendly, and dedicated staff who assist in pursuance of mathematical knowledge.
I chose to study Mathematics at Loughborough University because of its great position in league tables and graduate prospects. As well as this, Loughborough offers you the opportunity to learn from experts within the field of Mathematics which allows you gain both an insight into current research and break throughs being made.
While studying Mathematics and Statistics, I have been offered the opportunity to study a wide variety of modules such as Medical Statistics and Mathematical Biology which have allowed me to gain insight into the different applications of Mathematics and Statistics. Furthermore, I was able to spend a year in Industry which helped me to develop my professional skills within a pharmaceutical company. My favourite module throughout the course was my final year project. This project allowed me to take part in research. This ran throughout the whole of my final year, and after completing a year-long placement in the pharmaceutical industry a topic in medical statistics was best suited for this. The research involved estimating the severity of Covid-19 and comparing how the severity has changed over time. With Italy being the first country in the Western Hemisphere to have a major outbreak and remaining a high-risk country at the time, I chose to investigate the severity there. During the research, I developed multiple programmes and created models which estimated the true number of cases, the future number of cases and transmissibility ratio. The findings from these programmes were than analysed in a report.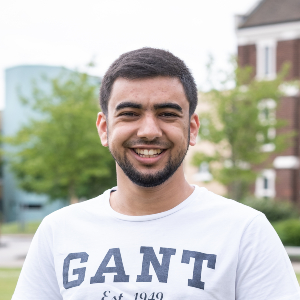 My favourite thing about Loughborough is the great sense of community and belonging, where everyone works together. During my degree I have found that the staff are very approachable and very friendly. After lectures and tutorials if I didn't understand any question or part of the notes, I would ask for more clarity. All the staff are very friendly and are very welcome of questions.
Loughborough University offers a family feel, where you feel part of a close-knit community. This is also reflected in the mathematics department where staff get to know you on a personal as well as academic level.
The best advice I can give to someone thinking of studying Mathematics at Loughborough University is to maximise the use of all the help that is available, from the Mathematics Learning Support Centre to the excellent Careers Network team who provide help in finding placements, applying and interviews, as well as graduate jobs. As well as this, make the best use of all help available from lecturers and never shy away from asking for help, as everyone is only one email away. Outside of the academic side, try getting involved in the different societies available and enjoy your time most of all.
After my degree I am joining KPMG as a graduate Analyst. I am very thankful to the Careers Network at Loughborough University for helping me throughout the entire application process with mock interviews and endless advice.